Closer Look at the Phanteks Enthoo PRO M »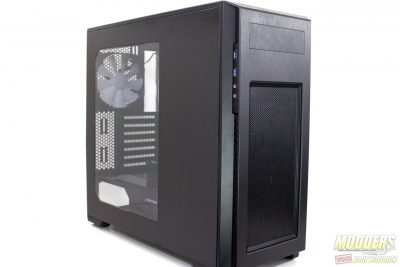 "All progress depends on the unreasonable", wrote George Bernard Shaw more than a hundred years ago.
It is his argument that the reasonable adapt to the conditions surrounding them but the unreasonable attempt to adapt the world unto themselves and thus their worldview affects change. This is true for every visionary move in the technological field. It was unreasonable once to expect a computer that did not take up an entire room. It was unreasonable once to expect portable storage larger than 2 megabytes. It was unreasonable once to expect a computer chassis that was not beige. All of these expectations and standards shattered, broken and forgotten because of unreasonable thinkers who looked beyond doubt and saw the future.
With the PC chassis market being as crowded as it is, one can easily be branded unreasonable just for thinking another new brand deserves a spot for attention. If you are a manufacturer like Phanteks however, having unique in-house chassis designs that are highly functional for the watercooling enthusiast worked to set them apart from the sea of regurgitated and sometimes outright lifted generic OEM case designs that have flooded the market. After several successful launches, Phanteks has solidified their name in the chassis market, delivering extensive water-cooling support to a mainstream user base that have jumped into the hobby with religious fervor. With their latest Enthoo Pro M case, Phanteks is attempting to set the standard again for water-cooling oriented cases, but this time the target is an ambitious sub-$80 price point.
The Phanteks Enthoo Pro M is a midtower chassis supporting standard ATX, micro-ATX and mini-ITX sized motherboards but it is anything but typical. With a wealth of features for enthusiasts, the Enthoo Pro M provides superb liquid cooling support at stock with 360mm and 280mm radiator mounting. However, the Enthoo Pro M can be expanded further with modular add-on accessories that users can mix and match to customize their build. Available in brushed black and titanium green options with side-panel window, the Phanteks Enthoo Pro M has the smarts but the looks of a higher end chassis at a very affordable price point.
[sc:sponsor sponsor="Phanteks" product_link="http://www.phanteks.com/Enthoo-Pro-M.html" product_name="Enthoo Pro M" product_price_link="http://www.amazon.com" product_price="$79.99″ ]
Packaging is a standard brown box with simple graphics of the Enthoo Pro M chassis on both sides. One is in assembled form in the front and an exploded graphic on the rear to display all the different components of the Enthoo Pro M in a simple manner.
Styrofoam inserts flank both sides while a plastic cover prevents scratches on the panel surface during transport. Since the Enthoo Pro M has an acrylic side window, the side panel has cling film on both sides to prevent scratches from any component that might come lose while inside the box.
Accessories included are inside a small box in one of the lower drive cages. It contains a fold-out manual and installation guide with cable management zip-ties, motherboard mounting screws, power supply mounting screws, radiator screws and drive screws. An optional modular 3.5″ HDD bracket can be purchased separately to provide additional 3.5″ or 2.5″ mounting (this additional bracket is not included in the retail version and is only shown here for demonstration purposes).
Specifications:
| | |
| --- | --- |
| Dimension (W x H x D) | 235 x 480 x 500mm |
| Form Factor | Midtower |
| Material(s) | Plastic, Steel |
| Motherboard support | E-ATX *(up to 264mm wide), ATX, Micro ATX, Mini ITX |
| Front I/O | 2x USB 3.0, Mic, Headphone, Reset |
| Side Window | Yes |
| Expansion Slots | 7 |
| Internal 3.5″ | 8x (2x included) |
| Internal (dedicated) 2.5″ | 3x (1x included) |
| Colors | Brushed Black or Titanium Green |