« Introduction
|
A Closer Look-Interior »
A Closer Look-Exterior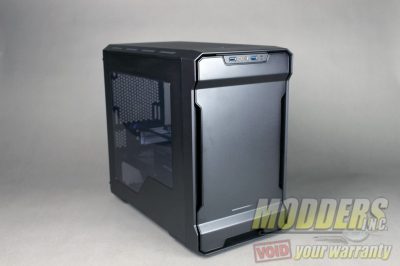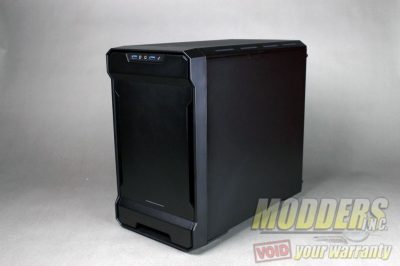 At first glance the ITX version really does just look like a shrunken down version of the the original Evolv chassis but other than the obvious reductions in dimensions the ITX version has some key differences. As you have already heard multiple times in this review the reoccurring theme with the ITX version of this chassis is that Phanteks did this to save on the cost of manufacturing to save the end user money as well. Well  the same is true to the exterior panels, as mentioned earlier the mATX version used solid aluminum exterior panels, this was changed to steel and plastic panels.
The front panel is made up of a hybrid construction which uses a large plastic panel with steel inserts. Just like the mATX model, the ITX also has the power LED display strip, but on the ITX model the LED cannot be swapped out with the connection assembly that was seen on the mATX version. Of course if you are comfortable around a soldering iron this is a very simple mod to get your desire LED.
The front panel construction is layered which composes of the outer panel which uses the same snap in style mounting system that was seen on the mATX model. Directly behind the panel there is another panel that acts both as a spacer and filter panel for the fan located directly the front panel. Phanteks has changed the location of the USB/audio/power buttons/inputs to the top of the front panel and on the front panel. The biggest reason for this relocation is due to the ITX version not having the same swing out door style as the mATX version. The Evolv ITX uses the standard sliding latch style side panels and thumb screws to secure the door panels. I did however find that Phanteks did add a little extra rubber style washer to help reduce the risk of stripping the paint off the side panels.
Phanteks does include a window on the left side of the chassis which is secured by multiple bent over tabs. I was surprised to find that the side panels are reversible. Usually this would be a, "Well what does that matter?" type question but the reason I personally like this is simply for the reason that if you are not a fan of the pre-installed window you have a blank slate to make one to your personal liking. But what about the window on the back? Well we will cover this in the next part of the review.