Case Fan
Under Pressure: Parvum F1.0 VS NoiseBlocker eLoop B12.2 Static Pressure Fan Comparison
Article Pages:
The Fans: Parvum F1.0 »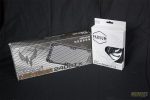 It hasn't been since the last few years that the case fan has evolved from the same standard design to companies now introducing fans that serve a specific component purpose. With watercooling setups becoming more and more common among mainstream systems, it was only a matter of time before the standard case fan became obsolete and the enthusiast market demanded a better fan to more efficiently cool their more elaborate radiators. This evolution was known as "static pressure." But, some of you may be asking, "What is static pressure?" Well static pressure is described as, "the fan's ability to combat resisting or obstructing forces and structures." How does it do this? Unlike airflow style fans which use smaller, narrower fan blades to move air, the static pressure style fans have much larger fan blades and very little spacing in between the blades. Where would I use these? Static pressure fans are ideal in situations where your fans will be directly obstructed by another component, for example in HDD cages, dense radiators and CPU coolers with low fin spacing.
Review Sample Provided by: Performance Pcs
Product Name/Link to Website: Parvum F1.0
Product was given in exchange for work done to produce this review.
Review Sample Provided by: NoiseBlocker
Product Name/Link to Website: NoiseBlocker eLoop b12-2
Product was given in exchange for work done to produce this review.
For today's review we would like to give a big thank you to, Hank Baron of Performance-pcs.com for providing us with not only the four Parvum F1.0 fans but also the Hardware Labs Nemesis GTX240mm radiator. We will be comparing the Parvum F1.0 and the Noiseblocker e-Loop B12-2 fans, both being tested in a push configuration. Both fans will be tested in the same machine, with the only difference being the fans and the benchmark being used for this comparison will be 3Dmark Firestorm, under the ultra setting.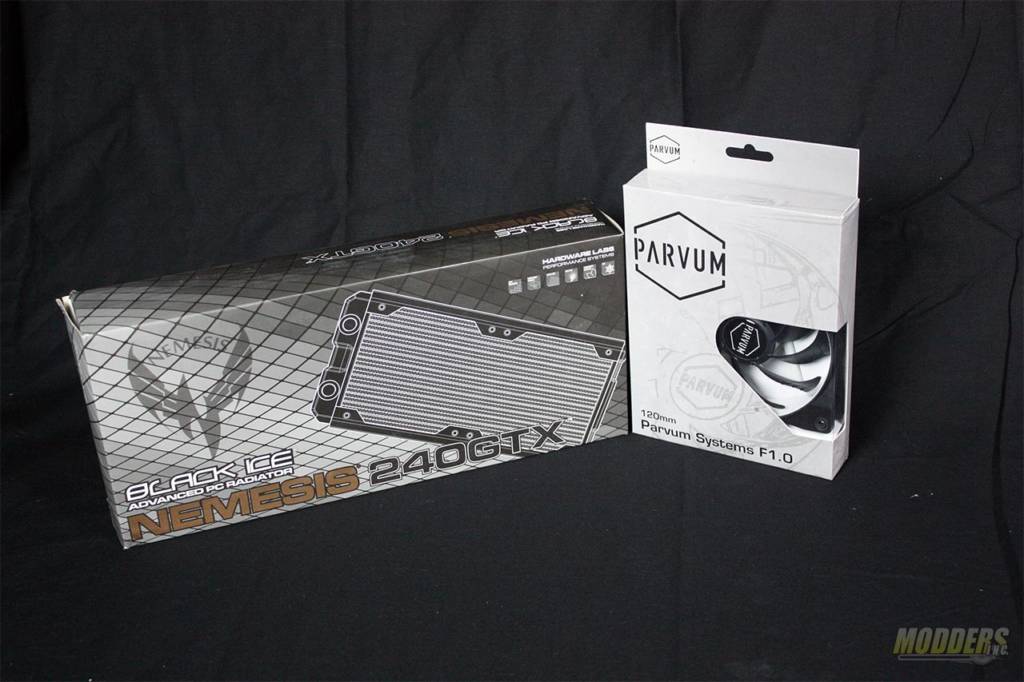 SPECIFICATIONS 
Parvum F1.0:
| | |
| --- | --- |
| Dimensions: | 120 x 120 x 25 mm (W x H x D) |
| Weight: | about 166 g |
| Material: | plastic, rubber |
| Color: | Black, White |
| Volume: | max. 18.2 dB (A) |
| Speed: | 500 – 1,500 r / min |
| Air flow: | max. 106 m³ / h |
| Voltage: | 12 V |
| Connector: | 4-pin PWM (with Y-switch) |
| Accessories: | – 1x Cable 4-pin to 3-pin (no PWM)- 1x Adapter 4-pin PWM-to-7-volt Molex- Adapter 1x 4-pin PWM-to-5-volt Molex- 4x Gummipins for decoupled housing mounting |
NoiseBlocker eLoop B12-2
| | |
| --- | --- |
| Dimensions: | 120 x 120 x 25 mm |
| Speed: | 1300 RPM ±10% |
| Noise: | 16.7 dB (A) |
| Max. Airflow: | 51.1 CFM |
| Static Pressure: | 1.042 mmH2O |
| Bearing: | NB-2 magnetic levitation bearing NanoSLI® |
| Voltage Range: | 3.4 – 12.0 V DC |
| Starting Voltage: | 3.4 V DC |
| Input Current: | 0.07A |
| Input Power: | 0.85W |
| MTBF at 25°C: | 160,000 hrs. |
| Operating Temp.: | -10°C to +60°C |
| Chassis Material: | PBT 30%GF |
| Impeller Material: | Bayer Makrolon (PC)86.9 m^3/h |
| Vibration Dampening Material: | Silicone Mix |
| Weight: | 123g |
| Warranty: | 6 Years |
**Specifications of the fans were taken from, Performance-pcs.com