Around this time last year, Cooler Master's annual casemod competition was in full swing with plenty of exciting entries from all over the world competing for the top prize. Mhike "TantricModz" Samsin's Project Sabertooth took home 1st place honors in the tower category with a minimalist and thoroughly clean design crafted with several customized accent pieces that flow well together. Unfortunately, Cooler Master opted not to have a casemod competition this year but it is worth looking back at this beautifully crafted system and hear from the modder himself about the project.
Modder Alias: Tantric/TantricModz
Real name: Mhike Samsin
Location: Manila, Philippines
Occupation: Graphic Artist and Full-time Casemodder
Modding Experience: 10+ Years
Personal Website: https://www.facebook.com/tantricmodz, http://www.rignoobies.com
The Featured Build: Project Sabertooth (CM Casemod 2013 1st place winner-Tower Category)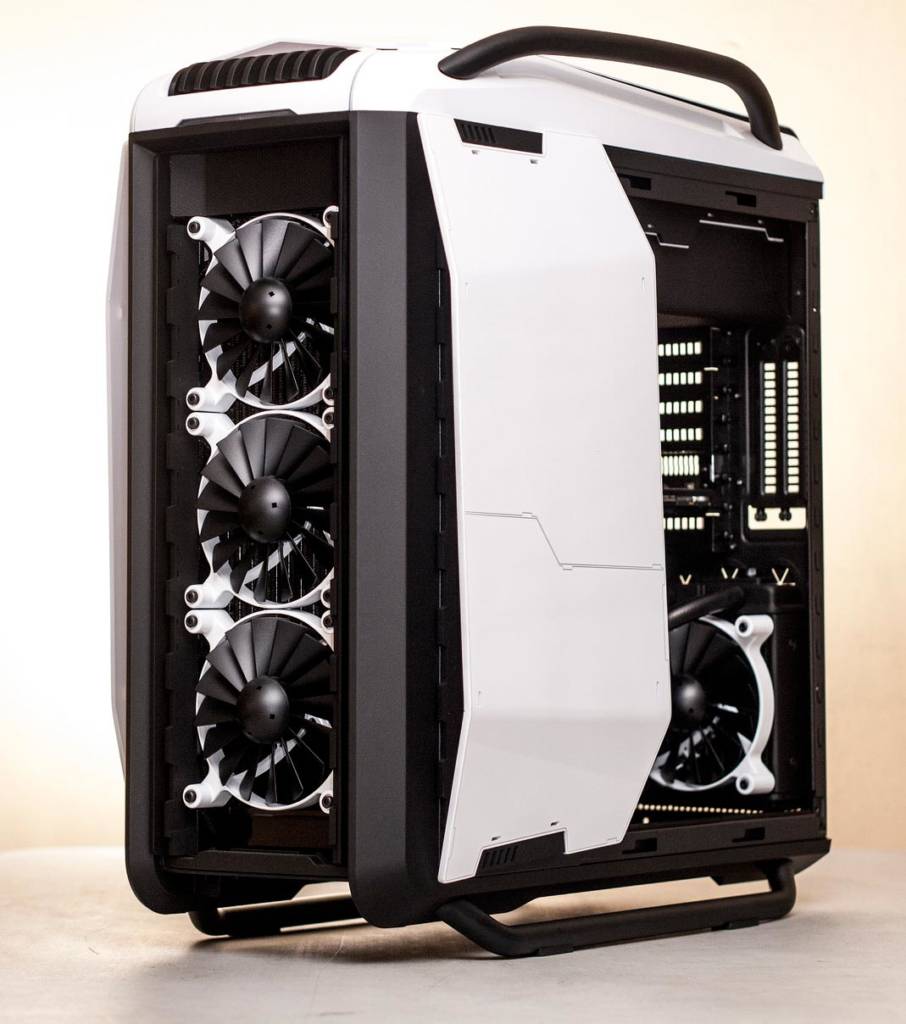 The initial plan/concept for this project was to design a case to match the asus Z87 TUF Cover. The panel lining on the side panels were based on the panel line design on the Z87 motherboard covers. Custom perforated plastic panels on the interior of the case were also made to match the surface of the TUF Cover on the motherboard. The case features a reverse ATX chassis conversion, custom liquid cooling using acrylic rigid tubings, customised plexiglass waterchannel for the liquid cooling loop, a modified corsair H80 kit, fully sleeved modular PSU cables.
(Before: Stock Cooler Master Cosmos II)
Specifications
-ASUS SABERTOOTH Z87
-INTEL i5 4670
-ASUS GTX 660ti
-8GB Corsair Dominator
-1x160GB WD Velociraptors
-CoolerMaster V850 Power Supply
-4pcs CoolerMaster Turbine Master 120mm fans
-Corsair H80 Custom Liquid Cooler
-EK Supreme HF Bridge Edition Universal Waterblock
-EK RAM Dominator Waterblock
-HWLabs Black ICE 360 Radiator
-FTW Custom MCP 35x Pump
-FTW Multilink Fittings
-FTW Acrylic Rigid Tubin
-FTW Rotary Fitting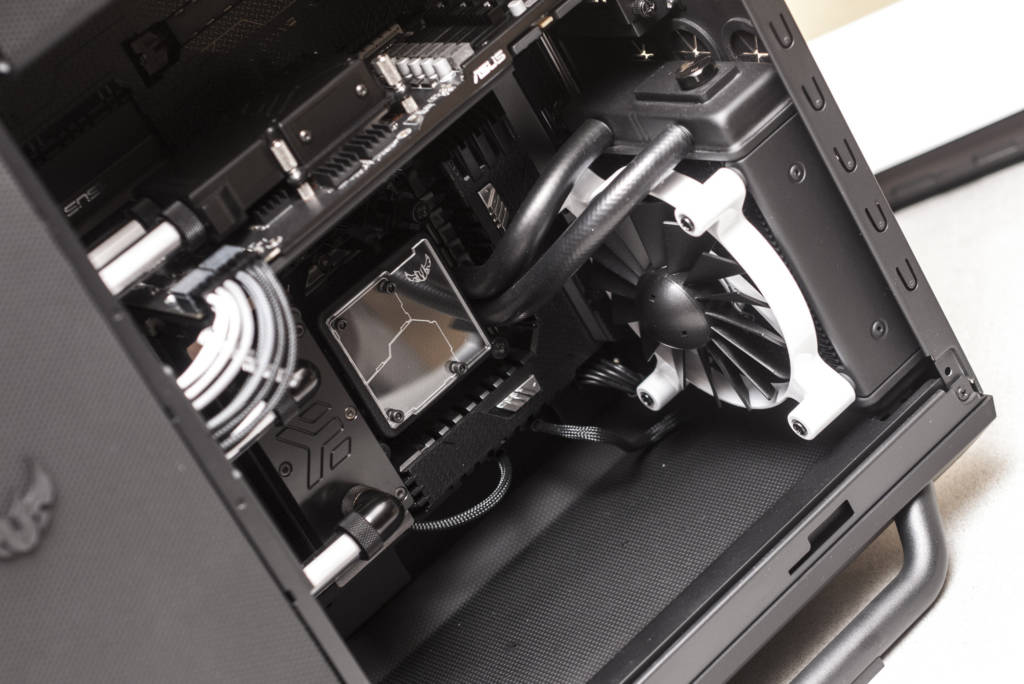 Everyone has a story of what got them into Modding. What or whom got you into Modding?
I used to read PC Magazines back then that's where I first saw customized PC cases from Alienware and Voodoo pc. And then I stumbled into different forum's and website's like www.virtual-hideout.net and www. bit-tech.net and the rest was history.
Where do you get your inspiration for your mods? What were the thoughts behind this particular featured mod?
I usually get inspiration from watching movies, games and automobiles. This build is based on the ASUS Sabertooth Z87 Motherboard and CM Cosmos SE Case. My initial plan for this project was to build a minimalist designer case with a monochrome color scheme.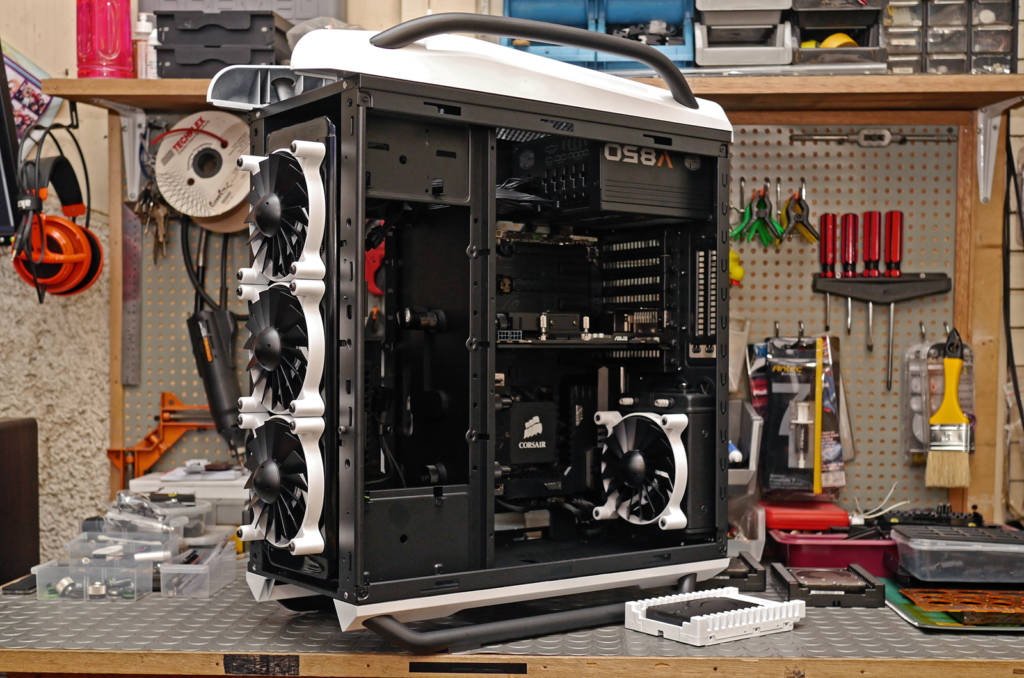 What do you think was the hardest part about doing the mod.
For me the hardest part that I did for this build, was designing the water channel and wire holder for the sleeving and water cooling loop. It was the first time I tried fabricating a custom made water channel. I had to make several different prototypes before I finally made a working one.
How much time did you spend on the mod and did it turn out how you thought it would?
For this particular build it took me around 2 months to finish. In my opinion, It turned out way better than I expected. 
Do you have another project in the shop or in the planning?
Yup I have several.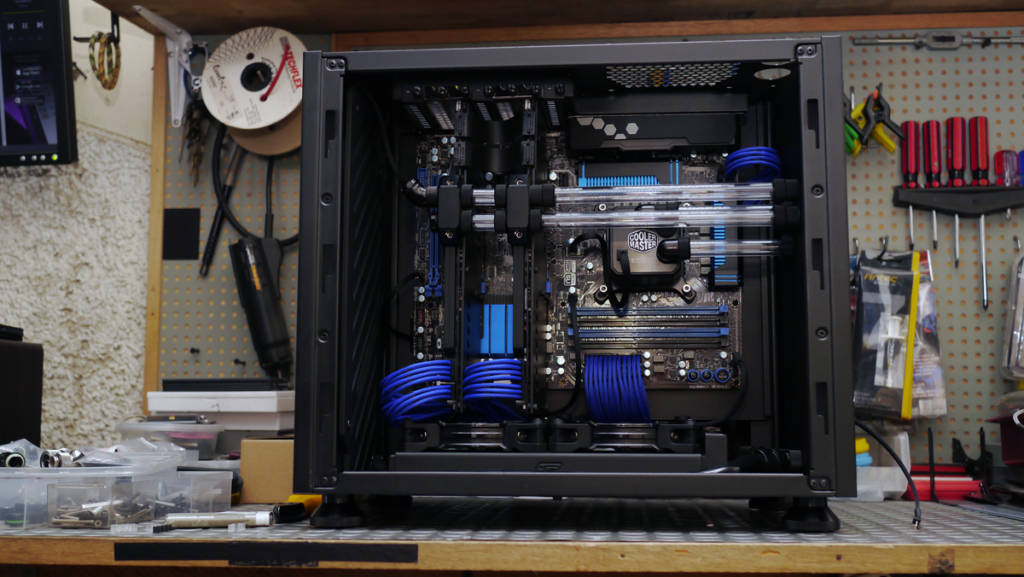 Thank you for agreeing to an interview Mhike and we are looking forward to seeing your next creative project. Check out Mhike's previous works at the Rig Noobies website or at his TantricModz Facebook page. The original worklog can also be found on the Cooler Master casemod competition forum.