« Intro
|
Page 3 »
The QNAP TS-209 Pro II comes packaged very well to ensure that all is good and intact and ready to rock-n-roll when you take it out of the box.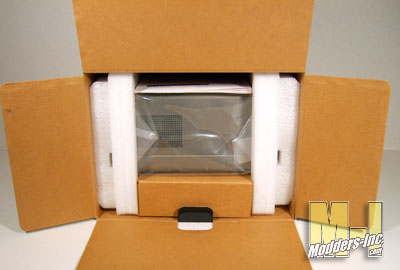 All the needed hardware, directions, and misc info you need is within a small box in larger box. There is really not that much stuff needed to get the NAS up and working. You get a power cord and power block, network cable, the face plate and thumb screw, Install/Setup CD, and eight flat head screws to anchor the hard drive to the drive racks.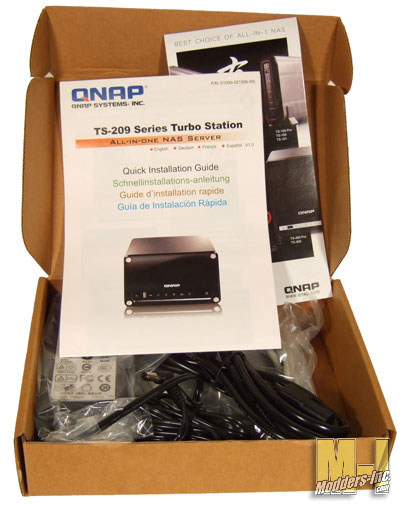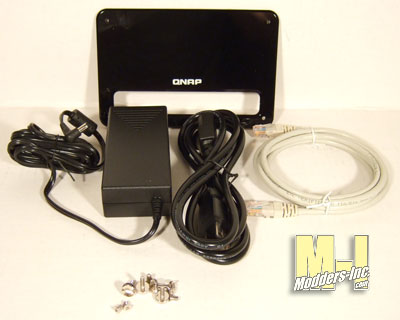 Right out of the box the  comes with the faceplate off and is just waiting for you to install a drive so it can get to work. The hard drive racks held into place with thumbs and are easy enough to get to. Although you do have to take off the front face plate to gain access to the drive area.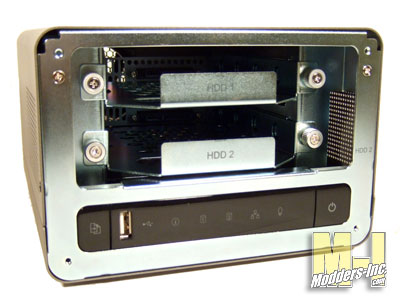 Both sides of the NAS have decent size air vents that allow for cross air flow for cooling drives plus they are used to draw the air in and out the back to keep the rest of the hardware cool and stable. The rear fan is a Smart Fan and it will adjust the fan to the correct speed that is need to keep the NAS cool.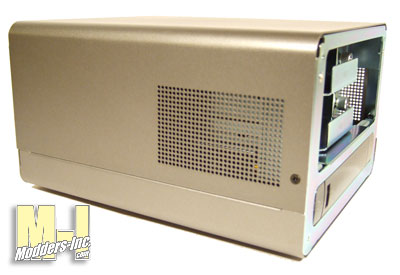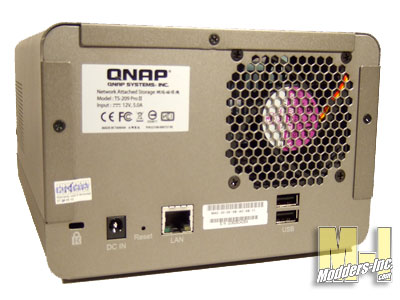 There are plenty of features on the outside of the QNAP TS-209 Pro II to keep you informed on what it happening and to be able to attach other devices such as Portable USB NAS drive and thumb drives. Let's say that you carry a USB Key around with you all the time and you transfer data quite a bit. Would it not be nice to be able to quickly save that data without the need for a PC, well you can. Within the setup of the 209 II Pro you can configure how the One Touch Copy Backup button works and one option is to copy directly from a USB device to a preset location on the QNAP NAS. A total of three USB 2.0 ports are on the QNAP and one of them on the back can be use to connect a USB Printer to it and within a few minutes of setting it up in the software you now have a networked printer that everyone can use.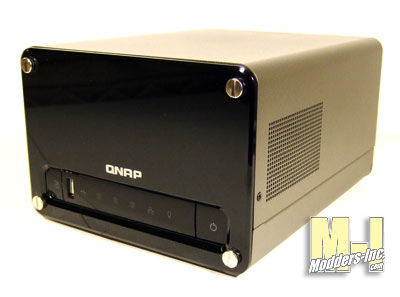 Basically what you have here is a tiny PC that is built to do just one task and that is to serve your files. Take a look a the specs listed below and you will know exactly what I imply.
Hardware Spec.
CPU
Marvell 5182 500MHz
DRAM
256 MB DDRII
Flash Memory
8MB
HDD
2* 3.5″ SATA I/II HDD, up to 2TB
(the standard system is shipped without HDD)
LAN Port
1 * Gigabit RJ-45 Ethernet port
LED Indicators
Status, USB, LAN, HDD 1, HDD 2
USB
3 * USB 2.0, support USB printer, disk, digital camera, pen drive, USB hub, and USB UPS etc.
Buttons
USB auto-copy button
Power button
Reset button
Alarm Buzzer
System Warning
Form Factor
Compact cubic type
Dimensions
214 (D)x 175 (W)x 115 (H) mm
Weight
Net weight: 2.4 kg
Gross weight: 3.5 kg
Temperature
0~40°C
Humidity
0~95% R.H.
Power Supply
External Adapter, 60W, 100-240V
Thermal Solution
Smart Fan
Secure Design
K-Lock security slot for theft prevention
Sound Level:
Standby: 38 dB
In operation: 42dB
---
Powerful All-in-one server
File server
File sharing across Windows/ Mac/ Linux/ Unix and centralized management
FTP server
Support data access from remote location via FTP Server.  Support  up to 32 concurrent connections
FTP with SSL/ TLS (explicit) mode
Passive FTP port range control
Backup server
Client-side backup software-NetBak Replicator supports Instant, Schedule, and Auto-sync backup
3rd party backup software support: Acronis True Image, CA Brightstor ARCserver Backup, EMC Retrospect, Symantec Backup Exec
Printer server
Network printer sharing via USB (support Windows & Mac platform)
Support all-in-one printer (max. 3 sets)
Remote Replication
Block-level remote replication supports instant, schedule backup management; support synchronization mode
Web Server
Establish users own web page and interactive websites with editable PHP.ini, SQLite and MySQL dual support, joomla!
My SQL Server
Support MySQL database server
UPnP Media Server
Support UPnP/ DLNA multimedia technology; share stored photos and home videos on TV, listen to music on Hi-Fi system via DMP
Enjoy more than hundreds of worldwide Internet radio (built-in TwonkyMedia)
Support DLNA media playing with PS3, Xbox360, PSP
Support Nokia N95 (DLNA control point)
iTunes Server
Act as an iTunes server on your network, and you can play all your music files by iTunes software on your PC/NB.
Multimedia Station
Image slide show and rotation (+90°, -90°)
Showing photo details: dates, exposure time, aperture, etc.
Auto generating thumbnails for easy browsing
Photo album access authority management
Multimedia files (video and audio) local play
Automatic file categorization
Download Station
New BT client: Support TCP, UDP, and encrypted BT download
Support BitTorrent/ FTP/ HTTP download (without PC)
Unique remote download control software: QGet (Windows / Mac), allows you to control the download tasks of multiple Turbo NASes on one PC via LAN/ WAN.
BitTorrent download supports DHT
Download configuration (current seed number, configurable port range, bandwidth control, download percentage, UPnP NAT port forwarding for BitTorrent download)
Download task management (Automatic relaying if interrupted)
Download status list management (download percentage)
Software Specifications
Operation System
Linux-embedded system
Networking
TCP/IP, DHCP Client, DHCP Server, CIFS/SMB, AFP, NFS, HTTP, HTTPS, FTP, DDNS, NTP, Gigabit Jumbo Frame
File System
EXT3 (Internal/ external HDD)
 FAT (External HDD)
 NTFS (External HDD)
Supported Operating Systems
Microsoft® Windows® 98/ ME/ NT/ 2000/ XP/ 2003/ Vista
Macintosh® OS X
Linux and Unix
Disk Management
Single disk, RAID 0 (Disk Stripping), RAID 1 (Disk Mirroring) and JBOD (Linear Disk Volume)
Disk usage status management
Check disk (Check Linux file system)
HDD S.M.A.R.T.
Bad blocks scan
User Management
User quota management (per user)
Windows AD Service support
User account management (max. 256 users)
User group management (max. 128 groups)
File System Management
Network share management (max. 256 shares)
Share folder level ACL support
Unicode support
Journaling file system
Web File Manager
System Tools
E-mail alert (SMTP authentication)
HDD standby mode
Disk usage alert
Automatic power on after power loss
System firmware upgrade
Change homepage logo
Back up, restore, reset system settings
Smart fan setting
Configurable management port
Easy IP filter management
Secure remote login by SSH connection; remote login by Telnet connection
USB, SNMP UPS support
Network recycle bin
Event Logs
Complete system logs (system events management, connection logs, current connection of on-line users)
Multilingual Support
English, Traditional Chinese, Simplified Chinese, Japanese, Korean, French, German, Italian, Spanish, Russian, Swedish, Danish, Finnish, Norwegian and Polish
Backup Management
PC-client backup software- NetBak Replicator: Instant/ Schedule/ Auto-sync backup
Encrypted remote replication
RAID 1 Mirroring
Flexible data backup to external storage device via USB port (Instant, Schedule and Auto-Sync Backup)