« Page 3
|
Page 5 »
The Qnap TS-209 Pro II is also a media server, not in the sense you may think or may want. I was kind of hoping that there would be a really nice software front end that could be used to help server up my music through a HTPC but there was not one. There is a basic web interface that can be use instead, which does make it easier access for those looking at the content through their PC's. To send out the media on the QNAP NAS TwonkyMedia is the media server used to help distribute all the content on the NAS. This product can enable you to share your multimedia throughout your home over you network. It is available for many different platforms and interworks with a large variety of client devices including XBox 360, Sony PS3 and Sony PSP.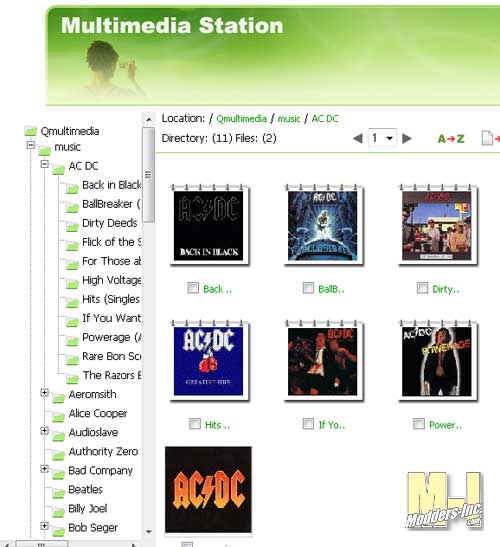 Even though the QNAP TS-209 Pro II is a hot-swap enabled server, which means that you can swap out drives with ease, you do have to remove the front bezel to do so. This is not a deal killer, but it seems to be an obvious oversight on QNAP's part.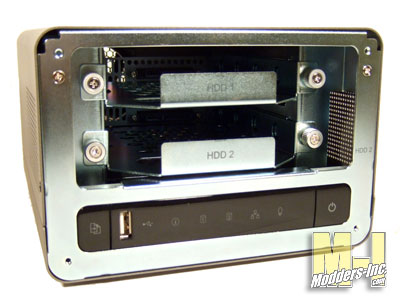 The QPKG software package platform enables the users to maximize the usage of Turbo NAS by installing additional software packages developed from the users and community worldwide. This can be done by simple "download & install" clicking without going through any complicated process.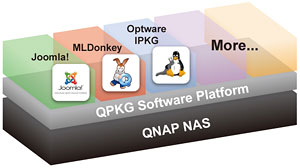 A few directories are pre-made for you to store your media files and a Public folder is make for everyone to access. You can go through you home network screens or, with help from the software, you can Map the NAS as a drive and now the folder you created for yourself on the NAS is now list with the rest of your drives in the "My Computer". Transferring files are as easy as using the Windows Explorer and dropping the files in the folder you want and editing the files is just like if it was inside your PC.
We recently added two laptops to the wireless network and I figured this would be a great time test out how well larger amount of files move across the network since I need to move files from the desktop PC's to the QNAP TS-209 Pro II and then off to the new laptops. Transfer speeds do depend upon how you have the network set up and I did see a fairly consistent transfer from all my stuff on the network to and from the NAS. Serving video and music files was fast and smooth and working on websites was much easier and faster than doing it over the dedicated server we have for the site.