Three teams, three days, three mods completed under a total of 24 hours. The second annual 24-Hour of LeMods gets bigger in its second year with the introduction of modding teams to the event. Six modders were invited to QuakeCon in Dallas, Texas to create ID/Bethesda themed PC artwork: Heath Coop and James Weist of Team Mod Goat, Michael Long and Adam Owens of Team SFN and Gary Murphy with John Davis of Team Texas. The event was sponsored by NVIDIA and Corsair, with the latter providing most of the hardware to be modded. Gigabyte provided the LGA1151 motherboard and GTX 960 videocard while Microcentre sponsored the Core i7-6700K CPUs.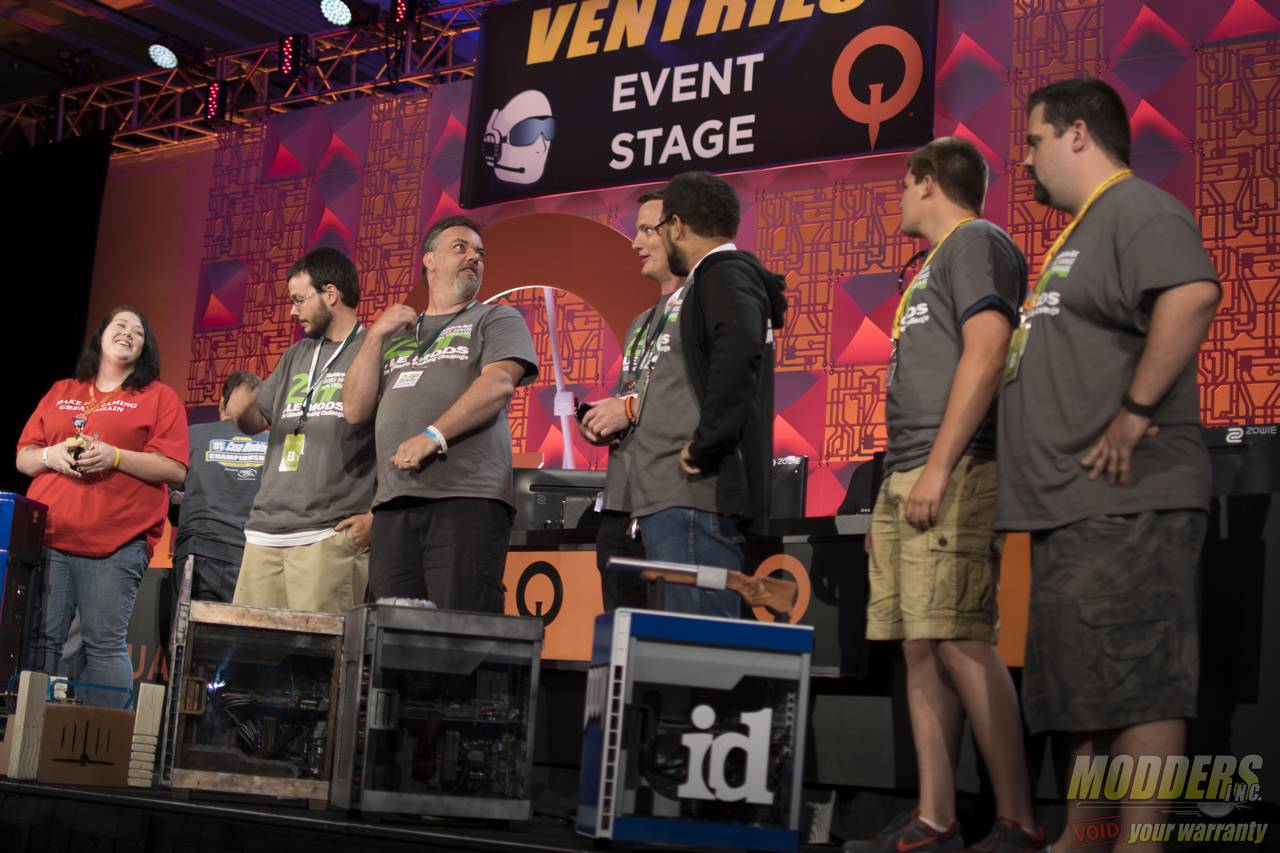 Team Mod Goat took 1st place finish, wracking a huge 43.67 pt (average) lead with their DOOM casemod. The team actually did some live copper electroplating outside under the Texas sun to get the weathered look that fits the DOOM theme.
You can see Team Mod Goat get interviewed in the middle of the event at around the 2hr, 1 minute mark on the streamed video from day #2:
The battle for second place was a close one between Team SFN and Team Texas but Team SFN had a 1-point advantage at 36.33 over Team Texas' 35.33 pts. Team SFN chose to create a DOOM themed casemod with a crafted double-barrel shotgun prop on top, reminiscent of classic DOOM.
Team Texas' entry took inspiration from Fallout 4, with a gray weathered paint and a blast furnace on top.
If you want to immerse yourself in the event, the entire 24-hours/3-days of modding was streamed LIVE, raw and unedited and can be seen on Modders-Inc's YouTube channel. See how these casemods came to be, which ideas didn't make it to the final version and what changes the modders have to make along the way.
Special thanks to all of the modders who responded to the call and took part in the 24-hour of LeMods, NVIDIA GeForce Garage and Corsair for sponsoring the event, and to Microcenter and Gigabyte for sponsoring components for the build.