CPU Cooler
Reeven Okeanos CPU Cooler Review: A King in Yellow
Article Pages:
Closer Look at the Reeven Okeanos »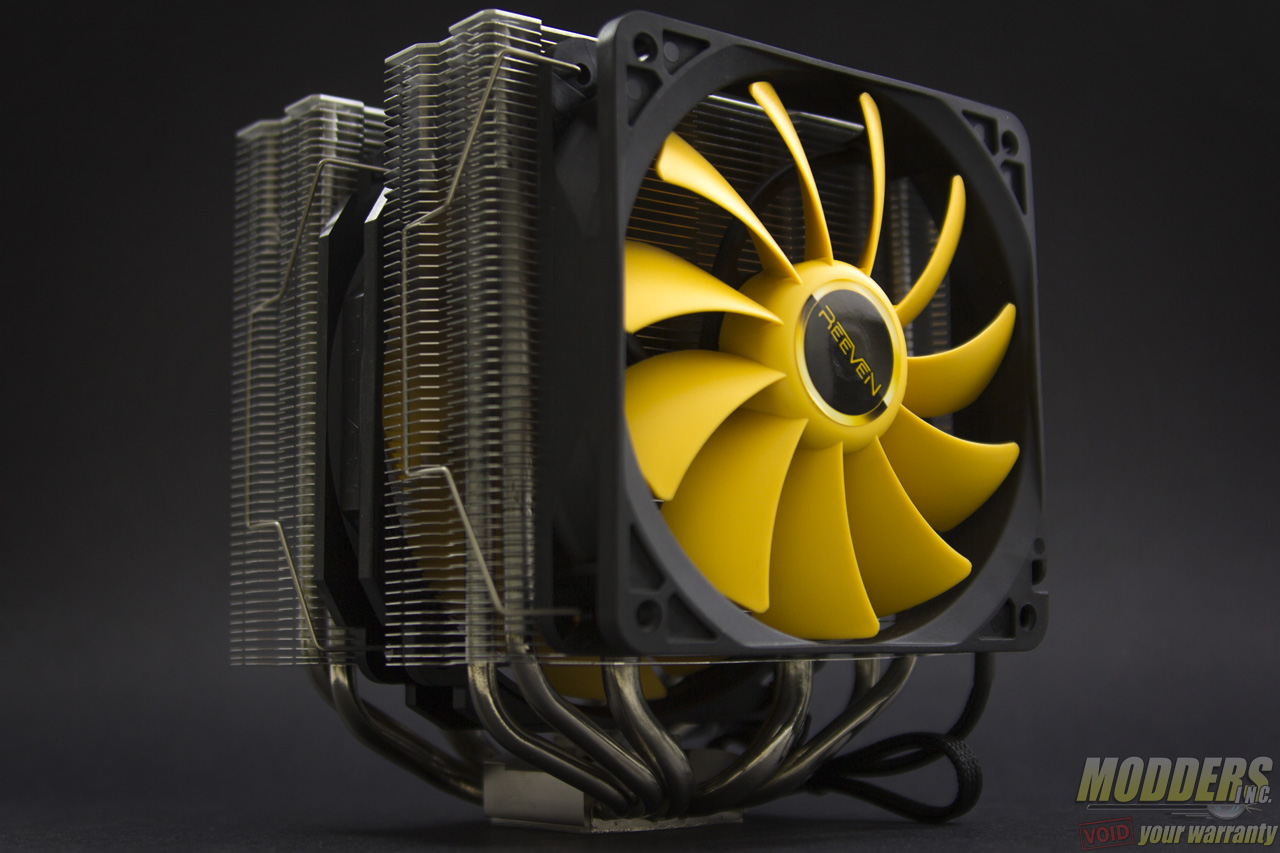 The Okeanos is Reeven's flagship CPU cooler utilizing a twin-tower design. Just like Reeven's other CPU coolers, it is named after a Greek deity, although this one is a bit weird considering 'Okeanos' is a Titan that personifies a body of water but this cooler is not an AIO liquid-cooling unit. It has some high expectations to live up to however, with the 140mm Reeven Ouranos and Reeven Hans tested last year performing quite admirably considering their price point.
Unlike other dual-tower designs which are deliberately bulky ignoring clearance concerns or have the heatpipes offset for improved component compatibility, the Reeven Okeanos is a slimmer titan than most at 110mm deep without fans installed but still relatively larger than other heatsinks at 163mm tall. For active cooling, it is equipped with a 140mm fan that ramps up to 1700 RPM and a 120mm fan that operates up to 1700 RPM.
Review Sample Provided by: Reeven
Product Name/Link to Website: Okeanos CPU Cooler
Product was given in exchange for work done to produce this review.
Just like the Ouranos, the packaging is relatively compact with a glossy full-color cover. There is not much in the way of padding inside but the heatsink is cushioned by the box containing the twin fans on the outer sides while it is held in place by more cardboard at the center. The packaging is actually very efficient compared to most coolers.
The accessories are inside the box in the middle and aside from the 120mm and 140mm fans, it contains:
1x fold out documentation for installation
1x thermal compound in a packet
1x hex locking tool
4x bracket nuts
4x mounting post screws
4x silicon washers
4x aluminum washers for LGA1151
4x fan mounting clips
4x plastic spacers
1x universal backplate
1x mounting bar
2x mounting bar bolts
1x universal bracket.
4x Rubber backplate screw holders
1x 120 mm speed switch adapter from 1800rpm down to 1200rpm
1x 140 mm speed switch adapter from 1700rpm down to 1100rpm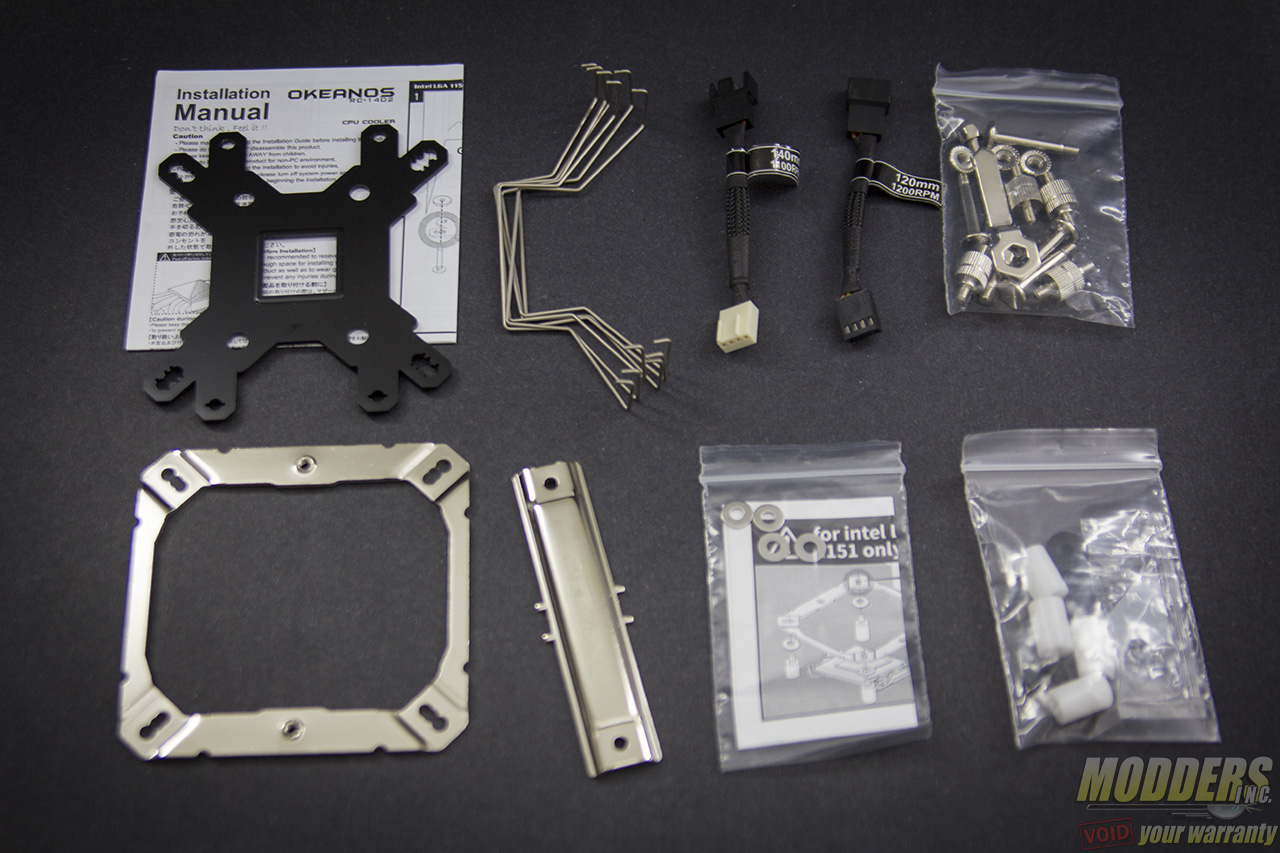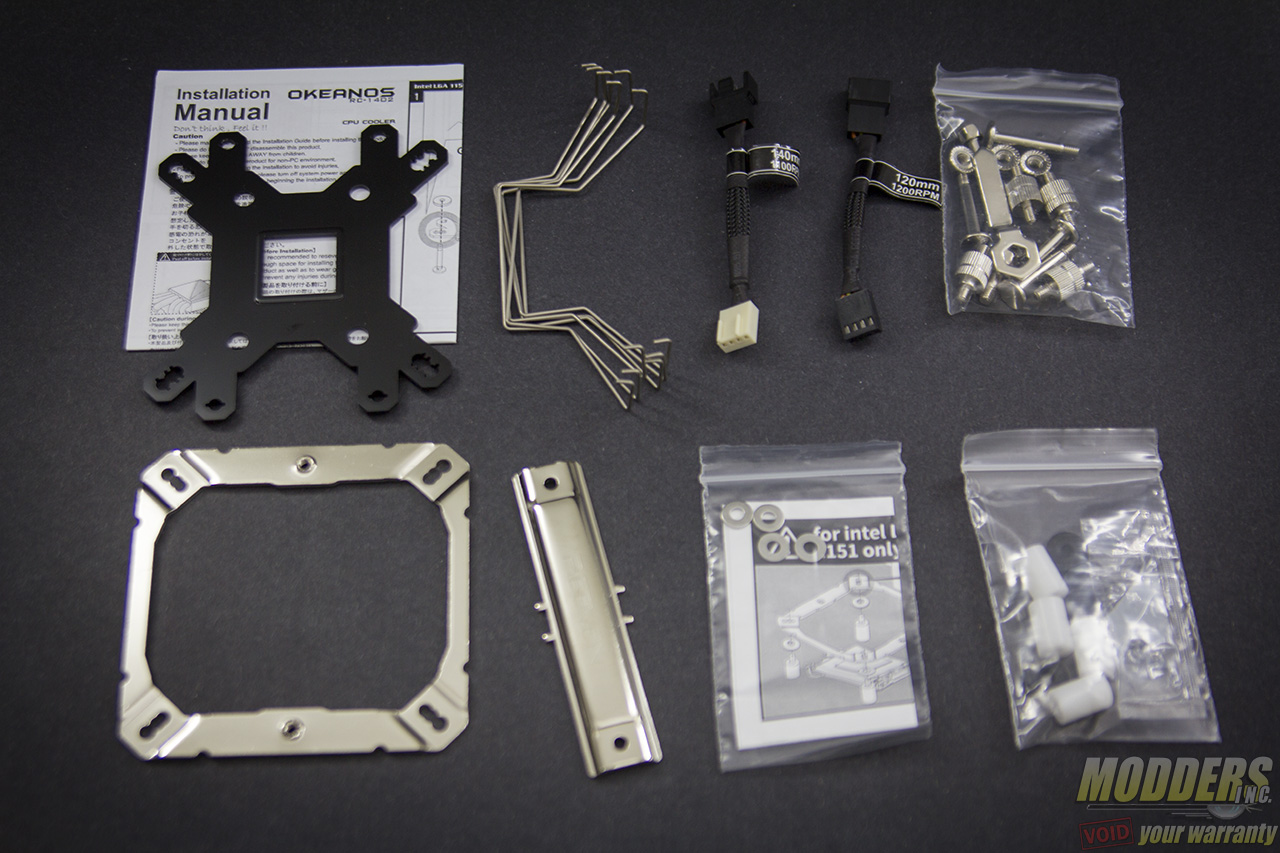 Specifications:
Model Number:

RC-1402

Socket:
INTEL: LGA 1150 / 1151 / 1155 / 1156  / 1366 / 2011 / 2011-V3
AMD: AM2 / AM2+ / AM3 / AM3+ / FM1 / FM2 / FM2+
Overall Dimension:

(W)140 x (H)163 x (D)135mm

Fan Dimension:
14cm: 140 x 140 x 25mm
12cm: 120 x 120 x 25mm
Heatpipe:

Ø6mmx4 + Ø8mmx2

Fan Speed:
14cm: 300~1700(*300~1100)RPM
12cm: 300~1800(*300~1200)RPM
Air Flow:
14cm: 16.3~92.4(*16.3~59.8)CFM
12cm: 16.6~92.5(*16.6~63.8)CFM
Static Pressure:
14cm: 0.002~0.091(*0.002~0.034)inch H2O
12cm: 0.003~0.098(*0.003~0.042)inch H2O
Noise Level:
14cm: 5.8~36.4(*5.8~21.3)dBA
12cm: 4.0~33.4(*4.0~23.6)dBA
Weight(with Fan):

1145g