PC Water Cooling
Reeven Naia 240 AIO Cooler Review
AIO Liquid Cooler with Options
A Closer Look at the Reeven Naia 240 »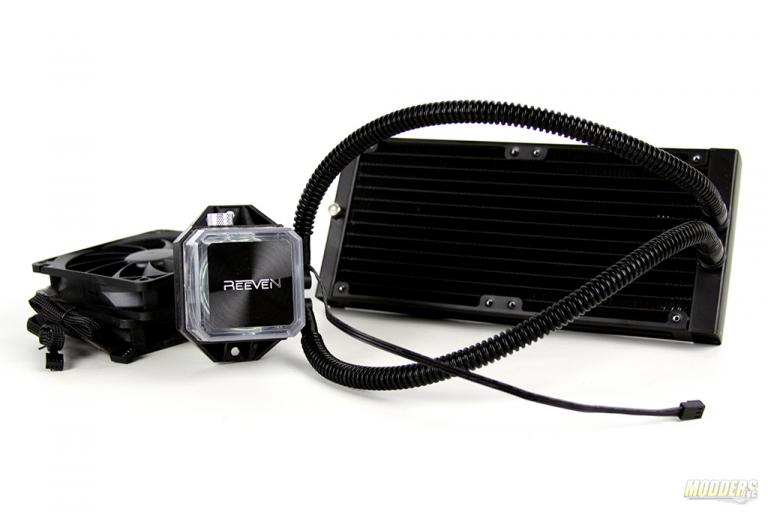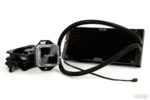 Reeven has been around only for a few years however that doesn't stop them from slowly growing their line up for the consumers. Their first attempt at liquid cooling solutions for the computer enthusiasts is called the Naia 240. The Reeven Naia 240 is an all-In-one liquid CPU cooling system that has some pretty unique features such as drainable CPU block/radiator and a color dye add-in which could be mixed with the coolant solution.
Packaging
The packaging of the Reeven Naia is straight forward as it provides a general description of the product in the front. While a more detailed view of the Naia 240 is described on the back of the package. What jumps out from this packaging is whopping global two-year warranty badge. The company operates directly from New Taipei, Taiwan and honors global repair/replacement of the Naia 240.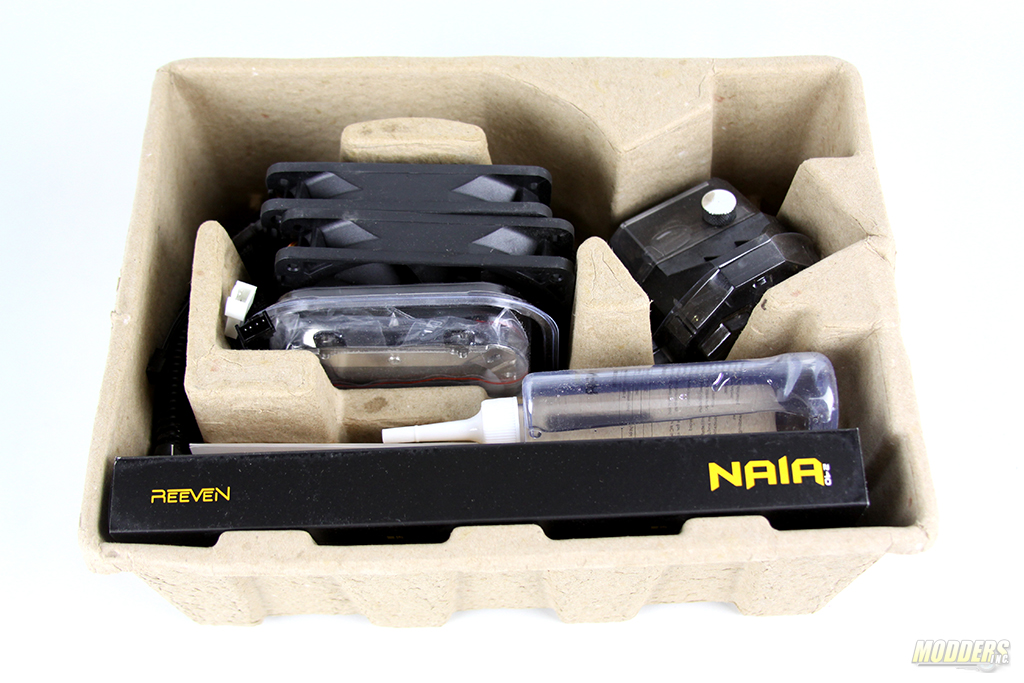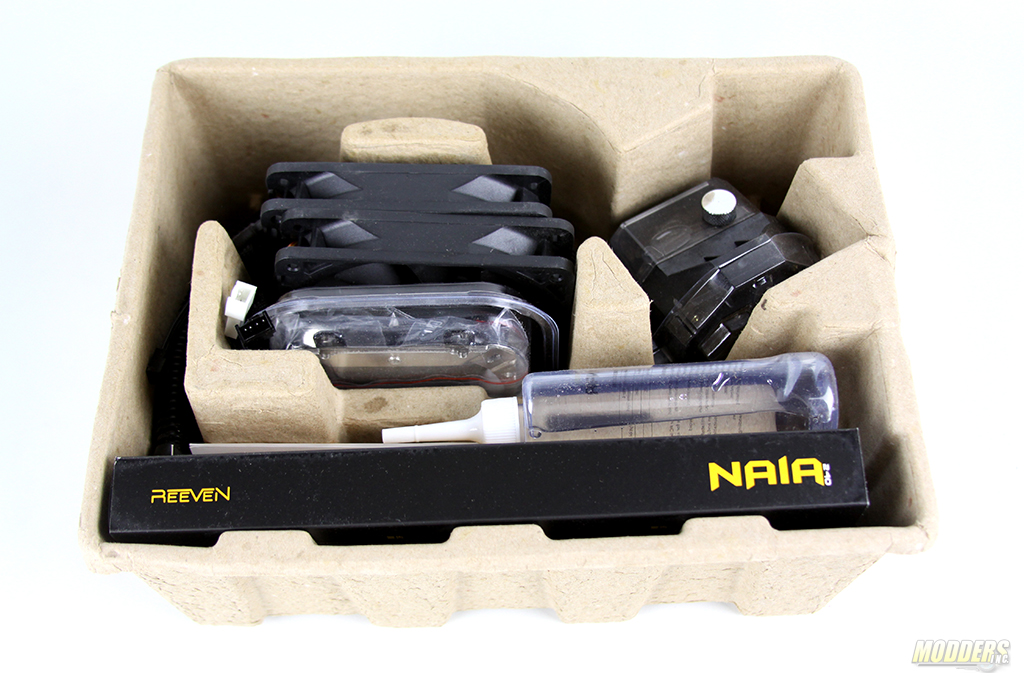 The internal components are nicely snug in a receycled cardboard cradle to keep everything stationary while in transport. It is also worth mentioning that the radiator comes in a separate box and not lose like with other AIOs in the market. This radiator supports two 120mm fans which are also included with kit.
Accessories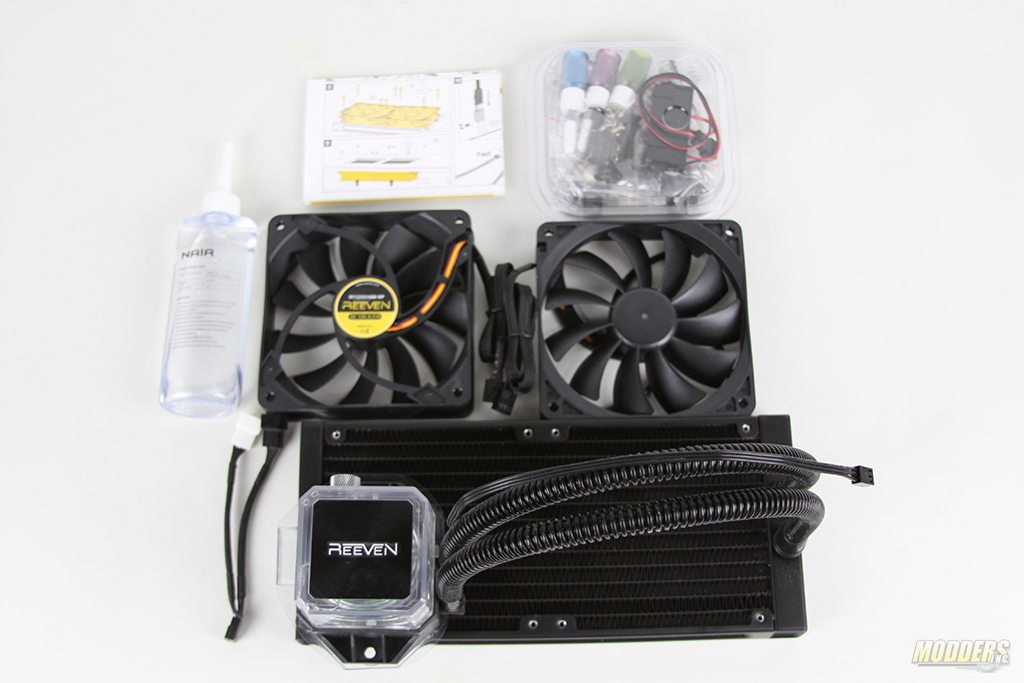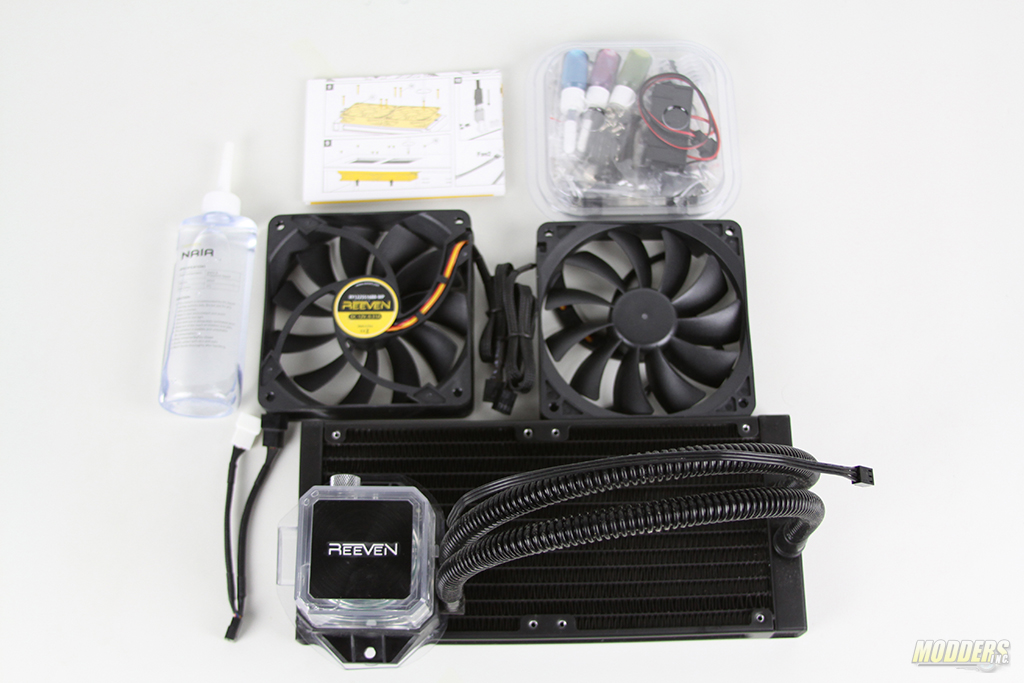 A small accessory bag provides all of the hardware needed to install Reeven Naia 240 on both AMD or Intel motherboards. The Reeven Naia 240 also includes a small bottle of liquid coolant and three dye additives (Red, Green and Blue). This is so users can customize the color of the coolant to color match with their system.
Apart from the mounting hardware and add-in dye colors. Reeven includes a small tube of thermal compound with a spreader, as well as additional clear coolant and a small drop applicator. A molex to fan header adapter is also provided.
Technical Specifications
Model Number:
RW-2401
Socket:
INTEL: LGA 115x / 1366 / 2011(V3)
AMD: AM2(+) / AM3(+) / AM4 / FM1 / FM2(+)
Overall Dimension:
(W)2,720 x (H)52 x (D)120 mm (with fan)
Fan Dimension:
120 x 120 x 25 mm
Fan Speed:
300(+300/-100)~1600(±10%) RPM
Air Flow:
6.93~90.28 CFM
Static Pressure:
0.003~0.08 inch H₂O
Noise Level:
6.5~30.9 dBA
Weight (with Fan):
1,290g
UPC Code:
840636100169
EAN Code:
4717011050165