« Introduction
|
Under the Hood »
Sapphire Tri-X Radeon R9 Fury Overview
The Sapphire Tri-X Radeon R9 Fury uses the Tri-X cooling cooling solution to keep the beast underneath tamed. With this cooling solution Sapphire is targeting 75°C with near silent fan speeds. What is interesting to me at least with the Fury, AMD has allowed the partners use their own cooling solutions so,  they are able to design coolers as they see fit.  Three dual ball bearing 90mm fans sit atop the Tri-X cooler.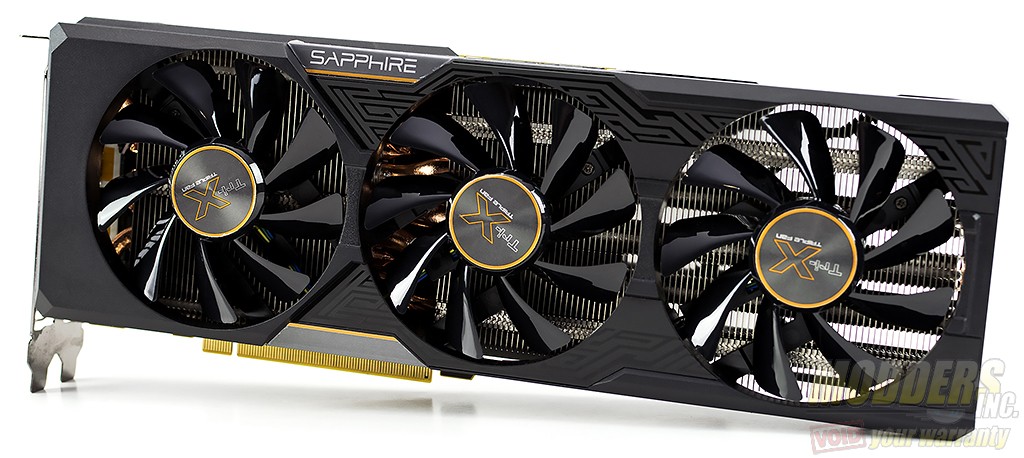 The Sapphire R9 Fury is actually a two and 1/2 height card. During my time with this card, I did install it in a case next to other AMD cards. So for multi GPU setups, ensure the motherboard spacing is appropriate for the cards you will be installing.

On the top side of the card, at the midway point, are the two 8-pin power connectors.

Out at the rear of the card, you can see a few of the termination points of the heatpipes in the Tri-X cooler. There are three sizes of heatpipes inside the cooler, a 10mm, 8mm, and 6mm heatpipes run through the heatsinks under the shroud.  LED indicators are positioned directly underneath the power connectors and give a visual indication of GPU load.
The actual PCB of the Sapphire Tri-X Radeon R9 Fury is only as long as the back plate. The short PCB, in combination with Sapphire's cooler, leaves the last fan unobstructed and able to blow air all the way through the heatsink allowing for better cooling. The backplate of the PCB acts as a heatsink as well.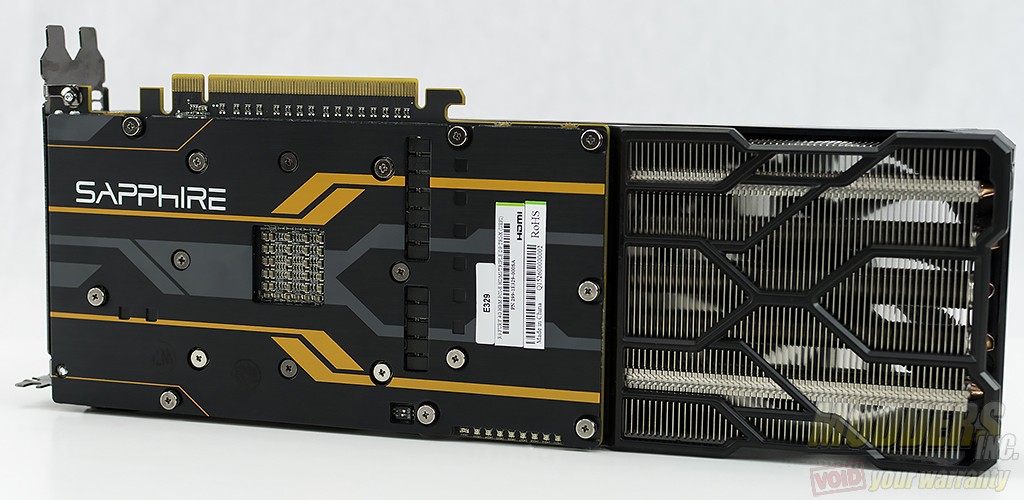 Up front, there are three DisplayPort and one HDMI output. You can see the I/O bracket is a dual slot design and the cooler as well as the back plate extend just beyond.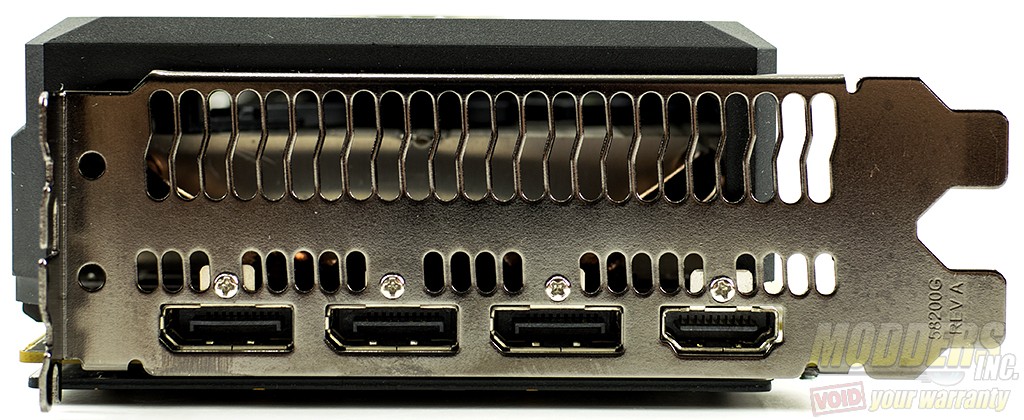 Three 90mm dual ball bearing fans cool the heatsinks housed under the shroud. The dual ball bearings should give these fans a very long life and provide quiet cooling.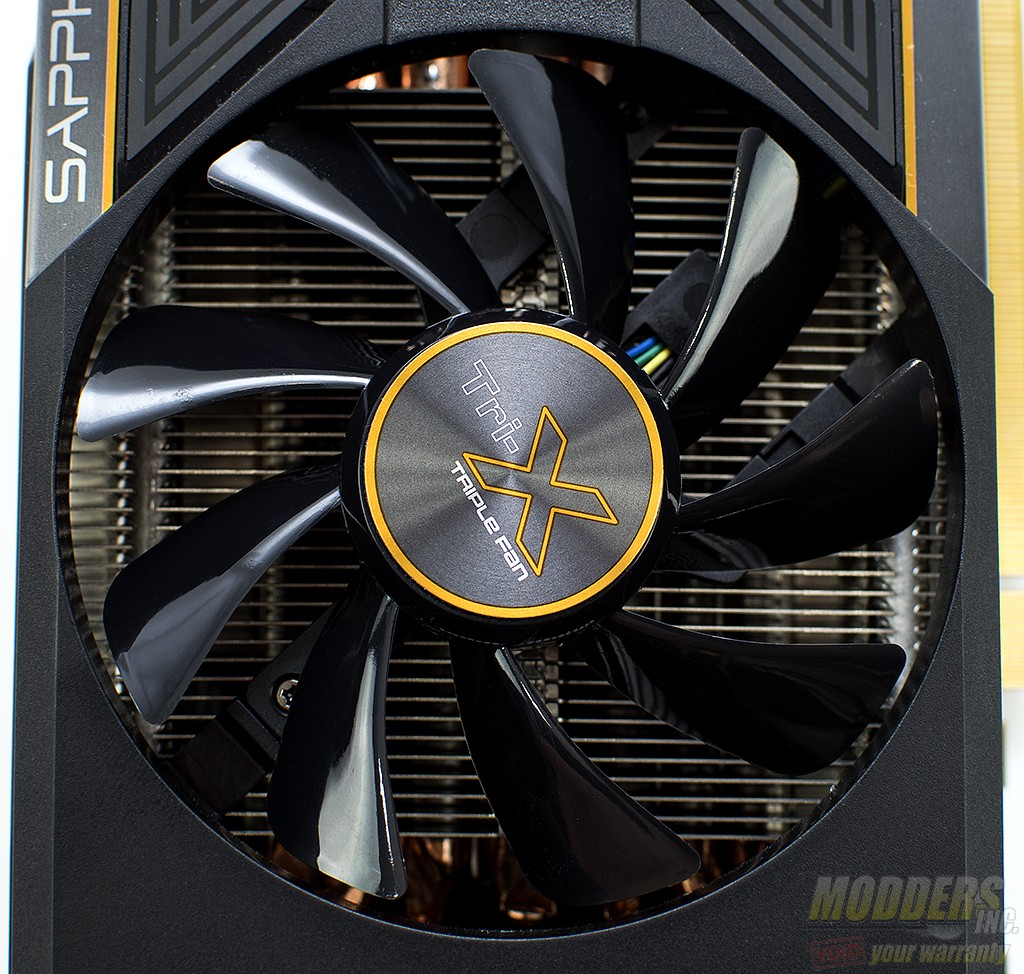 One of the issues with the card's height is the screws that attach the backplate and the heatsink. As you can see the spring backed screws stick up a bit from the backplate. When I tried to install this card in CrossFire on a the MSI Z97M MicroATX motherboard, the screws are tall enough that it interfered with the dual-slot video card's fan above.

The Sapphire Tri-X Radeon R9 Fury features dual BIOS functionality. There are two version of the shipping BIOS. With the switch in the left side, the card's target temp is 80°C and the ASIC allows power draw of up to 350 watts. In the right side the target temperature is 75°C and the ASIC is limited to 300 watts.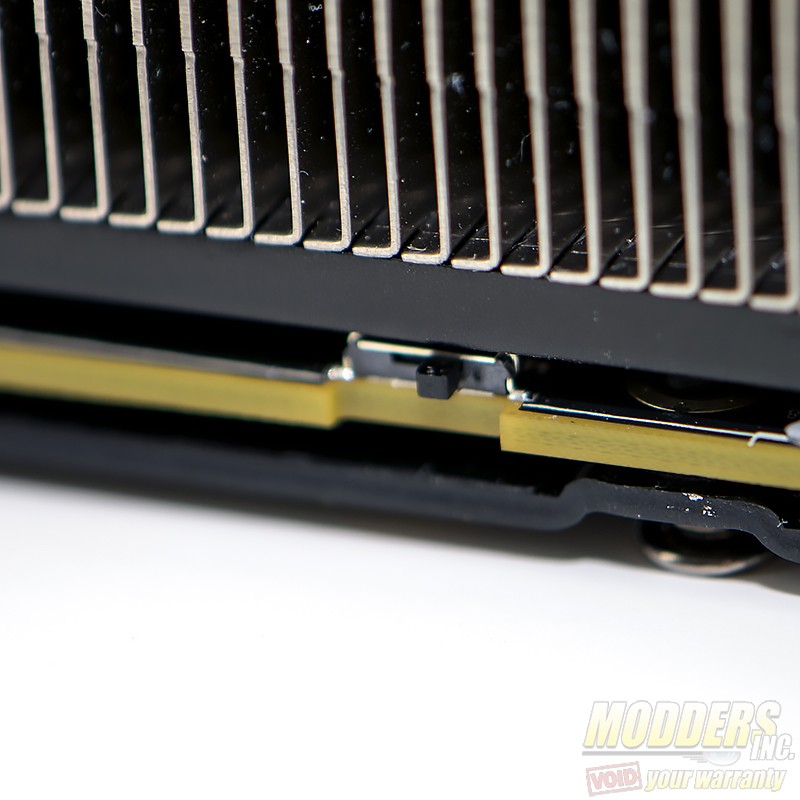 There is a couple of DIP switches located on the back of the card near the 8 LEDs. Depending on the positions of the switches, the LEDs can be turned off, change color to red, blue, or white.