News and Articles
Scythe Adds New Byakko Compact 130mm tall Tower Cooler to its lineup
Japanese cooling manufacturer Scythe has announced a new tower cooler designed for compact clearance needs: The Scythe Byakko. The Scythe Byakko stands at a compact 130mm height so it is able to fit under most enclosures. The Scythe Byakko also exhibits some interesting design choices as well which extend that compatibility to the surrounding components including the memory. With its asymmetrical leaning tower design, the Scythe Byakko is able to mount a 92mm fan while providing enough clearance for a fully populated DIMM slot. A single 92mm Slip Stream fan already comes pre-bundled (SY9225SL12M-P) with a range of 300RPM all the way to 2300 RPM. At that speed, it manages 46.55 CFM and 79.09m³/h of static pressure.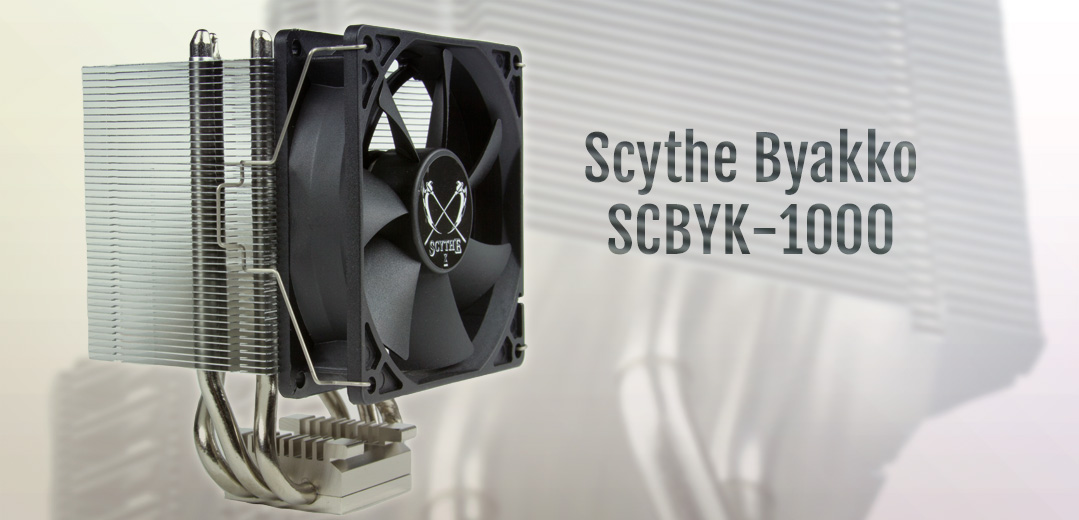 With its full measurements at 102 x 130 x 84mm, the Byakko is not particularly bulky either and it does not compensate for its lack of height with a wider body. As with most of Scythe's coolers, the Byakko is fully nickel plated including the copper contact surface. From there, three 6mm thick heatpipes protrude and extend upward into the aluminum fin array where the 92mm PWM fan actively cools off the heat from the CPU. This fan mounts via a simple fan clip mounting and an additional one can be attached to the rear for a push-pull configuration.
The heatpipes are arranged so that the middle heatpipe is positioned towards the outer edge of the aluminum fin array while the front and back heatpipes are arranged more toward the center. There are a total of 42 fins, with the top and bottom stacked in three and in between them are alternating slopes in the middle in sets of two. This is a unique design I have not seen before to combat the deadzone in the middle, while the alternating pattern should accelerate the air flow as it is pushed through.
Because of its compact 415 gram weight, the Scythe Byakko does not require any complicated mounting mechanism and mounts via simple push pins like a regular Intel stock cooler. Mounting support also includes Intel LGA775 and LGA115x sockets as well as AMD AM3+/FM2+. Included in each package are the mounting screws, fan mounting clips, thermal grease for out-of-the-box installation and the installation manual.