CPU Cooler
Scythe Ninja 4 CPU Cooler Review: All Hail the Kingslayer
Closer Look at the Scythe Ninja 4 »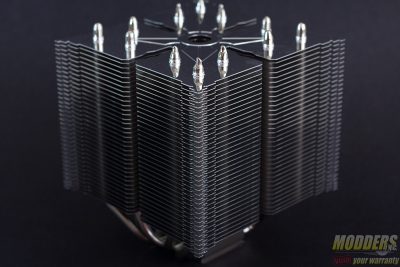 If at first you don't succeed, try, try, try again. Nobody gets things right the first time and even if done well, needs change over time so a revision is almost always guaranteed to happen. It is not about striving for perfection because what that is cannot be a clearly defined point, but it can be approached. This is a proverb cooling product manufacturer Scythe has also taken to heart with their Ninja CPU cooler series.
The Scythe Ninja 4 is the latest iteration of the company's symmetrical tower-heatsink design. Utilizing six 6mm heatpipes arranged in U-formation, the Scythe Ninja 4 actually has less heatpipes than its predecessor which had eight but boasts a refined aluminum fin structure that promises to be much more efficient especially at lower fan speed levels. Bundled with the Scythe Ninja 4 is a 120mm Glidestream 120mm PWM fan with an adjustable 3-level fan speed switch for those with non-PWM headers, allowing for 1500, 1150 and 800 RPM speeds.
[sc:sponsor sponsor="Scythe" product_link="http://www.scythe-eu.com/en/products/cpu-cooler/ninja-4.html" product_name="Ninja 4 CPU Cooler" product_price_link="http://amzn.to/1IsIF6Z" product_price="$52.95 (Amazon.com)" ]
Before you take to Tumblr and accuse Scythe of insensitivity and cultural misappropriation for its product naming and packaging, keep in mind that Scythe's headquarters is actually in Japan; originally from Akibahara, a district known around the world for their electronic stores. Besides, it is in a rather playful context so put down that pitchfork and do not be such a baka desu.
The packaging internally itself is modest with the heatsink held in place with cardboard and the accessories housed in its own box on the top. Any decent heatsink should be ready for installation right out of the box and that is exactly what Scythe has with the Ninja 4 as there is bundled thermal interface material as well as a mini hex spanner and screw driver with the mounting kit and illustrated user guide. An extra fan mounting clip is provided as well for an optional secondary 120mm fan.
Specifications:
Socket Compatibility
Intel: Socket LGA775, LGA1150, LGA1151, LGA1155, LGA1156, LGA1366, LGA2011 / 2011-v3 (Square ILM). AMD:
Socket AM2, AM2+, AM3, AM3+, FM1, FM2, FM2+
Dimensions without fan
 130 x 130 x 155
Dimensions with fan
 130 x 155 x 155
Weight
 780g (900g with fan)
Heatpipe
 6 x 6mm
Base Material
 Nickel Plated Copper
Fan Bundled
 1x GlideStream 120 PWM SY1225HB1212H-PS (3 operations modes H/M/L)
Fan Airflow
 L: 21.97~73,90 m³/h (12.93~43.50 CFM)
M: 21.97~73,90 m³/h (12.93~63.73) CFM
H: 21.97~73,90 m³/h (12.93~84.64 CFM)
Fan Speed
L:  300 rpm (±300)~800 rpm (±10%
M: 300 rpm (±300)~1150 rpm (±10%)
H: 300 rpm (±300)~1500 rpm (±10%)
Static Pressure
L: 0.69~4.90 Pa / 0.07~0.50 mmH²O
M: 0.69~10.40 Pa / 0.07~1.06 mmH²O
H: 0.69~17.55 Pa / 0.07~1.79 mmH²O
Bearing
Sleeve Bearing