CPU Cooler
Scythe Ninja 4 CPU Cooler Review: All Hail the Kingslayer
« Test System and Benchmarks
Final Thoughts about the Scythe Ninja 4

Looks like we have a kingslayer on our hands but there is a lot more to a review than just benchmarks and context of functionality must be taken into account. After all, who cares about a difference of one or two degrees? What makes the Scythe Ninja 4 impressive however is the fact that not only does it match the Noctua NH-D15/D15S in performance, it does so on its MEDIUM fan speed setting. When running at its max fan speed, the 120mm Scythe Glidestream fan on the Ninja 4 is able to trump the large 140mm twin-tower cooler by four degrees on the FPU-only load average. Averaged numbers are used in the methodology to get consistent and behavioural based results, but raw numbers will show even bigger gaps.
Factoring in noise, the Ninja 4 is considerably louder at 43.2 dBA with maximum fan speed but the medium fan speed clocks in at only 38.1 dBA, besting the NH-D15S' 40.8 dBA. That makes it quieter than even the impressively silent BeQuiet Dark Rock TF which runs at 39dBA at full-speed. Even at the low 800RPM fan speed setting, the Scythe Ninja 4 still puts up impressive numbers, now clocking in at only 35.3 dBA and virtually inaudible from ambient noise for most ears even outside of an enclosure.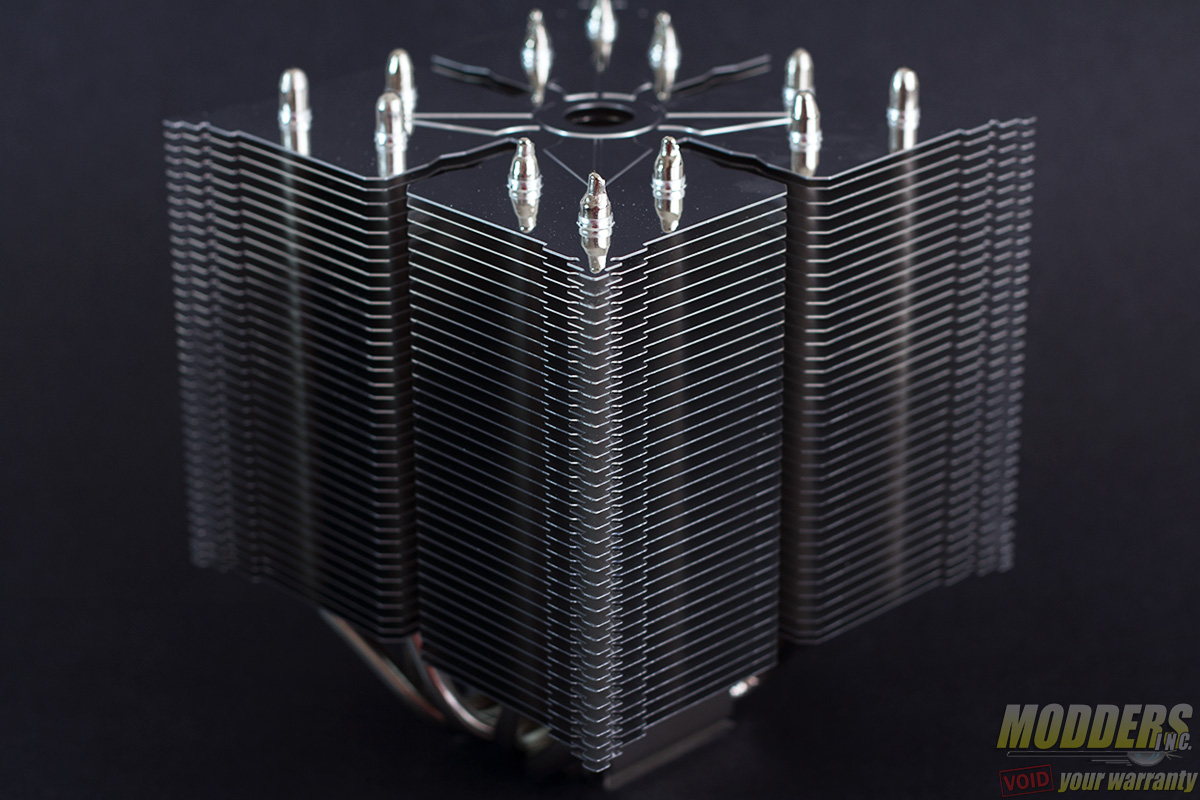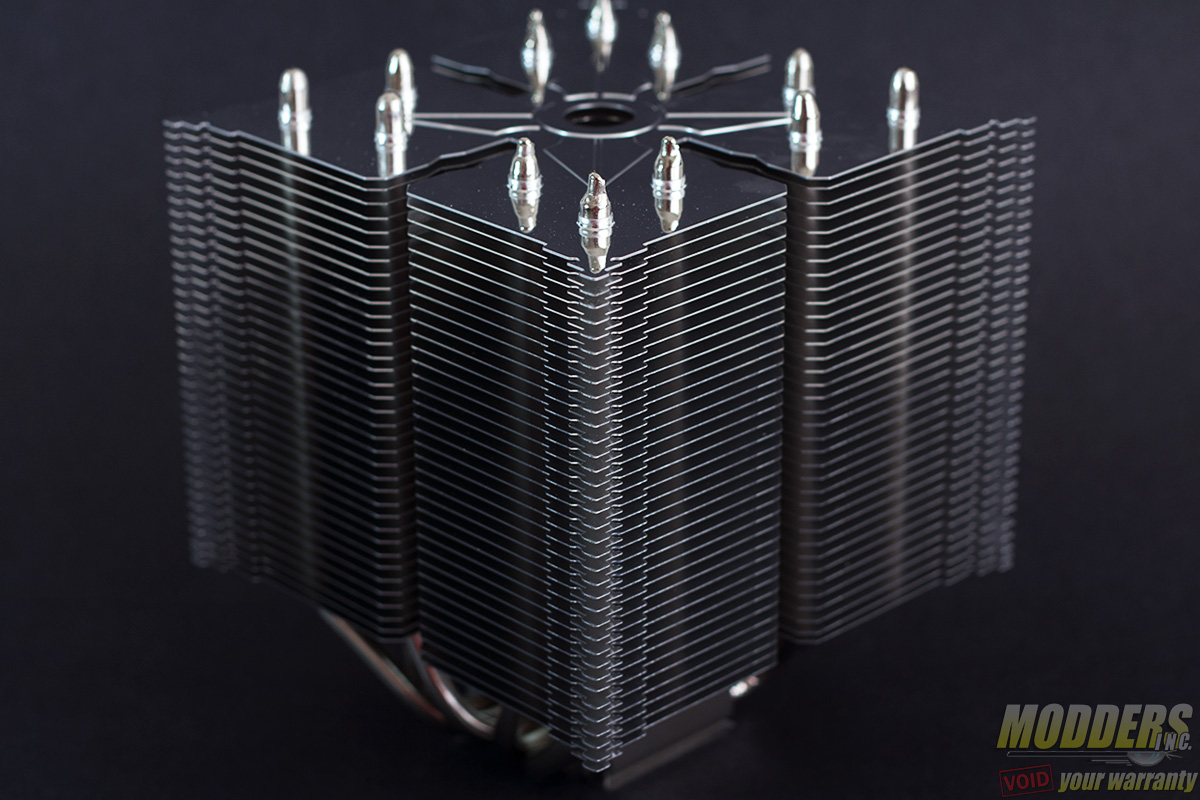 The Scythe Ninja 4 shows the kind of impressive performance that is not just based on brute airflow, but on quality engineering. You can slap any fan on this heatsink and it will perform well because the design is fundamentally strong. The Scythe Glidestream fan itself is very good, especially considering it is a sleeve bearing fan. They generally do not last as long or as versatile as ball-bearing and fluid-bearing fans but the Scythe Glidestream exhibited decently smooth PWM noise across the spectrum. There is only a slight grinding noise noted between 400 to 500 RPM but otherwise, the grooved fan blade design proved to be very good at producing quiet, high-pitch free operation even at maximum speed.
The only other downside to the Scythe Ninja 4's design is its symmetrical layout creating clearance issues with taller RAM modules. On many motherboards, it will overhang up to the second DIMM slot limiting the clearance to 39.5mm. Ultimately, the Scythe Ninja 4's impressive performance more than justifies this short coming so it earns an Editor's Choice award. While the 43dBA maximum fan speed is not enough on its own to convince, it earned a lot of points with its 38.1 dBA medium and 35.3 dBA low fan speed performance as well as a build quality that is a benchmark on its own, all for only ~$50 USD.
[sc:editors_choice_award ]
UPDATE: December 2, 2015:
PSA: Users who are going to install the Scythe Ninja 4 on an Intel skylake CPU, please be aware of the latest Intel CPU's thinner PCB substrate that can get damaged from exerting a lot of pressure. Scythe has issued the following statement about the matter (translated from German):
The company Scythe EU GmbH announces that on several coolers from its portfolio, a change of the mounting system for Skylake / plinth is made 1151st All coolers are in fact generally compatible with Skylake sockets, but it can in some cases result in damage to CPU and motherboard when the PC is exposed to stronger shocks (eg shipping or relocation). To prevent this, the pressure was reduced by an adjustment of the screw set. We will send the new set of screws you also like to charge. Please send your request via email to support@scythe.com or use the contact form on our website.