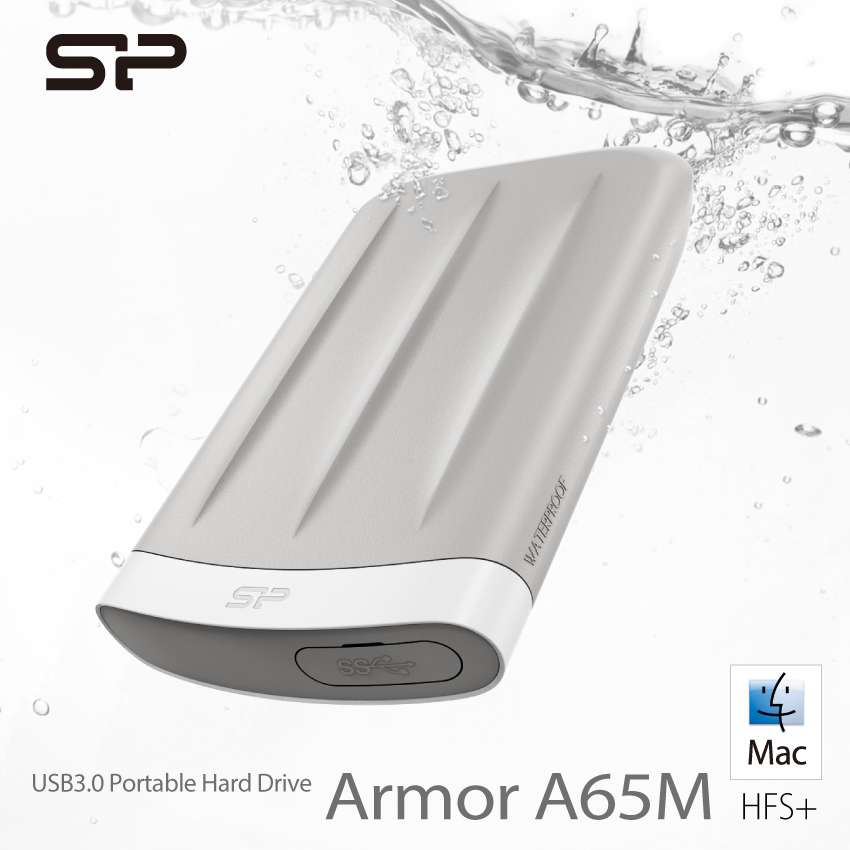 Another IP67 portable drive from Silicon Power hits the market dubbed the Armor A65M, this time designed for MAC users. The Ip67 standard means that this device is waterproof, dustproof and shockproof, able to withstand strenuous activity while keeping the data inside safe in its compact with a convenient onboard cable-carry design. Photos and information is available in the official press release below:
Silicon Power Launches the First IP67 Waterproof and Military- grade Shockproof Portable Hard Drive for Mac ─ Armor A65M
Taipei, Taiwan – March 6th, 2015 – SP/ Silicon Power, the world's leading provider of memory storage solutions, today launches the ultra-rugged USB 3.0 portable hard drive for Mac users-Armor A65M. Maximizing the shockproof and waterproof specifications of the Armor Series, the Armor A65M is specifically designed for Mac users with all-inclusive safety shields fighting against various threats that may occur during daily operations, and it also complies with the U.S. military-grade drop test and the IP67 standard. The Armor A65M pioneers data protection measures with its exclusive cup-shaped design for optimizing its waterproof and dustproof functions, which makes the Armor A65M the first portable hard drive that meets the IP67 standard in the industry. In addition, the Armor A65M is especially rigid with its three-layer construction including two layers of rubber and one unibody frame in the middle, altogether promising great protection to withstand drops and shocks. Incorporating complete inside-out protection, the Armor A65M is guaranteed to keep your data safe under all sorts of conditions and is ideal for Mac users on the go. Furthermore, the Armor A65M enables easy plug-and-play use for it is already formatted in HFS+ format and supports Time Machine®.
Full Data Protection for Mac-Shockproof, Waterproof and Dustproof
High protection makes true portability. For users who value the importance of mobility, ensuring data safety during transport is the top priority. Mac users, including multimedia professionals and businessmen, are the ones who put great emphasis on mobility and data safety due to their need to process large videos, graphics editing or to travel around for business or research. To thoroughly meet the Mac users' needs for safe data storage, the Armor A65M is specially designed with multiple layers of protection to be shockproof, waterproof and dustproof. Compliant with the MIL-STD-810G 516.6 Procedure IV (transit drop test), the Armor A65M is armed with a strong three-layer exterior protection, sturdy rubber casing and an internal suspension system to enable the perfect buffer effect for any and all physical impacts that allows complete protection against crushes or accidental drops. Moreover, the unibody structure reduces fracture points to effectively prevent the drive from breaking apart and further assure higher durability and reliability. In addition to its incredible shockproof function, the Armor A65M, with its innovative cup-shaped design, is also waterproof and dustproof and meets the IP67 standard by which it can completely protect against dust penetration and survive water immersion at depths of up to 1 meter for up to 30 minutes. Furthermore, the Armor A65M also takes speed into consideration to make the drive even more powerful. Introducing the SuperSpeed USB 3.0 interface, the Armor A65M can perform at blazing-fast data transfer speed to fulfill Mac users' different application requirements for video/graphic editing and large backups.
A Palm-sized Vault with Onboard Cable-carry Design
The Armor A65M features a delicate cable-carry design, by which the cable can be easily tucked in and fixed on the back of the drive. The intelligent design greatly reduces its size and makes it easier to be carried around. With its small size and the smart cable storage, the Armor A65M is ideally designed so users can transport their drive everywhere with ease. What's more, the rubber enclosure and the special surface texture not only allow anti-slip function but also keep the drive fingerprint and scratch free. Inspired by the flowing lines of a luxury yacht, the Armor A65M is given a trendy look with the streamlined hull shape, which delivers an exceptional taste that perfectly matches the elegant design of MacBook. Furthermore, the Armor A65M is equipped with a built-in LED indicator to let you know the operating status. To meet different storage needs, the Armor A65M offers three capacity options of 500GB, 1TB and 2TB allowing users to store hundreds of audio files, classic movies, photos and important research data. The Armor A65M is backed by a 3-year warranty and comes with the exclusive free software download—SP Widget for Mac, which provides backup and security tools. For more information, please visit the Silicon Power website: www.silicon-power.com
Armor A65M Product Features:
Easy plug-and-play use for Mac, already being formatted in HFS+ and supporting Time Machine®
Compliant with the U.S. military drop-test standards MIL-STD 810G Method 516.6 Procedure IV (transit drop test), a freefaltest (122cm) on 26 contact points
Industry's-first to meet IP67 dustproof/waterproof standard
Advanced internahard drive suspension system
Delicate cable-carry design
SuperSpeed USB 3.0 interface
Intelligent LED indicator
SP Widget for Mac free software download, providing back-up and security functions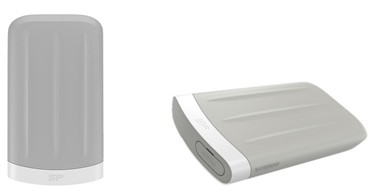 Armor A65M Product Specifications:
Dimensions:143.4 x 86.7 x 20.7 mm
Weight:242~277g (by capacity)
Capacity:500GB、1TB、2TB
Material:Rubber/ Plastic
Color:Grey
Interface:USB 3.0 / USB 2.0 compatible
Data transfer rates:Max. 5 Gbps (USB 3.0 Mode); Max. 480 Mbps (USB 2.0 Mode)
Power supply:DC5V (Power supplied through USB)
Supported operating systems:Mac OS 10.5 or later
Operating temperature:5°~ 55°C
Storage temperature:-40°~ 70°C
Warranty:3 years
####
About SP / Silicon Power
Silicon Power Computer & Communications Inc., founded in 2003 by a group of enthusiastic specialists of flash data storage industry. Weldedicated in brand image and product quality, SP has been recognized and welaccepted by millions of end-users in more than 100 countries, becomes the world's leading manufacturer of flash memory cards, USB flash drives, card readers, DRAM modules, solid state disks, and portable hard drives in less than a decade. Headquartered in Taipei, we continuously established various branches throughout the world including Netherlands, Japan, Russia, Mainland China and other emerging market. With superior quality and innovative design, our products stood out in many competitions and awarded with numerous well-known design awards, such as Taiwan Excellence, COMPUTEX Design & Innovation Award, red dot design award, iF Design Award and IDEA . Winning trust of globaconsumers SP holds a record of successive double-digit revenue growth for last ten years. For SP, the product we introduced is not only a digitastorage device but also a reapromise to create and preserve your most valuable memory in every moment.