Memory storage solutions manufacturer Silicon Power is on a roll, earning another iF Design Award so early in the year. Both their Stream S06 3.5″ external hard drive and Mobile X31 USB 3.0 flash drive have been recognized as having exceptional design and standing out among the 4,783 entrants across 53 countries this year. For more information, check out the official press release below:
Silicon Power Again Received the Highest Recognition from iF Design Award 2015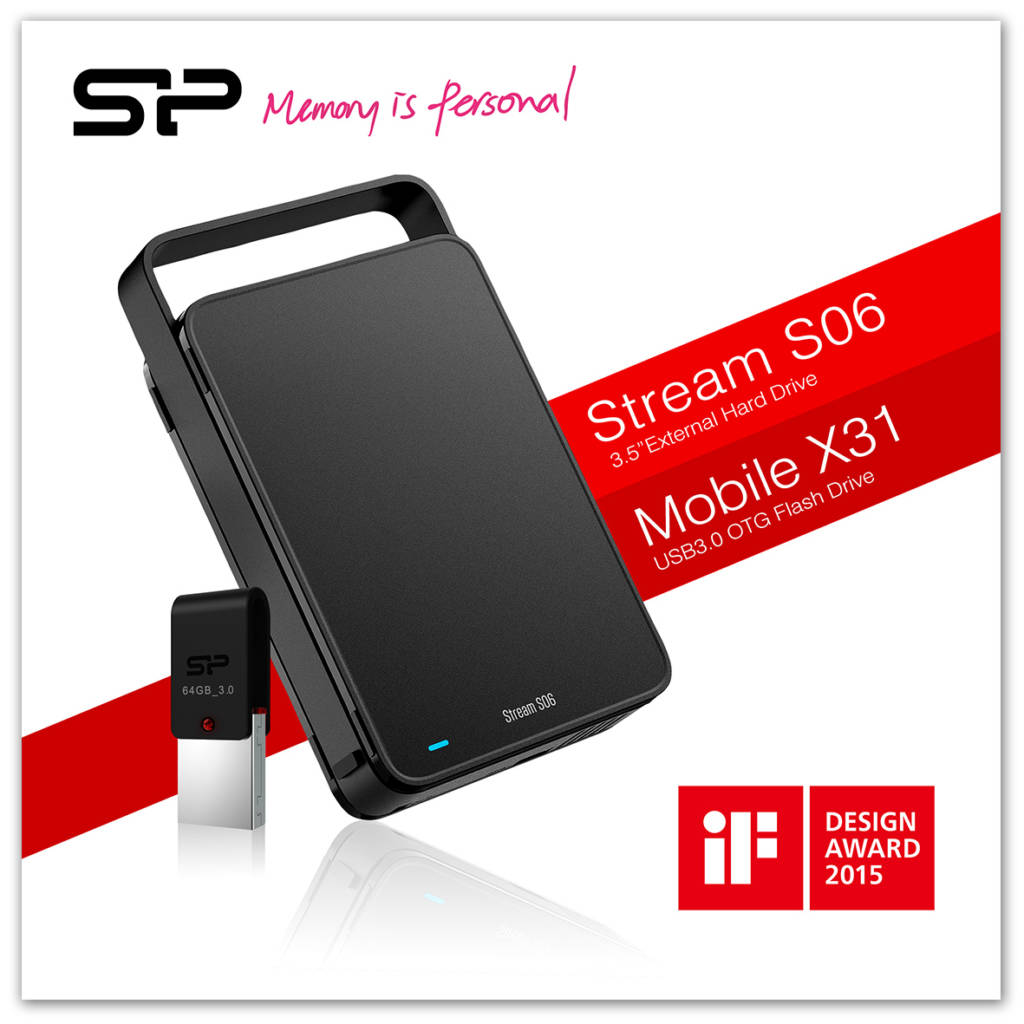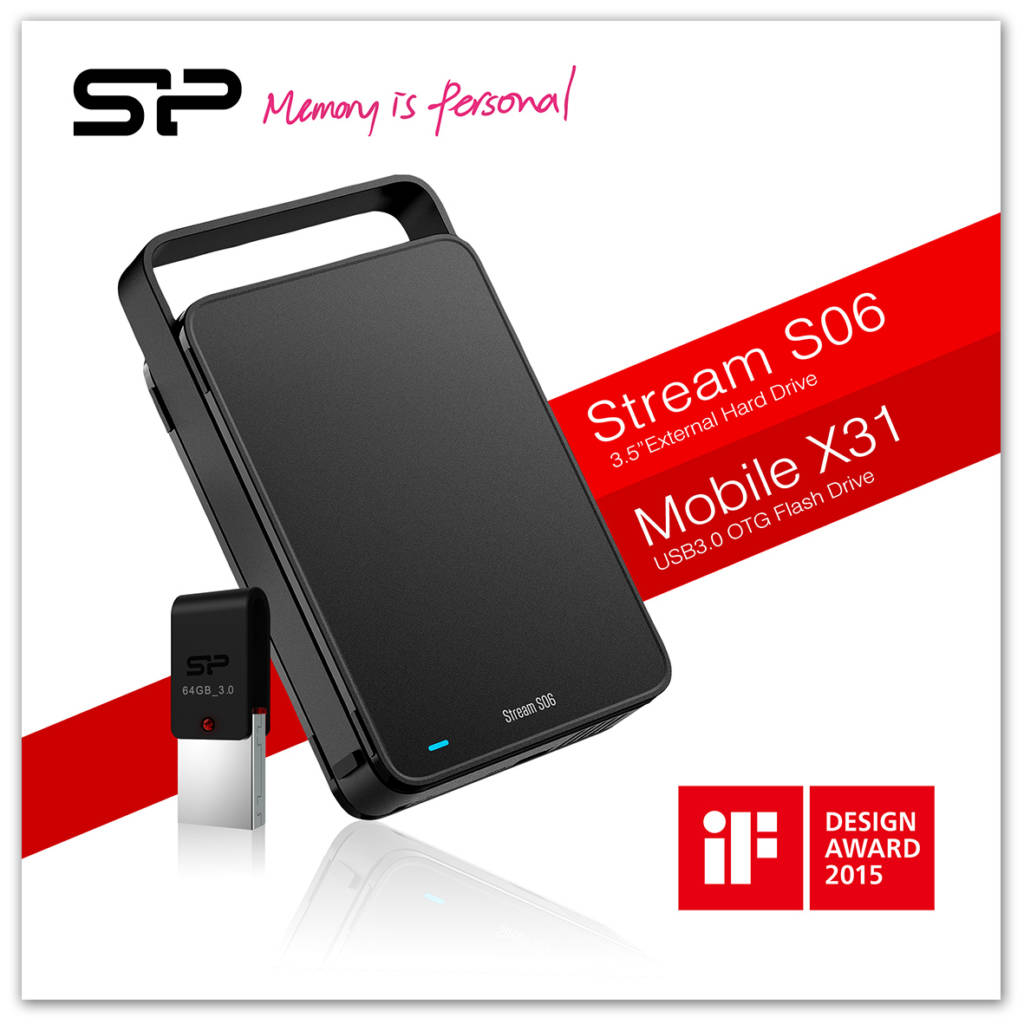 Taipei, Taiwan – February 6th, 2015 –SP/ Silicon Power, the world's leading provider of memory storage solutions, today is proud to announce that SP has once again received one of the most influential and prestigious recognitions from iF Design Award 2015 for its exceptional products-Stream S06 3.5-inch external hard drive and Mobile X31 USB 3.0 OTG flash drive. After achieving great success with ten awards from Taiwan Excellence 2015, SP keeps its path toward distinguished product designs and again won the complete triumph with two iF Design Awards.  Continuously being honored by numerous worldwide recognitions including the four most renowned design awards-iF Design Awards, reddot Design Award, IDEA Award and GOOD DESIGN AWARD, SP sets the record for the industry in terms of awarded products and awarded frequencies, which strengthens its irreplaceable status and also shows what SP is capable of.
iF Design Award, founded in Germany in 1953, has now become one of the most reputable and famous design awards all over the world. Established by iF Industrial Forum Design, iF Design Award plays an important role as the mediator between design and economy. This year, iF Design Award attracted 4,783 entries from 53 countries competing for the award. After undergoing strict evaluation by the jury joined by 53 renowned experts and designers, SP won an advantage over other participants and received two awards for its remarkable as well as original product designs. Such notable awarding record not only proved SP's persistence in perfection but also confirmed its leadership in memory storage solutions industry.
Stream S06 3.5-inch External Hard Drive


Taking all aspects into consideration without compromising anything useful, Stream S06 is perfectly engineered to the most powerful specifications with USB 3.0 interface, incredibly high capacity up to 4TB and elegant look. The exclusive handle design is a wonderful combination of beauty and functionality, which presents the extraordinary taste of modern design and in the meantime promises easier-than-ever user experiences for daily using and carrying. Incorporating superior capability and splendid appearance, S06 is not just an addition to your storage solution but definitely a must-have for your storage system.
Mobile X31 USB 3.0 OTG Flash Drive


Perfectly combining the advantages of a micro-USB and a USB 2.0 connector in a compact form factor, Mobile X31 OTG flash drive features the dual-interface design which can free users from capacity shortage and offer an easier way to transfer and backup files between PCs, Android™ smartphones and tablets without needs for cables or Wi-Fi hotspot. Additionally, X31 adopts SuperSpeed USB 3.0 interface to realize real efficient tech-life for users on the go. Furthermore, Mobile X31 features the exclusive 360-degree swivel-cap design that allows users an easier method to use and store with just a thumb push.
###
About SP / Silicon Power
Silicon Power Computer & Communications Inc., founded in 2003 by a group of enthusiastic specialists of flash data storage industry. Well dedicated in brand image and product quality, SP has been recognized and well accepted by millions of end-users in more than 100 countries, becomes the world's leading manufacturer of flash memory cards, USB flash drives, card readers, DRAM modules, solid state disks, and portable hard drives in less than a decade. Headquartered in Taipei, we continuously established various branches throughout the world including Netherlands, Japan, Russia, Mainland China and other emerging market. With superior quality and innovative design, our products stood out in several competitions and awarded Taiwan Excellence and COMPUTEX Design & Innovation Award in 2009 and 2010. Winning trust of global consumers SP holds a record of successive double-digit revenue growth for last seven years. For SP, the product we introduced is not only a digital storage device but also a real promise to create and preserve your most valuable memory in every moment.