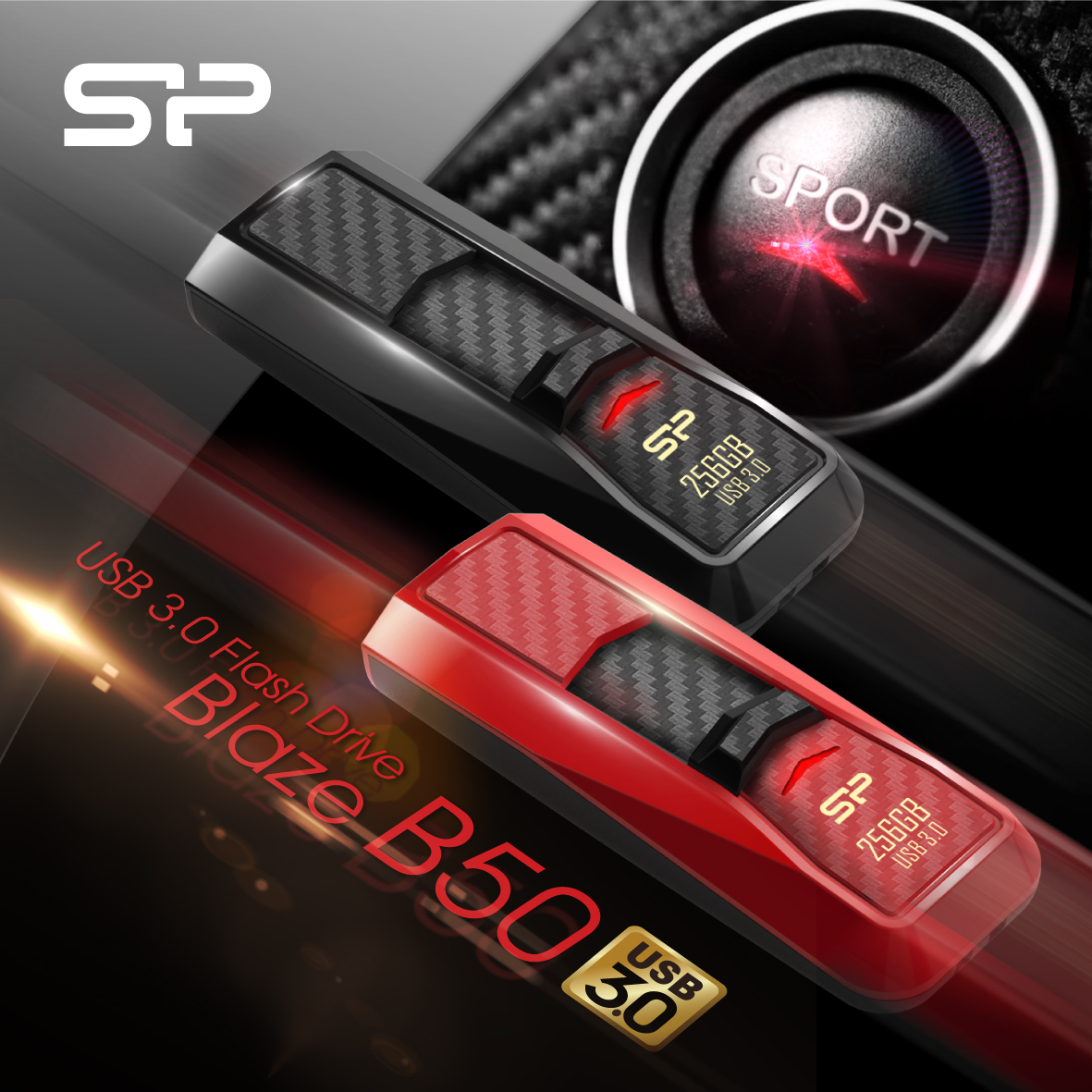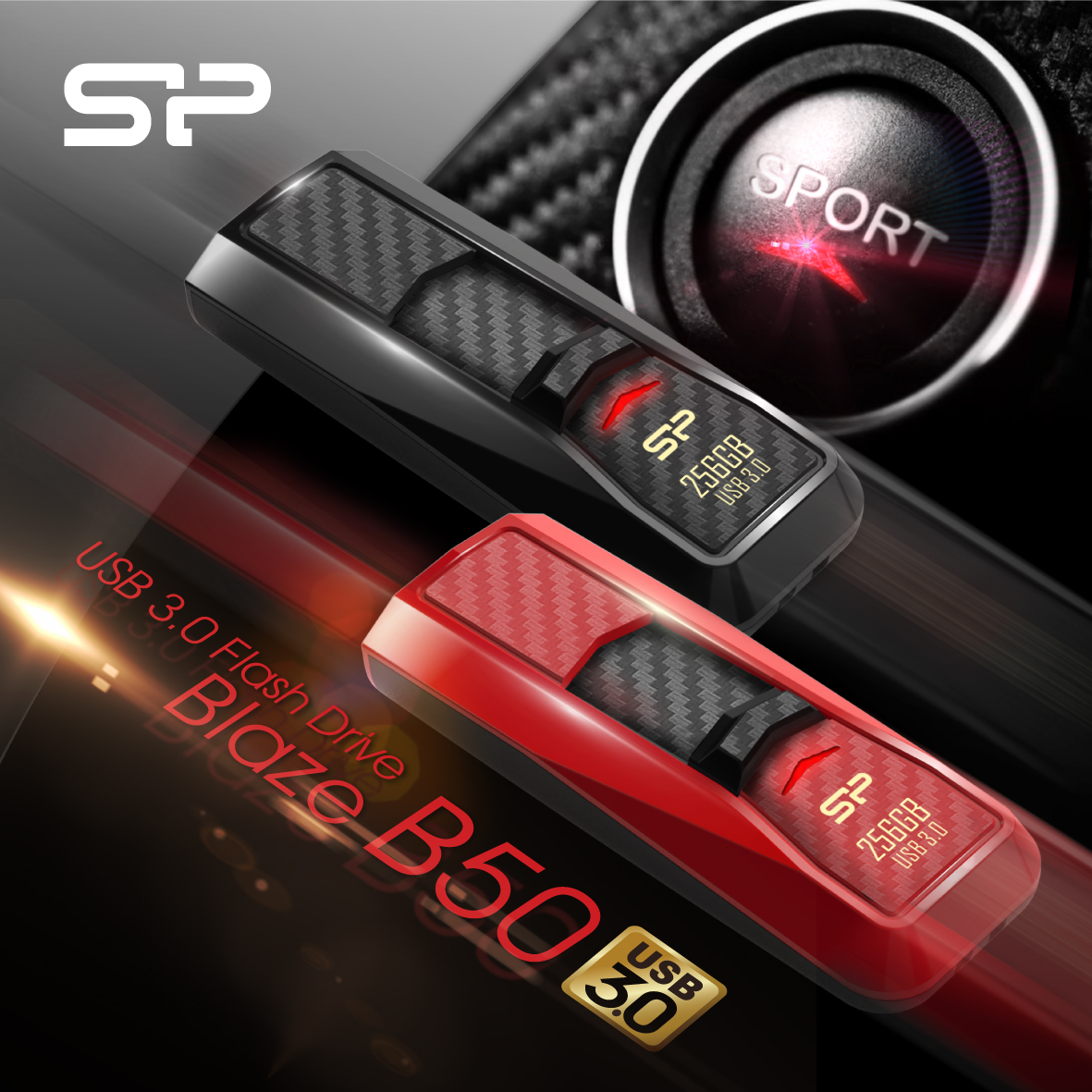 Silicon Power adds a new USB 3.0 flash drive yet again to their line up, now in a design inspired by sportscar: featuring the Blaze B50.  Available in black or red, the Blaze B50 offers storage solutions up to 256GB and has 240MB read and 145MB write performance. For more information, check out the official press release below:
Silicon Power Releases the Sportscar-like USB 3.0 Flash Drive—Blaze B50
Taipei, Taiwan – March 9th, 2015 –SP/ Silicon Power, the world's leading provider of memory storage solutions, today releases the specially-designed USB 3.0 flash drive—Blaze B50. Inspired by muscular curving and dynamic spirit of sports cars, the Blaze B50 is tailored to delivering the streamlined and breathtaking look with powerfully-sculpted lines and delicate carbon fiber surface treatment. Consideration to every detail is echoed in the exterior design that represents a sense of movement and appears to be a great attraction for sports car enthusiasts. Not just a characteristic styling choice for fashion-conscious users, the Blaze B50 also appears to be the top gear by offering comprehensive capacity solutions up to 256GB and utilizing the SuperSpeed USB 3.0 interface. Emphasizing the power of remarkable performances and superb designs, the Blaze B50 lines up as the very best in its segment.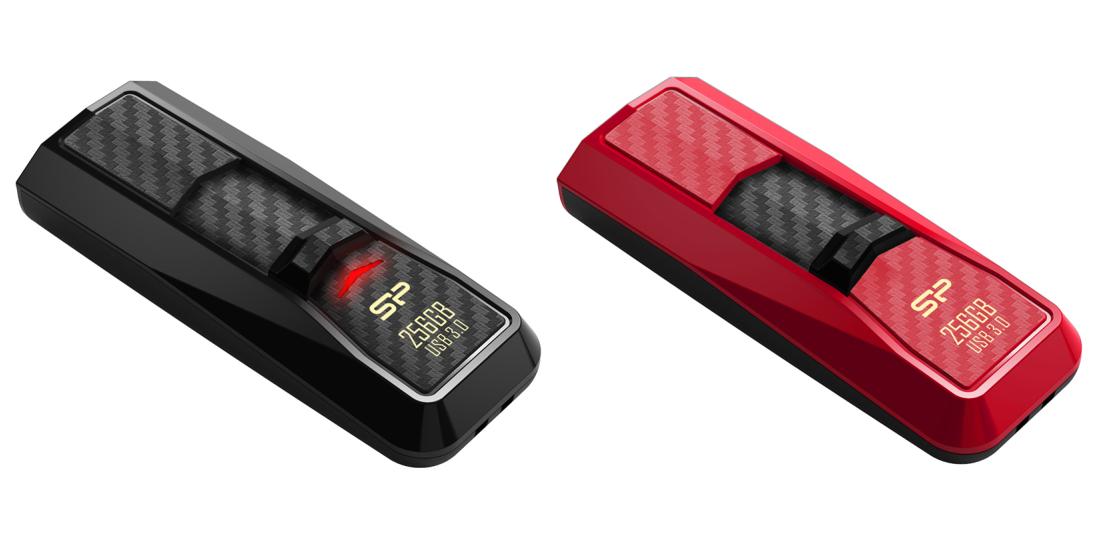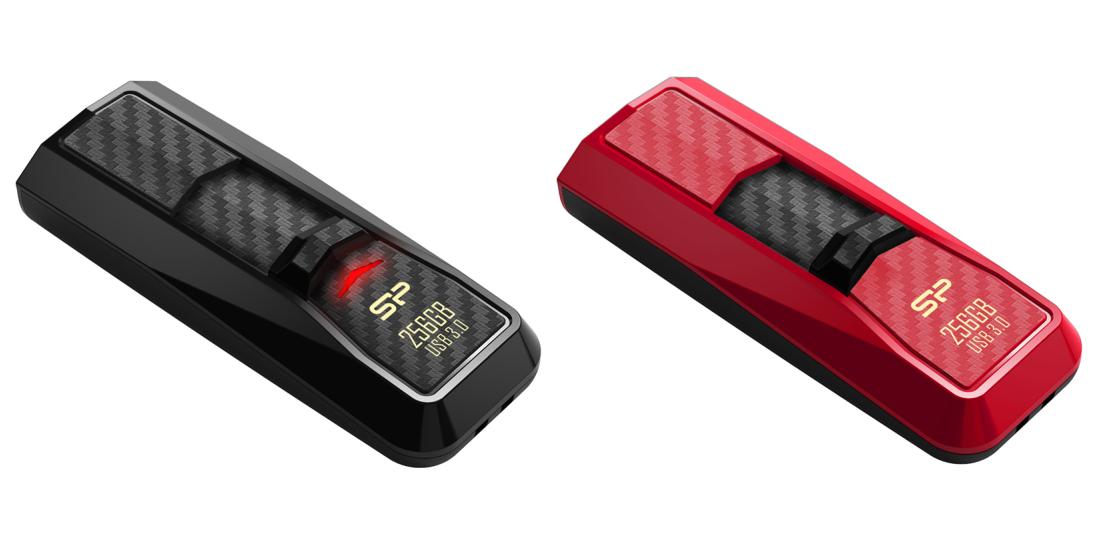 Give in to the euphoria in every curve and angle
Encouraged by the dynamic concept of sports cars, the Blaze B50 USB flash drive is designed to be an artistic production with flowing lines and exquisite surface treatment that altogether create a sensuous character and an aggressive expression of style. To thoroughly accentuate the sense of speed and sportiness, the Blaze B50 applies the special surface treatment with carbon fiber pattern that lends the drive an exceptionally energetic gesture. No matter viewed from the front or the side, the Blaze B50 shows the powerful stature and consummates the perfect combination of beauty and technology. And the smooth-surfaced shape also provides users a much more comfortable touch to use and hold. In addition to the one-of-a-kind appearance, the Blaze B50 adds extra excitement to the whole design with the "V"-shaped LED indicator that can not only offers an easier way for users to recognize the transferring status but also makes the drive even more stylish. Moreover, the Blaze B50 employs the intelligent retractable USB connector design which allows an easy thumb-push operation and at the same time, realizes a carefree user experience without worries about cap loss.
SuperSpeed USB 3.0 interface — Speed, not a problem at all.
SP Blaze B50 USB flash drive introduces the SuperSpeed USB 3.0 interface to fulfill your desire for speed and superiority. Utilizing the USB 3.0 specifications, the Blaze B50 is capable of delivering ultra-fast transfer speeds up to 240MB/sec read and 140MB/sec write (in case of 256GB). The incredible performance promises professional users such as photographers, videographers, gamers and businessmen to easily and quickly edit or store large files including graphics and HD videos. To better satisfy different needs, the Blaze B50 offers multiple choices of storage capacities from 8GB to 256GB and two eye-catching colors-black and red. All Silicon Power USB flash drive products come with a lifetime warranty, SP Widget application software which provides seven major back up and security tools and a 60-day trial version of NIS (Norton Internet Security). Furthermore, SP also provides users with the Recuva File Recovery software which allows users to easily rescue the deleted files including digital photos, documents, music and videos. For more information, please visit the Silicon Power website: www.silicon-power.com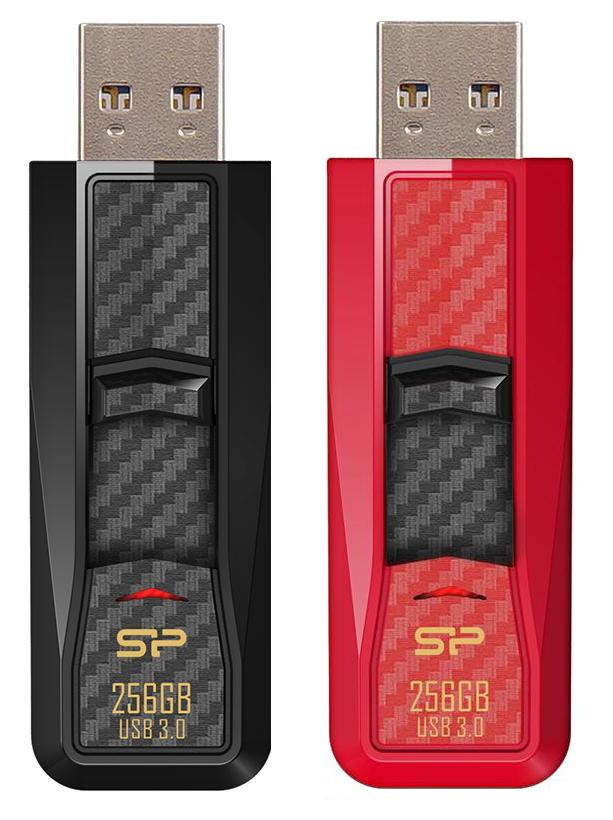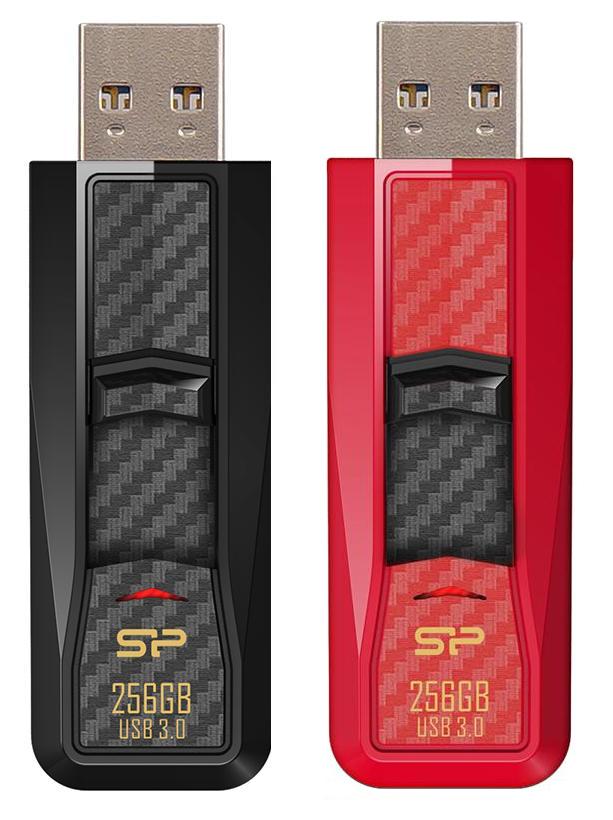 Blaze B50 Product Features:
SuperSpeed USB 3.0 interface with speeds up to Read/Write 240MB/140MB/sec (in case of 256GB)
Cap-less design with retractable USB connector
"V"-shaped LED indicator, easier for users to recognize the transferring status
Special carbon fiber surface treatment
Smooth-surfaced shape, easy to use and hold
Sportscar-like design, exclusively dashing style
SP Widget free download software, providing 7 major back-up and Secure functions
Recuva File Recovery software, allowing recovery of erased files, such as digital photos, documents, music and videos
Blaze B50 Product Specifications:
Dimension:51.4 *20.0 *12.0 mm
Weight:8.3 g
Capacity:8GB、16GB、32GB、64GB、128GB、256GB
Material:Plastic
Color:Black、Red
Interface:USB 3.0 / USB 2.0/ USB 1.1 compatible
Operating temperature:0° C ~ 70° C
Supported OS:Windows 8/7/XP, Mac OS 10.3.x, Linux 2.6.x
Certification:CE/FCC/BSMI/Green dot/WEEE/RoHS/KCC
Warranty:Lifetime warranty
About SP / Silicon Power
Silicon Power Computer & Communications Inc., founded in 2003 by a group of enthusiastic specialists of flash data storage industry. Well dedicated in brand image and product quality, SP has been recognized and well accepted by millions of end-users in more than 100 countries, becomes the world's leading manufacturer of flash memory cards, USB flash drives, card readers, DRAM modules, solid state disks, and portable hard drives in less than a decade. Headquartered in Taipei, we continuously established various branches throughout the world including Netherlands, Japan, Russia, Mainland China and other emerging market. With superior quality and innovative design, our products stood out in many competitions and awarded with numerous well-known design awards, such as Taiwan Excellence, COMPUTEX Design & Innovation Award, red dot design award, iF Design Award and IDEA . Winning trust of global consumers SP holds a record of successive double-digit revenue growth for last ten years. For SP, the product we introduced is not only a digital storage device but also a real promise to create and preserve your most valuable memory in every moment.