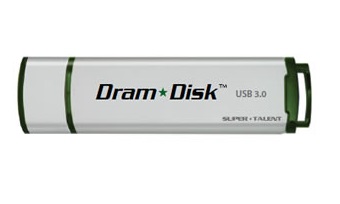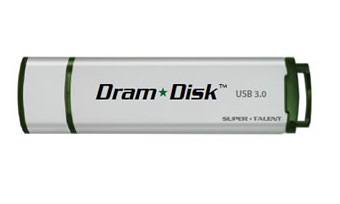 Using the same form factor and looking exactly like just another USB 3.0 drive, the Express DRAM Disk is capable of ridiculous 4041MB/s sequential reads and 5388MB/s sequential writes. That is not a typo, that is because this is not a regular thumb drive at all. The Express DRAM Disk leverages the available RAM on a system to make this magic happen via software (essentially RAM Disk). For more information, check out the official press release below:
| | |
| --- | --- |
| Capacity | Part Number |
| 8GB | ST3U8RAM |
| 16GB | ST3U16RAM |
| 32GB | ST3U32RAM |
| 64GB | ST3U64RAM |
Super Talent Technology, a leading manufacturer of NAND flash storage solutions, announces the USB 3.0 Express Dram★Disk™. With sequential read scores of up to 4041 MB/s and sequential write scores of up to 5388 MB/s, the USB 3.0 Express Dram★Disk™ is a speed demon of a drive housed in a sleek aluminum casing. The USB 3.0 Express Dram★Disk™ and its unique built-in software utilize your computer's available RAM to transfer files at an amazingly quick rate. Software is included.
This USB also transfers files while you are using the program, cutting down on wait time later.  A productivity gem for creative professionals whose daily regime relies upon constantly moving files on-the-go—cutting their valued time in half.
The USB 3.0 Express Dram★Disk™ is mobile–and its pre-installed software can be used with multiple computers at any given time. This feature allows you to transport your work with you and run large programs on other devices. It even further rewards users who have taken previous measures in upgrading their existing RAM available on their host system. This USB is a dream for creative professionals running large programs such as Adobe Photoshop, CAD, Maya, and more.
The USB 3.0 Express Dram★Disk™ is as portable as a regular USB, giving the user the freedom to take their work anywhere. The USB 3.0 Express Dram★Disk™ provides the power of increased productivity through its incredible speed abilities, which can be many times faster than a SSD.
About Super Talent Technology