Water Cooling
Swiftech BOREAS SERIES DIY LIQUID COOLING KIT
BOREAS SERIES DIY LIQUID COOLING KIT
« Installation and Observation
The Swiftech BOREAS kit gives you everything you need to get started with CPU cooling. Want to incorporate GPU cooling as well? Swiftech has numerous Komodo GPU blocks which would work with the BOREAS system right out of the box. However, depending on your hardware configuration, you may need to add an additional radiator or swap to a larger one.
Performance wise, the kit did a decent job keeping the CPU at the stock settings cool. Temperatures do go up when we add voltage and increase the multiplier. This happens on every cooler. The Swiftech BOREAS kit did keep the temperatures at 4.8 GHz under the max Intel stated specification.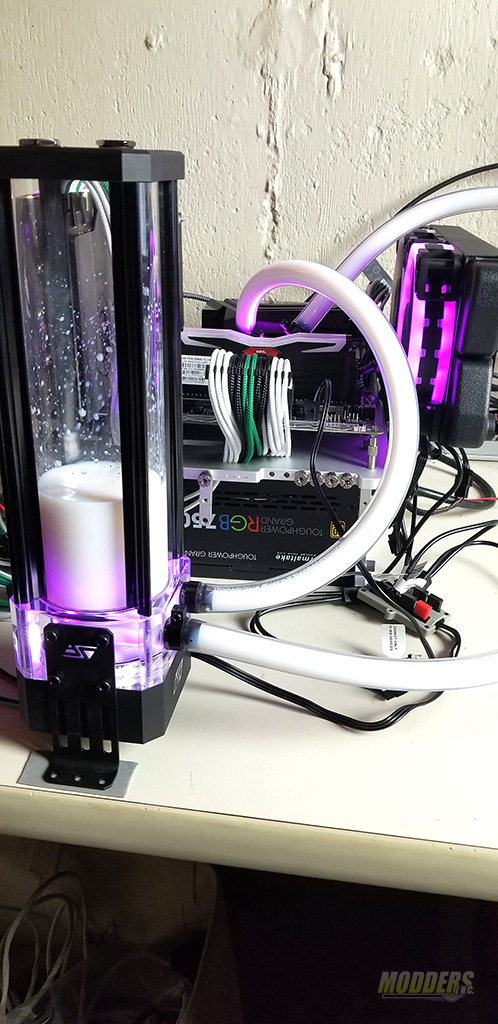 The components included in this kit work very well with each other.  What I found a little difficult to operate was the IRIS controller. The IRIS controller has a small micro switch button which is tough to use/hit to change sequence or color of the RGB. There is no way to extend that switch out of the module to offer the same switching ability from elsewhere. Other controllers allow you to connect a case switch (either the reset or power buttons) to it and use them to change the colors and patterns.
Clamps were provided instead of fittings to secure the flex tubing to the products. I did have some issues with clamping these and would rather have the compression fitting for just a few bucks more. If you looking to get away from the clamp type fittings Swiftech offers compression fittings for just a few dollars more. I did not have any issues with mounting the pump and reservoir with the enclosed bracket however, if you look closely at the mounting bracket it mounts on to the acrylic base of the reservoir. My fear is that over time these connecting screws might damage the reservoir and cause it to crack or shatter.
Right now, the base price of the Swiftech BOREAS kit is $ 259.95 USD and I feel that this is a fair price for what you are getting. You can quickly change options before you order the kit to satisfy your configuration need.