PC Water Cooling
Swiftech BOREAS SERIES DIY LIQUID COOLING KIT
BOREAS SERIES DIY LIQUID COOLING KIT
Installation and Observation »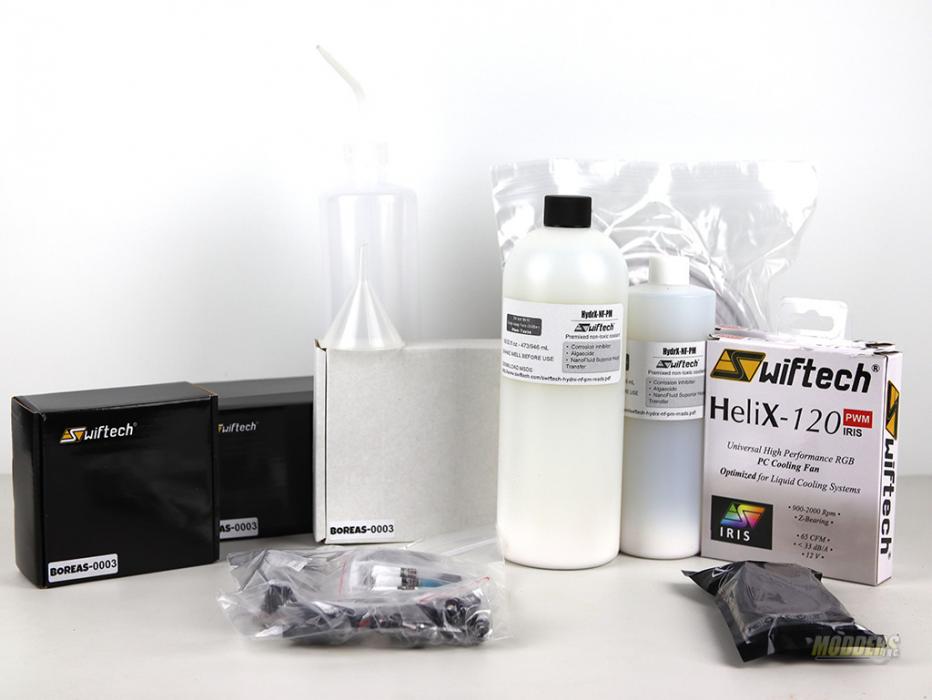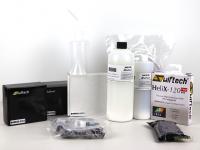 You want to get into liquid cooling loops and create that unique mod but don't know where to start? Yeah, we all been there. Solutions from Swiftech are rich with quality products for any budget. The Boreas kits by Swiftech are designed to get you up and running in a matter of minutes. If you are on a tight budget, then this complete cooling kit is for you. The Swiftech Boreas kit can be easily customized to fit your every need from 120mm to 360mm radiators to reservoir sizes from 50mm to 300mm. Swiftech specializes in water cooling that makes it affordable, practical, and dependable.
Review Sample Provided by: Swiftech
Product Name: BOREAS SERIES DIY LIQUID COOLING KIT
Price at time of review: $ 259.95 USD MSRP (and up)
Product was given in exchange for work done to produce this review.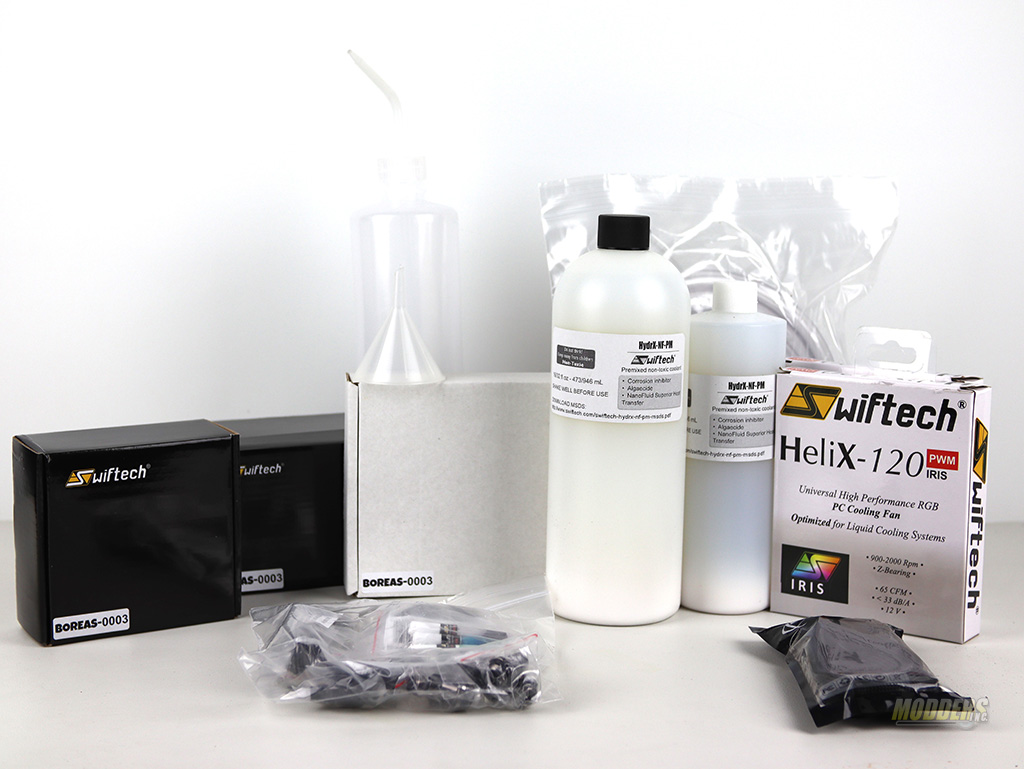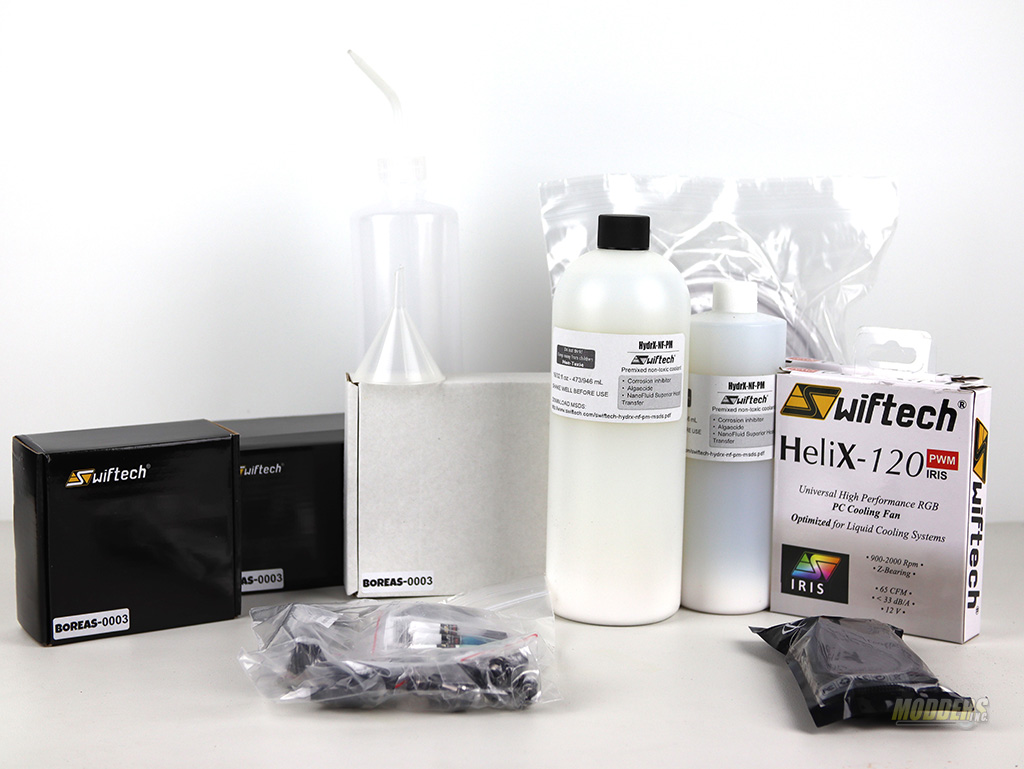 Our kit came with the following items: a Dual size radiator (240mm) with two Helix-120 fans, Malestrom D5 V2 pump and 200mm Reservoir, Barb fittings and clamps, Swiftech IRIS MB Link adapter, IRIS extension cables, Swiftech APOGEE SKF LT CPU block, Custom Dyes, fill bottle, funnel, 16/32 oz of premium non-toxic coolant and 6 feet of flex tubing.
Radiator
The radiator in this kit is called HYDRAE (MCR240GT). This is a 240mm radiator which comes in a white box labeled BOREAS-0003. Not sure what 0003 means, perhaps a bundle number.
The radiator has drilled and tapped fan mounting holes on both sides of the unit. The frame of the radiator is powder coated to help resist scuffs and scratches and keeps the finish looking nice.  Fin density in this particular model is about 14 FPI.
The height of the radiator is 26mm. The radiator is made from copper and brass which is good for thermal conductivity and helps with heat transfer. Both ports are compatible with G1/4 fittings.
CPU Block
The BOREAS-0003 kit comes with APOGEE SKF LT CPU Waterblock. APOGEE is Swiftechs flagship CPU Waterblock. Swiftech uses skived fins in the waterblock that are 125 microns thick. The APOGEE comes is an accessory box where both AMD and Intel socket installation gear is included.
The top of the CPU block is made from ABS plastic and the bottom of the CPU block is made from solid copper. The copper surface is highly polished. The APOGEE waterblock also has a set of addressable LEDs inside for that cool IRIS look.
Reservoir and Pump
Pump and Reservoir are being shipped together in BORES-003. The pump inside the package is Maelstrom D5 v2 and the height of the reservoir is 200mm.
| | |
| --- | --- |
|  Pump Specifications | MCP655-PWM / Laing/Xylem D5-PWM |
| Nominal Voltage | 12 V DC |
| Operating Voltage | 8 to 24 V DC8 to 24 V DC |
| Nominal Power (@ 12 V) | 24 W |
| Nominal Current (@ 12 V) | 2 A |
| Speed control | Via motherboard PWM CPU Fan signal – Note: pump runs at full speed by default when PWM is not connected |
| RPM signal & range | Yes – 800 to 4800 RPM |
| Motor Type | Electronically Commutated DC Spherical Brushless Motor, with automatic overload protection and low in-rush current |
| Nominal Head (@12v) | ~ 13 ft (4 m) |
| Nominal Discharge (@12v) | ~ 330 Gph (1250 Lph) |
| Ports | G 1/4  ports (4x) – 2x plugs are included |
| Maximum (working) Pressure | 50 PSI (3.5 BAR) |
| Temperature Range | 32 °F to 140 °F (0 °C to 60 °C) |
| Electrical Connector | Molex 4-pin |
| PWM & RPM signal | Mini 4-pin Fan-type |
This Malestrom kit comes with a couple of mounting brackets which will help you mount your pump on the bottom or on to the side of the case. The reservoir has aluminum posts and a glass reservoir. Handle it with care :)
The top 1/4G holes are designed for a quick fill. You will need an Allen wrench to open these fittings.  The D5 V2 pump is by Intertek and is PWM. When you are installing the pump make sure your motherboard headers support PWM, if not the pump will run at 100%.
Fans
Two HeliX 120 fans are included for airflow across the radiator. These fans are IRIS enabled and with a proper controller, you can control and sync your RGB Fans to the CPU block and Reservoir.
Model

HELIX-120-IRIS

Size

120x25mm

Voltage

~7.5 – 13.5 VDC

Current

0.22 A

Speed

800 +/- 15% RPM

2,00 +/- 10% RPM

Volume

26.73 CFM

64.24 CFM

Static pressure

0.55 mmH20

2.42 mmH20

Acoustic noise

<16 DBA

<32 DBA

Bearing type

Sleeve Bearing

Connector

Mini 4-Pin + Dual (male/female) IRIS 3-pin

PWM speed control
Yes
Tach Output
Yes
MTBF
60,000 Hours
ROHS
Yes
The fans are brushless, they stay very quiet even at 2000 RPM.  On each corner of the fans, there is rubber vibration dampening pads. With the help of these vibration dampening pads, the radiator and the case experience no rattling or vibration.
Accessories
To help tie everything together Swiftech has included a few Y cables to be used with IRIS controller and the motherboard.
If your motherboard does not support IRIS but has RGB sync capabilities you can take advantage of using IRIS-MBLINK kit which is included in addition to IRIS-ECO-v2 module. The coolant is premixed and ready to use. The base color of the liquid is cream white however you can adjust the coloring of the liquid with some included dyes.
IRIS ECO V2 CONTROLLER Specifications :
(4) Male 4-pin connectors, (3) Male 3-pin ALED connectors,  (1) 2-pin connector, (1) ALED controller with a push-button switch
(1) Female 4-pin mini-connector to be plugged into Motherboard CPU_FAN connector
(1) Male SATA connector to be connected to the power supply
Peel-off sticker
Mounting screws
RoHS compliant
Fittings
Fittings in our kits are called Barb Fittings. These fittings feature a clamp-based system to securely use on the flex tubing. These fittings have standard 1/4G based threads.