PC Cooling
Swiftech H240 X3 All in One Cooler Review
Increased Looks and Performance
Packaging »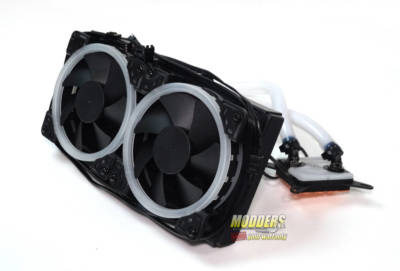 As reviewers, we tend to swap out hardware on a very regular basis. Because of this, as test bench is a must for any serious reviewer. Not too long after setting up my test bench, I decided to move my main system to a test bench as well. However, the enthusiast in me demanded it be water-cooled. So, I ended up with the Praxis wet-bench due to its ability to take a 360 mm radiator. While searching for the hardware to do a proper custom loop, I came across the H320 X2 Prestige from Swiftech, and fell in love. It was a 360 mm All in One cooler with an Apogee XL2 block. It was the first cooler that allowed me to break 5.0 GHz on my 7700k. Since then, all my PCs have been cooled by Swiftech AIO coolers. They perform great and are far easier to deal with than a full custom loop. So, when Swiftech asked us to look at their all new H240 X3, I couldn't wait to get my hands on it.
Swiftech's X2 line up of AIO coolers were the first brand of all in one's I'd feel comfortable recommending to our readers, customers and even my friends. The H320 X2 was the first and only AIO cooler that never left my bench after being tested. Now, with the release of the H240 x3, there have been several improvements over the X2 series. The H240 X3 has a redesigned waterblock, the Apogee SKF "LT", this is based off their popular Apogee SKF block. The X3 series features a tempered glass reservoir. One of the most exciting improvements for me is the addition of Mayhem's Pastel White Nanofluid Coolant. The newest fluid to hit the market. The X3 series of coolers is the first AIO on the market to feature this coolant. But the most important thing isn't the aesthetic, or even the coolant. The most important aspect of the cooler is how well it performs. So, let's take a closer look at the H240 X3 and see how it did cooling the Ryzen 7 2700.
Review Sample Provided By: Swiftech
Product Name and Website: H240 X3
Product was given in exchange for work to produce review.
Specifications
Radiator with patent pending integrated pump and reservoir (1 each)
Radiator body
Material
Brass tubes, louvered copper fins
Body dimensions
127 mm x 254 mm x 28 mm (H240X3) / 127 mm x 375 mm x 28 mm (H360X3) /
Fill-port thread class
G 1/4
Barb fittings
Integrated swivel 90° elbows, 3/8″ (10mm) OD
Installation hardware

Standard: (8) coarse thread fans screws
Alternate: (8) 6-32 x 1 3/16 (30mm)  Philips screws

Lighting type
Swiftech IRIS compatible ALED
Reservoir
Material
Tempered Glass
Capacity
70 ml
Lighting type
Swiftech IRIS compatible ALED
Pump
Pump speed control
PWM
Pump Speed range
1200 ~ 3000 RPM
Pump nominal voltage
12 VDC
Pump nominal power
6W
Max. Static Pressure
2.8 mH₂O
Max. discharge
11 l/mn
Redundant fail safe

Software current limiting fail-safe and
Hardware shutoff built-into the pump power wires. The hardware fail safe is only triggered in case of a firmware malfunction.

Pump Bearing type
Ceramic shaft, PTFE bearing
Pump Power connector
SATA
Pump RPM & PWM connector
Mini 4-pin
Pump MTBF
60,000 hours
ROHS
Compliant
Helix™ IRIS Fan
Dimensions
120 mm x 120 mm x 25 mm
Speed control
PWM
Speed range
900+/- 25% ~ 1800+/- 10%  RPM
Airflow range
24 ~ 60 CFM
Static pressure range
0.61 ~ 2.35 mmH₂O
Noise level range
<16 ~ <32 dB/A
Nominal Voltage
12 v
Nominal current
0.2 A
Bearing Type
Z-axis
Connector
Mini 4-pin
MTBF
60,000 hours
ROHS
Compliant
Apogee™ SKF "LT" Waterblock
Housing material
Acetal
Base plate material
C110 copper
Cooling engine
0.125mm x 0.125 micro-fin array
Barb fittings
Swivel elbows, 3/8″ (10mm) OD
Port thread
G1/4 standard
Installation hardware & processor + socket compatibility

For Intel LGA 1150/51/55/56

M4 to M3 Standoffs + Back-plate

For Intel LGA 2011

(4) Spring loaded screws with M4 thread

For AMD AM2, AM3, FM1,FM2, 93, AM4, TR4

(2) Pre-assembled brackets & spring loaded screws
Bracket installation screws

Lighting type
Swiftech IRIS compatible ALED
Tubing & Coolant
Material
Mayhem non-plasticizing PVC tubing
Color
Clear
Dimensions
5/8″ x 3/8″ (16/10mm)
Coolant
Pre-filled with Mayhem's non-toxic Pastel Nanofluid Coolant
Clamps (4 each)
Material
Black anodized aluminum
IRIS ECO V2 Controller (1 each)
PWM Ports
4
RPM signal port
Channel 1
ALED connectors
3
2 pin connector
1
Power connector
SATA
PWM/RPM connector
Mini 4-pin
Installation hardware
Peel-off sticker,  mounting screws & nuts
ROHS
Compliant
Tim-Mate 2, 1g syringe thermal compound
Quick Installation Guide