PC Cooling
Swiftech H240 X3 All in One Cooler Review
Increased Looks and Performance
Article Pages:
« Test System, Testing Procedure and Results
Final Thoughts and Conclusion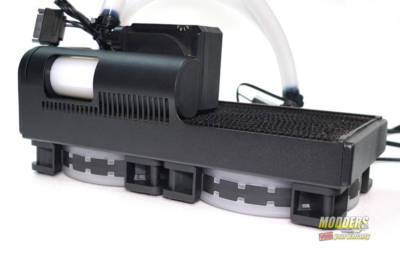 Overall, I really like the H240 X3, both the design and performance.  As I mentioned earlier, I've used the H320 X2 Prestige on my test bench since it launched, and the H140X in another system as well. The design is like the previous X2 series. However, I feel the redesigned X3 series is a bit simpler and less intrusive than the previous generation.  For example, the X3 series removed the RGB lighting along the side of the reservoir that the X2 series had. It didn't look bad. However, I feel it looks better without it. I would have like to see lighting either behind or even in the reservoir. I feel it would just add to the overall aesthetic of the cooler. Even with both the pump and reservoir attached to the radiator, it should still be able to fit in almost any system.  I love the fact that the cooler is expandable. If the tubing isn't long enough, you can change it. Don't like the block, you can change it.  If you want to upgrade the fittings, you can do that as well since the H240 X3 uses G ¼ fittings. Personally, I can't wait to test this cooler with just a GPU block on it. The best part is the price to performance ratio. A good, custom loop kit can cost you hundreds. Given, they perform very well. However, in the almost four years I've been reviewing hardware, I've never used a 240 mm AIO cooler better than the H240 X3. For the price of $139.95 on the Swiftech website, you can not beat the performance of this cooler for the price. As a watercooling enthusiast, I'm happy to give the H240 X3 my endorsement.