PC News, Hardware, Software
Swiftech Unveils New KOMODO RX VEGA Full Cover Waterblocks
LE and ECO Models Designed for AMD Radeon Vega Graphics Cards
Rouchon Industries Inc., dba Swiftech, today announced the release of their KOMODO waterblocks for
AMD Radeon RX Vega graphic cards.
The KOMODO RX (LE and ECO) VEGA full cover waterblocks are a high performance cooling solution with advanced thermal design and low flow restriction, compatible with AMD's Radeon RX Vega and Frontier reference PCB design graphics cards. The KOMODO RX-LE "Luxury Edition" which focuses on smooth and streamlined elegance, includes Swiftech's RGB LED lighting system which is compatible with all versions of Swiftech's X2 series CPU coolers.
The coolant flow path includes all critical components such as the GPU, memory, power mosfets, as well as other components contacted in inductors, similarly to AMD's reference air cooling solution.
The Only True Full Cover Waterblock
The blocks cover the full length of the card and utilizes all the original circuit board mounting points; this results in superior thermal interface with all the components, but more importantly it prevents bending and/or damage to the card compared to competing solutions that leave critical components exposed for cost saving purposes; the Komodo NV series continue this exclusive Swiftech initiative as a true professional solution (an industry first).
Moderate Flow Restriction by Design
The water channels have been optimized for optimum flow rate in order to take into account multiple waterblocks in the same loop; additionally, the high efficiency of the thermal design authorizes better thermal performance at low flow rates.
True Chrome Plated Copper Base Plate
Maintenance-free, corrosion-free, discoloration-free, and a brighter whiter color: the precision CNC machined copper base plate is plated with true chrome, as opposed to commonly used nickel plating (which is yellowish).
Precision CNC Machined Housing
The main housing is precision CNC machined out of acrylic material.
Pre-Applied Thermal Pads
High conductivity thermal pads and reusable high performance gap-fillers are pre-applied to the memory, VR and other components; there is no need to waste time cutting thermal pads as is often the case with other blocks; high quality Tim-Mate 2 thermal grease is included with the water-block for application to the GPU area.
SLI / Crossfire Support
Two Komodo RX-ECO Vega waterblocks can be interconnected using Lok-Seal adjustable connector fittings, or the Universal Swiftech SLI/Crossfire bridges.
Availability and Pricing
These products are currently available for pre-order, with an estimated ship date of September 15, 2017. MSRP on the KOMODO RX-LE VEGA is $169.95 USD, MSRP on the KOMODO RX-ECO VEGA is $119.95 USD.
KOMODO RX-LE VEGA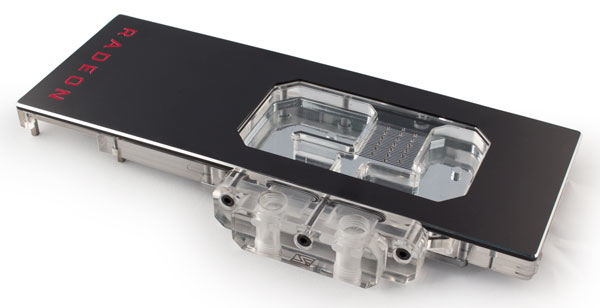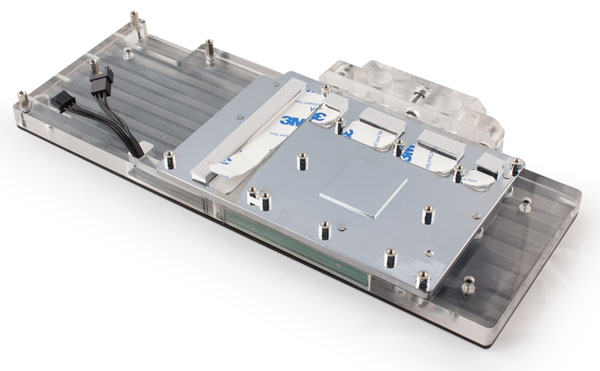 KOMODO RX-ECO VEGA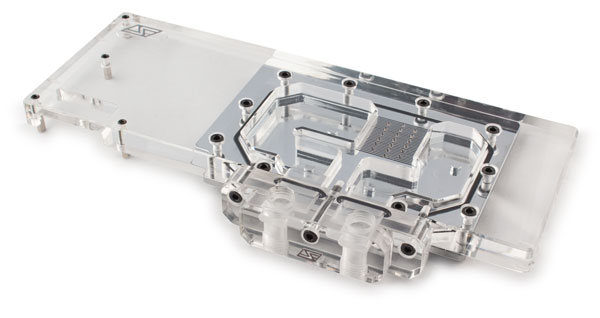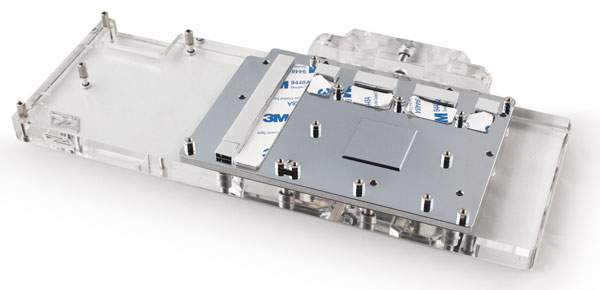 Technical Specifications
| | |
| --- | --- |
| Inlet & Outlet Port Thread Standard | 1/4″ BSPP (G1/4) |
| Quality Assurance | Leak tested at 30 PSI |
| Housing Material | Acrylic |
| Base Plate Material | Chrome Plated C110 Copper |
| Dimensions | 268mm (L) x 122mm (W) x 19mm (H) |
| Mass | 44 oz |