« Introduction
|
H320 X2 Closer Look Continued »
A Closer Look at the Swiftech H320 X2
The shape of the H320 x2 is much like the previous generation of AIOs from Swiftech with the reservoir slung below and mounted off to one side of the radiator. The radiator, length wise measures in at 375mm and is just a touch longer than a standard 360mm radiator. The overall dimensions of the kit are 127 x 375 x 28mm.
The reservoir is larger than the previous gen as well. The reservoir is 165.mm  in length and has a capacity of 109ml. The reservoir as well as the white strip above feature LEDs that can be controlled via switches to change brightness and color.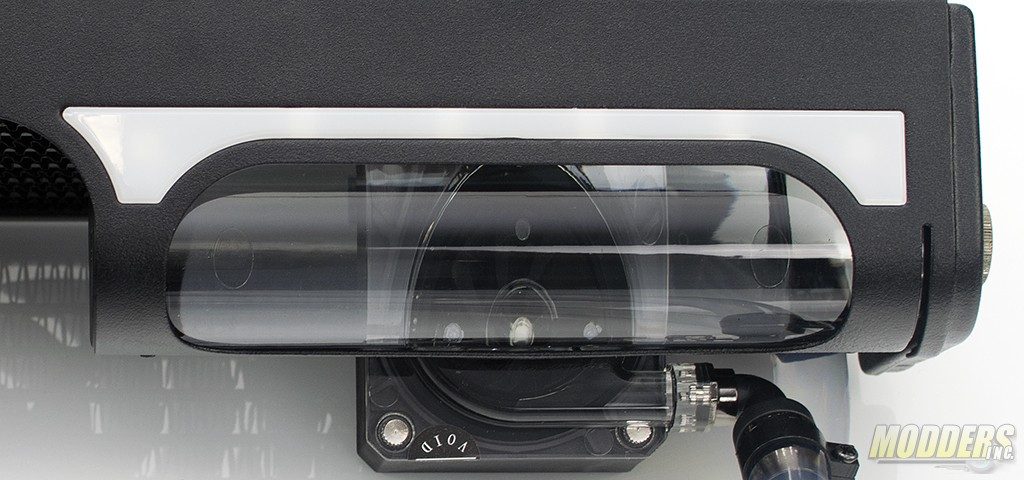 On the back side of the reservoir is the pump. The pump model is a MCP-30DX2. The pump is controlled via a PWM header that plugs into the motherboard or the supplied PWM splitter. 12v power is required to run the pump and it gets power from the power supply via a SATA power connector. The pump pulls 6w and pushes a max pressure of 2.8mH2O with a volume of 11 L/mn.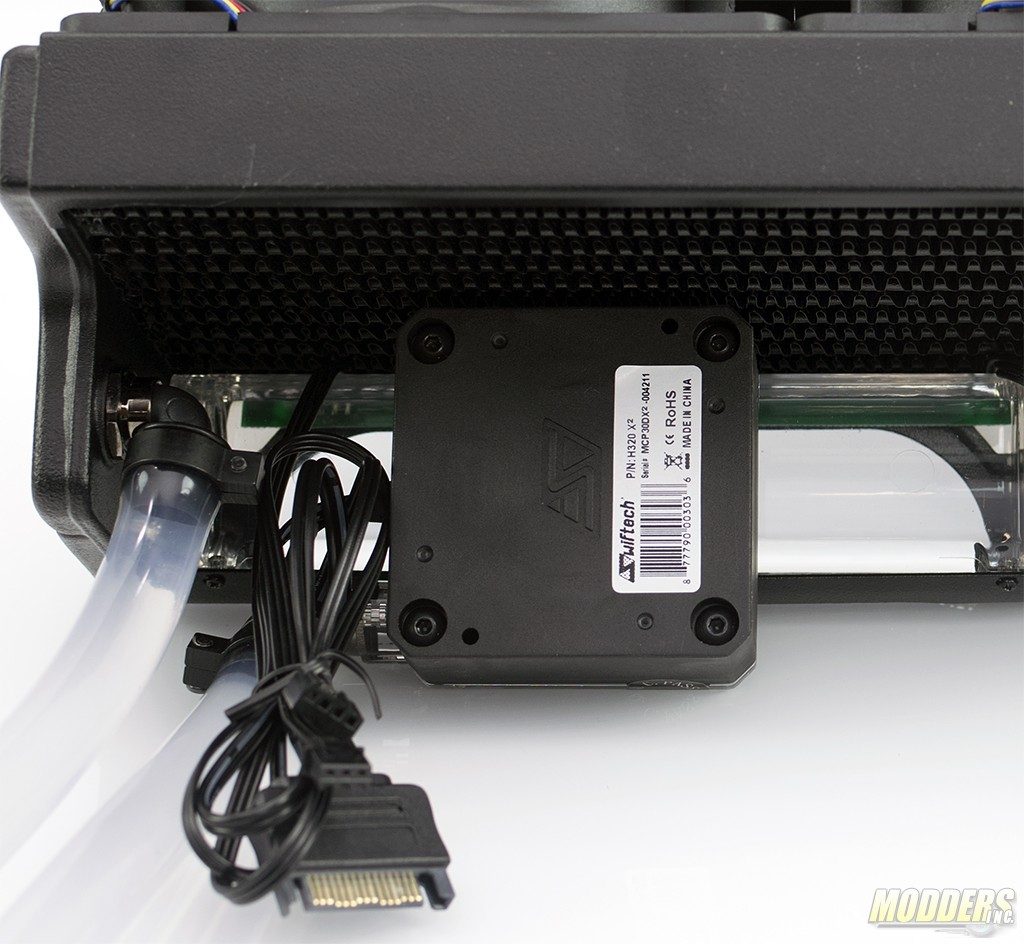 All of the fittings on the H320 X2 can be replaced by standard G1/4 fittings. No longer do you need to have a special conversion fitting for the pump discharge. On this model the fittings are 3/8″ (OD) barb fittings. Tubing is held in place via clamps.
The waterblock has received updates for the kit as well. The Apogee XL2 waterblock features a clear acrylic top with LED lighting that be controlled in a similar manner to the lighting that is on the radiator and in the reservoir. The waterblock top also accepts standard G1/4 fittings. Out of the box the Intel backplate is attached to the waterblock.
Underneath the waterblock, the highly polished C110 copper base plate is protected from damage by a static cling plastic cover. The base of the block has a mirror finish with little to no machining marks on the surface.
The Swiftech H320 X2 also includes three Swiftech Helix 120mm PWM fans preinstalled. The accessory kit includes the screws that will be needed to mount the kit to the case.