« A Closer Look at the Swiftech H320 X2
|
Installation »
H320 X2 Closer Look Continued
Before we get into testing, I want to show the kit torn down. This kit is billed as expandable and is easily taken apart. All you will need is a couple of screw drivers. Disassembly was done after testing was complete.
The first step in the disassembly process was to drain the loop. To do this, I unscrewed one of the clamps securing the hose to the waterblock. The glass I used was freshly washed and rinsed with denatured alcohol. There was a little bit of flux left over from the manufacturing process floating around in the coolant. Every radiator I have drained has had a little bit of Flux after it has been run for a while.
The loop can be drained and refilled. The refill port is located on the lower right side of the kit. Refilling and bleeding this cooler is considerably as there is no obstructions in the reservoir.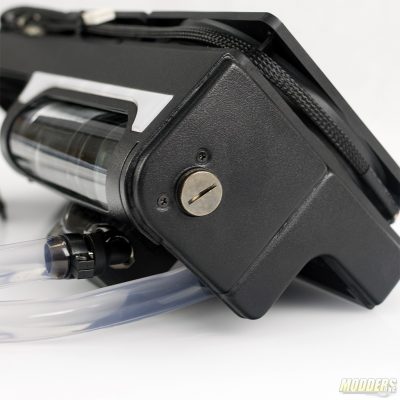 The radiator is 127 mm wide (top down view) and 28mm thick at the thinnest part and 95mm thick at the thickest part by the reservoir/pump combo. The radiator features 17 fins/inch.
The reservoir is half-moon shaped and made of acrylic. The pump mounts directly to the reservoir.
The pump can be removed by simply unscrewing the four screws located in the corners on the back. The pump features a ceramic shaft and PTFE bearing. The pump is rated for 6 watts of power draw and a max of 3000 RPM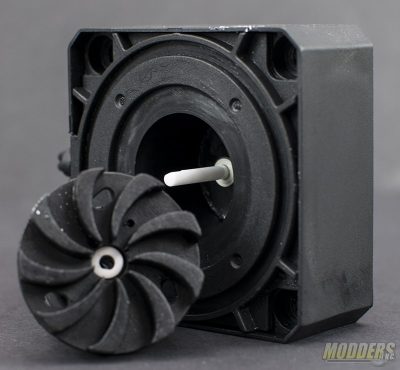 Six LED lights provide the lighting above the reservoir when mounted.

The base of the water block is machined from C110 copper and features a fin/pin array. 225 fins/pins increase the surface area the water comes in contact with as it flows through the block and absorb heat.
A pair of Swiftech Helix 140mm fans are included. These fans have a maximum RPM of 1800 can push 2.29 mmH2O with a maximum RPM noise level of about 28 dBA.