Storage Devices
Synology DiskStation DS1515+ Network Attached Storage Review
A Closer Look at the Synology DS1515+ »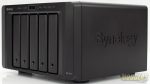 What is a NAS? NAS Stands for Network Attached Storage, and it is a device that resides on your network and can have multiple drives in a RAID array. The drives contain folders that can be accessed by all or a few computers on your network depending on the permissions set. Having a NAS on your network offers a few benefits such as increase in storage capacity, data encryption, and depending on the RAID Array, limited protection of data stored on the device. Most units offer features that go beyond just a storage device; a lot of the desktop NAS offer features such as a media library, media streaming, iTunes Server, and cloud based backups. Synology's DS1515+ is a 5-bay NAS that features an Intel Quad Core CPU, 2GB of DDR3 RAM and four gigabit Ethernet ports.
Packaging
Typically, a NAS is marketed towards the Small Office/Home Office (SOHO) or small business crowds so, flashy packaging isn't necessary. The same goes for the Synology DS1515+ as the packaging is plain cardboard with black text and line art graphics with a couple of informational stickers attached.
Internally, the NAS is packed away in a pair of rigid foam inserts and covered with a soft anti-scratch bag.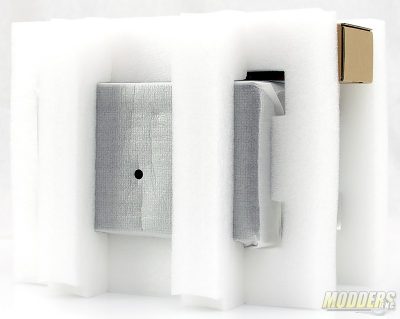 The Synology DS1515+ comes with a 6′ power cord, two 6′ Ethernet cables, hard drive screws, a set of keys, and a quick start guide.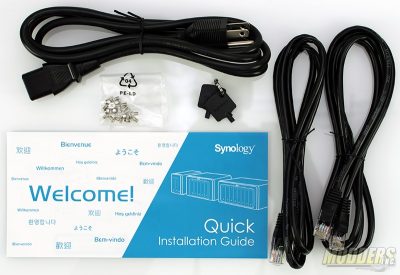 Specifications
Hardware Specifications
CPU
CPU Model
Intel Atom C2538
CPU Architecture
64-bit
CPU Frequency
Quad Core 2.4 GHz
Floating Point
 X
Hardware Encryption Engine (AES-NI)
 X
Memory
System Memory
2 GB DDR3
Memory Module Pre-installed
2 GB x 1
Total Memory Slots
2
Memory Expandable up to
6 GB (2 GB + 4 GB)
Storage
Drive Bay(s)
5
Maximum Drive Bays with Expansion Unit
15
Compatible Drive Type

 

(See all supported drives)

3.5″ SATA III / SATA II HDD
2.5″ SATA III / SATA II HDD
2.5″ SATA III / SATA II SSD

Maximum Internal Raw Capacity
40 TB (8 TB HDD x 5) (Capacity may vary by RAID types)
Maximum Raw Capacity with Expansion Units
120 TB (8 TB HDD x 15) (Capacity may vary by RAID types)
Maximum Single Volume Size
108 TB
Hot Swappable Drive
 X
External Ports
USB 3.0 Port
4
eSATA Port
2
File System
Internal Drives
EXT4
External Drives
Appearance
Size (Height x Width x Depth)
157 mm x 248 mm x 233 mm

 

Weight
4.17 kg

 

Others
RJ-45 1GbE LAN Port
4 (with Link Aggregation / Failover support)
Wake on LAN/WAN
 X
System Fan
80 mm x 80 mm x 2 pcs
Fan Speed Mode
Easy Replacement System Fan
 X
Wireless Support (dongle)
 X
Power Recovery
 X
Noise Level*
22.3 dB(A)

 

Scheduled Power On/Off
 X
Power Supply Unit / Adapter
250W

 

AC Input Power Voltage
100V to 240V AC
Power Frequency
50/60 Hz, Single Phase
Power Consumption*
38.39 W (Access)

 


21.63 W (HDD Hibernation)

 

British Thermal Unit
130.99 BTU/hr (Access)

 


73.80 BTU/hr (HDD Hibernation)

 

Environment Temperature
Operating Temperature
5°C to 35°C (40°F to 95°F)
Storage Temperature
-20°C to 60°C (-5°F to 140°F)
Relative Humidity
5% to 95% RH
Certification

FCC Class B
CE Class B
BSMI Class B

Warranty
3 Years
Notes

Power consumption is measured when fully loaded with Western Digital 1TB WD10EFRX hard drive(s).
Noise Level Testing Environment: Fully loaded with Seagate 1TB ST31000520AS hard drive(s) in idle; Two G.R.A.S. Type 40AE microphones, each set up at 1 meter away from the Synology NAS front and rear; Background noise: 16.49-17.51 dB(A); Temperature: 24.25-25.75˚C; Humidity: 58.2-61.8%

DSM Specifications

 

( See more )
Storage Management
Maximum Internal Volume Number
512
Maximum iSCSI Target Number
32
Maximum iSCSI LUN
256
iSCSI LUN Clone/Snapshot, Windows ODX
 X
Supported RAID Type

Synology Hybrid RAID
Basic
JBOD
RAID 0
RAID 1
RAID 5
RAID 6
RAID 10

RAID Migration

Basic to RAID 1
Basic to RAID 5
RAID 1 to RAID 5
RAID 5 to RAID 6

Volume Expansion with Larger HDDs

Synology Hybrid RAID
RAID 1
RAID 5
RAID 6

Volume Expansion by Adding a HDD

Synology Hybrid RAID
RAID 5
RAID 6
JBOD

Global Hot Spare Supported RAID Type

Synology Hybrid RAID
RAID 1
RAID 5
RAID 6
RAID 10

SSD Support
SSD Read/Write Cache

 

(White Paper)
 X
File Sharing Capacity
Maximum User Accounts
2048
Maximum Groups
256
Maximum Shared Folder
512
Maximum Shared Folder Sync Tasks
8
Maximum Concurrent CIFS/AFP/FTP Connections
512
Windows Access Control List (ACL) Integration
 X
NFS Kerberos Authentication
 X
High Availability Manager
 X
Log Center
 X
Syslog Events per Second
800
Virtualization
VMware vSphere 5 with VAAI
 X
Windows Server 2012
 X
Windows Server 2012 R2
 X
Citrix Ready
 X
Add-on Packages

 

(See more)
Antivirus Essential
 X
Antivirus by McAfee (Trial)
 X
Audio Station
 X
Central Management System
 X
Cloud Station
 X
Maximum Concurrent File Transfers
512
Cloud Sync
 X
Directory Server
 X
DNS Server
 X
Download Station
 X
Maximum Concurrent Download Tasks
80
Glacier Backup
 X
HiDrive Backup
 X
iTunes Server
 X
Java Manager
 X
Mail Server
 X
Mail Station
 X
Media Server
 X
DLNA Certification
 X
Note Station
 X
Photo Station
 X
RADIUS Server
 X
Surveillance Station
 X
Maximum IP cam (Licenses required)
40 (including 2 Free License)

 

(See All Supported IP Cameras)
Total FPS (H.264)*
1200 FPS @ 720p (1280×720)

 


480 FPS @ 1080p (1920×1080)

 


250 FPS @ 3M (2048×1536)

 


200 FPS @ 5M (2591×1944)
Total FPS (MJPEG)*
300 FPS @ 720p (1280×720)

 


150 FPS @ 1080p (1920×1080)

 


100 FPS @ 3M (2048×1536)

 


60 FPS @ 5M (2591×1944)
Time Backup
 X
Maximum Task Number
8
Video Station
 X
Video Transcoding
Group 1 – Type 1

 

(See more)
VPN Server
 X
Maximum Connections
20
Notes
Surveillance Station throughput is tested with Axis network camera, using continuous recording with live view from Surveillance Station and motion detection by camera. Live view and recording are sharing the same stream from the camera.
Environment & Packaging
Environment
RoHS Compliant
Packaging Content

Main Unit X 1
Welcome Note X 1
Accessory Pack X 1
AC Power Cord X 1
RJ-45 LAN Cable X 2

Optional Accessories

Remote
Camera License Pack
4GB DDR3 RAM Module
Expansion Unit: DX213 X 2
Expansion Unit: DX513 X 2
VS360HD