Closer Look at the Synology DS918+ »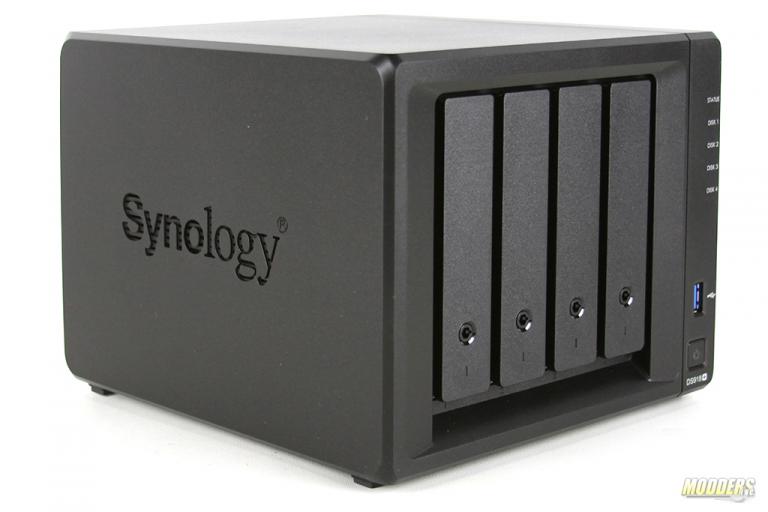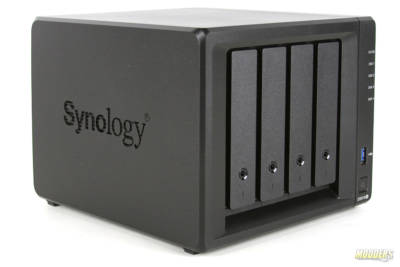 World Backup Day is slowly creeping up on us. This year we will be celebrating this holiday on March 31st. The whole point of this holiday is to raise awareness of the importance of "Data" in our lives and ways we can protect it. Here at Modders-Inc, we try to review different types of storage devices which help consumers to store and backup data based on their need. One of our close sponsors recently released a multi-disk Network Attached Storage device that offers not only capacity but also able to scale and deliver content quickly and efficiently to users. DiskStation DS918+ by Synology is an ideal solution for home or small businesses to store data as a primary point and a backup. In addition to backup features, DS918+ is capable of transcoding up to two channels of H265 and H264 videos at the same time. This high-speed storage server has enough power to run a small company share with numerous features like Media Server and Surveillance Station.
Review Sample Provided by: Synology
Product Name: Disk Station DS918+
Price at time of review: $ 549.99 USD MSRP
The product was given in exchange for work done to produce this review.
Packaging
Our sample came in a double cardboard box. Production packaging will vary for DS918+. The actual unit was securely held in thick plastic foam with accessory box. Accessory box included two Ethernet cables, a pair of plastic keys and one power supply brick. You really don't need much to get started with DS918+.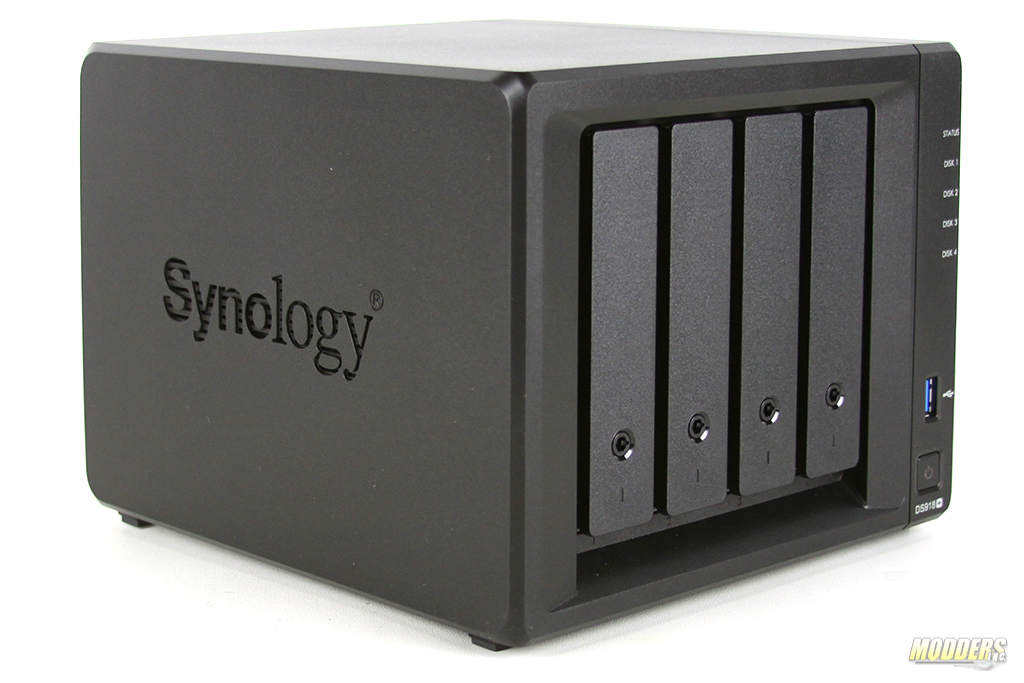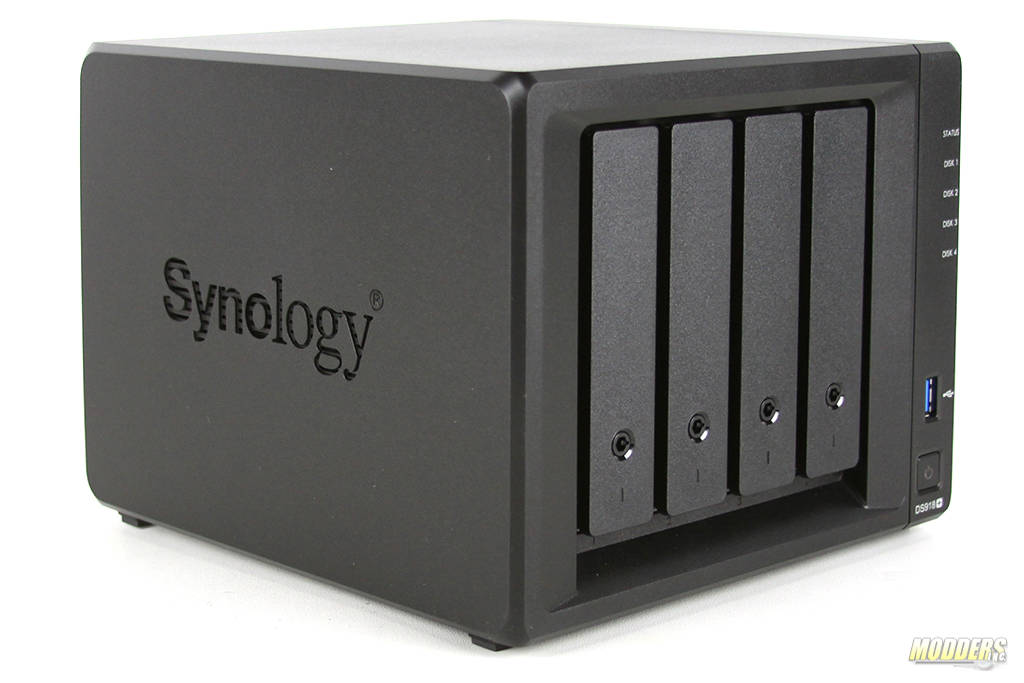 The keys are for the units bays. It is possible to lock bays in place if needed.
Specifications
Hardware Specifications
CPU
CPU Model
Intel Celeron J3455
CPU Architecture
64-bit
CPU Frequency
Quad Core 1.5 burst up to 2.3 GHz
Hardware Encryption Engine (AES-NI)
Yes
Hardware Transcoding Engine
H.264 (AVC), H.265 (HEVC), MPEG-2 and VC-1; maximum resolution: 4K (4096 x 2160); maximum frame rate per second (FPS): 30
Memory
System Memory
4 GB DDR3L
Memory Module Pre-installed
4GB (1 x 4GB)
Total Memory Slots
2
Memory Expandable up to
8 GB (4 GB x 2)
Storage
Drive Bays
4
Maximum Drive Bays with Expansion Unit
9
M.2 NVMe Drive Slots
2
Compatible Drive Type* (See all supported drives)

3.5″ SATA HDD
2.5″ SATA HDD
2.5″ SATA SSD
M.2 NVMe 2280 SSD

Maximum Internal Raw Capacity
48 TB (12 TB drive x 4) (Capacity may vary by RAID types)
Maximum Raw Capacity with Expansion Units
108 TB (48 TB + 12 TB drive x 5) (Capacity may vary by RAID types)
Maximum Single Volume Size
108 TB
Hot Swappable Drive
Yes
Notes

"Compatible drive type" indicates the drives that have been tested to be compatible with Synology products. This term does not indicate the maximum connection speed of each drive bay.
The maximum single volume size is not directly related to the maximum raw capacity. (Learn more)
Expansion of the internal volume is only supported if the combined single volume size does not exceed the maximum limit of 108TB.

External Ports
RJ-45 1GbE LAN Port
2 (with Link Aggregation / Failover support)
USB 3.0 Port
2
eSATA Port
1
File System
Internal Drives
External Drives

Btrfs
EXT4
EXT3
FAT
NTFS
HFS+
exFAT*

Notes
exFAT Access is purchased separately in Package Center.
Appearance
Size (Height x Width x Depth)
166 mm x 199 mm x 223 mm
Weight
2.28 kg
Others
System Fan
92 mm x 92 mm x 2 pcs
Fan Speed Mode

Full-Speed Mode
Cool Mode
Quiet Mode

Brightness adjustable front LED indicators
Yes
Power Recovery
Yes
Noise Level*
19.8 dB(A)
Scheduled Power On/Off
Yes
Wake on LAN/WAN
Yes
Power Supply Unit / Adapter
100W
AC Input Power Voltage
100V to 240V AC
Power Frequency
50/60 Hz, Single Phase
Power Consumption*
28.8 W (Access)
12.6 W (HDD Hibernation)
British Thermal Unit
98.27 BTU/hr (Access)
42.99 BTU/hr (HDD Hibernation)
Environment Temperature
Operating Temperature
5°C to 40°C (40°F to 104°F)
Storage Temperature
-20°C to 60°C (-5°F to 140°F)
Relative Humidity
5% to 95% RH
Certification

EAC
VCCI
CCC
RCM
KC
FCC
CE
BSMI

Warranty
3 Years
Notes

Power consumption is measured when fully loaded with Western Digital 1TB WD10EFRX hard drive(s).
Noise Level Testing Environment: Fully loaded with Seagate 2TB ST2000VN000 hard drive(s) in idle; Two G.R.A.S. Type 40AE microphones, each set up at 1 meter away from the Synology NAS front and rear; Background noise: 16.49-17.51 dB(A); Temperature: 24.25-25.75˚C; Humidity: 58.2-61.8%

DSM Specifications ( See more )
Storage Management
Maximum Internal Volume Number
512
Maximum iSCSI Target Number
32
Maximum iSCSI LUN
256
iSCSI LUN Clone/Snapshot, Windows ODX
Yes
SSD Read/Write Cache (White Paper)
Yes
SSD TRIM
Yes
Supported RAID Type

Synology Hybrid RAID
Basic
JBOD
RAID 0
RAID 1
RAID 5
RAID 6
RAID 10

RAID Migration

Basic to RAID 1
Basic to RAID 5
RAID 1 to RAID 5
RAID 5 to RAID 6

Volume Expansion with Larger HDDs

Synology Hybrid RAID
RAID 1
RAID 5
RAID 6

Volume Expansion by Adding a HDD

Synology Hybrid RAID
RAID 5
JBOD
RAID 6 (with Expansion Unit)

Global Hot Spare Supported RAID Type

Synology Hybrid RAID
RAID 1
RAID 5
RAID 6 (with Expansion Unit)
RAID 10 (with Expansion Unit)

File Sharing Capacity
Maximum Local User Accounts
2048
Maximum Local Groups
256
Maximum Shared Folder
512
Maximum Shared Folder Sync Tasks
8
Maximum Concurrent CIFS/AFP/FTP Connections
1000
Windows Access Control List (ACL) Integration
Yes
NFS Kerberos Authentication
Yes
High Availability Manager
Yes
Log Center
Yes
Syslog Events per Second
800
Virtualization
VMware vSphere 6 with VAAI
Yes
Windows Server 2012
Yes
Windows Server 2012 R2
Yes
Citrix Ready
Yes
OpenStack
Yes
Add-on Packages (learn more about the complete add-on package list)
Antivirus by McAfee (Trial)
Yes
Central Management System
Yes
Chat
Yes
Maximum Users
1500
Notes

The number of concurrent HTTP connections for Chat was configured to the maximum.
CPU and RAM usage were both under 80% when the number of maximum users was reached.
For tested models with expandable memory, the maximum amount of RAM was installed.

Cloud Station Server
Yes
Maximum Number of Concurrently Connected Devices
1000
Maximum Number of Concurrently Connected Devices (with RAM expansion)
2000
Maximum Number of Synced Files (btrfs)
1,000,000 / single file reaction time 744 ms
Maximum Number of Synced Files (ext4)
1,000,000 / single file reaction time 630 ms
Notes

The maximum number of concurrently connected devices refers to the maximum number of devices that can remain connected at the same time. For more information on file processing capability, please refer to the reaction time for file processing.
File reaction time refers to the preparation time required for other devices to start downloading a 10KByte file from a Synology NAS after the file has been added to the NAS. RAM expansion was not used during testing.
Non-encrypted shared folders were used during the aforementioned testing.

Document Viewer
Yes
Download Station
Yes
Maximum Concurrent Download Tasks
80
Drive
Yes
Maximum Number of Synced Files
500,000 / single file reaction time 362 ms
Maximum Number of Concurrent Connections for PC Clients
450
Notes

The Btrfs file system was used for the purpose of testing.
The maximum number of concurrent connections refers to the maximum number of connections that could be maintained when the maximum number of synced files was reached.
File reaction time refers to the preparation time required for other devices to start downloading a 10KByte file from a Synology NAS after the file has been added to the NAS.
For tested models with expandable memory, the maximum amount of RAM was installed.
Non-encrypted shared folders were used during the aforementioned testing.

exFAT Access (optional)
Yes
MailPlus / MailPlus Server
Yes
Free Email Accounts
5 (Licenses required for additional accounts)
Recommended MailPlus Client Number
Up to 90 (Btrfs) / 90 (ext4)
Maximum Server Performance
840,000 (Btrfs) / 1,014,000 (ext4) emails per day, approx. 25.6 GB (Btrfs) / 30.9 GB (ext4)
Notes

The CPU and RAM usages were both under 80% when testing recommended client numbers.
For tested models with expandable memory, the maximum amount of RAM was installed.
Read-write SSD cache was enabled in 5-bay (and above) NAS models with 2 SSDs units installed.
The performance of the mail system will slightly decrease in high-availability mode due to data synchronization between the two servers.
Functions that were enabled in all of the tests above: anti-spam, anti-virus, DNSBL, greylist, content scan, full-text search (English only).

Media Server
Yes
DLNA Compliance
Yes
Moments
Yes
Facial recognition
Yes
Subject recognition
Yes
Office
Yes
Maximum Users
1800
Notes

Multiple files were opened for testing and each file was edited by 30 users simultaneously.
CPU and RAM usage were both under 80% when the number of maximum users was reached.
For tested models with expandable memory, the maximum amount of RAM was installed.
Client performance may affect maximum simultaneous editing users. Client PCs used for testing: Intel Core i3-3220 / 8GB RAM

Snapshot Replication
Yes
Maximum Snapshots per Shared Folder
1024
Maximum Snapshots of all Shared Folder
65536
Surveillance Station
Yes
Maximum IP cam (Licenses required)
40 (including 2 Free License) (See All Supported IP Cameras)
Total FPS (H.264)*
1200 FPS @ 720p (1280×720)
840 FPS @ 1080p (1920×1080)
550 FPS @ 3M (2048×1536)
300 FPS @ 5M (2591×1944)
180 FPS @ 4K (3840×2160)
Total FPS (H.265)*
1200 FPS @ 720p (1280×720)
1200 FPS @ 1080p (1920×1080)
900 FPS @ 3M (2048×1536)
550 FPS @ 5M (2591×1944)
300 FPS @ 4K (3840×2160)
Total FPS (MJPEG)*
720 FPS @ 720p (1280×720)
500 FPS @ 1080p (1920×1080)
330 FPS @ 3M (2048×1536)
200 FPS @ 5M (2591×1944)
Notes
Surveillance Station throughput is tested with Axis network camera, using continuous recording with live view from Surveillance Station and motion detection by camera. Live view and recording are sharing the same stream from the camera.
Video Station
Yes
Video Transcoding
4K Group 1 (See more)
Maximum Transcoding Channel Number
2 channel, 30 FPS @ 4K (4096 x 2160), H.264 (AVC)/H.265 (HEVC) or
2 channel, 30 FPS @ 1080p (1920×1080), H.264 (AVC)/H.265 (HEVC)/MPEG-2/VC-1
Virtual Machine Manager
Yes
Maximum Virtual DSM Number (Licenses required)
4 (including 1 Free License) (Learn more)
Notes
Virtual Machine Manager is not supported on hosts running Synology High Availability.
VPN Server
Yes
Maximum Connections
20
Environment & Packaging
Environment
RoHS Compliant
Packaging Content

Main Unit X 1
Accessory Pack X 1
AC Power Adapter X 1
AC Power Cord X 1
RJ-45 LAN Cable X 2
Quick Installation Guide X 1

Optional Accessories

Surveillance Device License Pack
D3NS1866L-4G DDR3 non-ECC SO-DIMM
Expansion Unit: DX517 X 1
VS360HD
VS960HD