« Introduction
|
Initialization & Start Up »
A Closer Look at the Synology DiskStation DS216+
The DiskStation DS216+ is small and light weight. It measures in at 165 mm x 108 mm x 233.2 mm (6.5 x 4.25 x 9.2 inches) and weighs in at 1.25 kg (2.8 lbs.). The DS216+ has an elegant look to it, the main body of the NAS is matte black and the drive cover is glossy black.

On the right side of the NAS are the indicator lights, controls, and front I/O. LED lights give the status of the system, LAN, and both hard drives. A single USB 3.0 port sits just above the copy and power buttons.


The most prominent feature on the rear of the DS216+ is the 92mm fan. Below the fan is the I/O for the NAS. Dual USB 2.0 ports, a single RJ45 1 GbE network port, and eSATA port are on the rear of the NAS.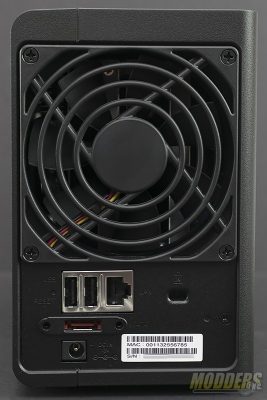 To install the hard drives, the 1st thing you'll need to do is pull off the glossy cover. Simply grab it and pull forward. Each drive tray unlocks at the top of the NAS. Push up on the lock and slide the drive trays out.
The installation of 3.5″ hard drives is tool less. On the side of each drive tray there are keepers that pull off the tray. Remove the keepers and install the drive. Line up the screw holes on the drive with the holes in the tray and re-install the keepers.
Next, install the trays in until the lock engages the tray. Then re-install the previously removed cover.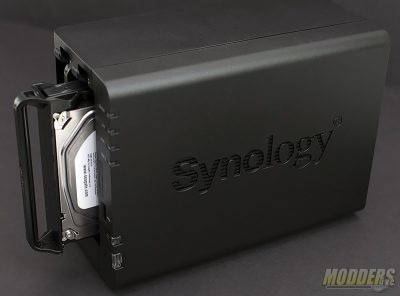 The DS216+ has 1 GB DDR3 module installed. The module is a DDR3L SO-DIMM and could be upgraded however, much like the DS716+ upgrading the RAM could void the warranty. The Celeron CPU is passively cooled and is under the large heatsink on the motherboard.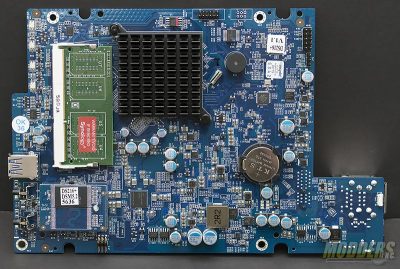 The dual SATA ports are handled by the Marvell 88SE9170 IC. It uses a PCIe x1 lane and supports 2 SATA ports.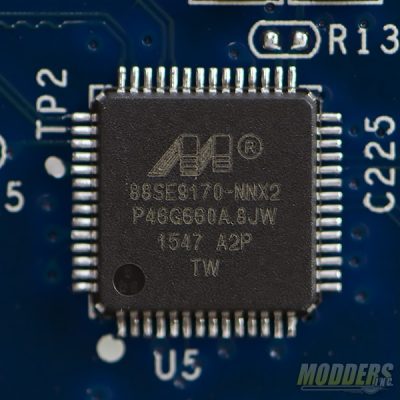 Network connectivity for the DS216+ is provided by a single Intel i211-AT Ethernet controller.