Gaming peripheral manufacturer Tesoro has relaunched their website with a new slick design made for a more convenient navigation and easy access to information, specifications, images and video overviews of various Tesoro products. The site is also tightly integrated into various social media outlets so sharing information is just a single click away. For more information, check out the official press release below:
Tesoro Launches New Website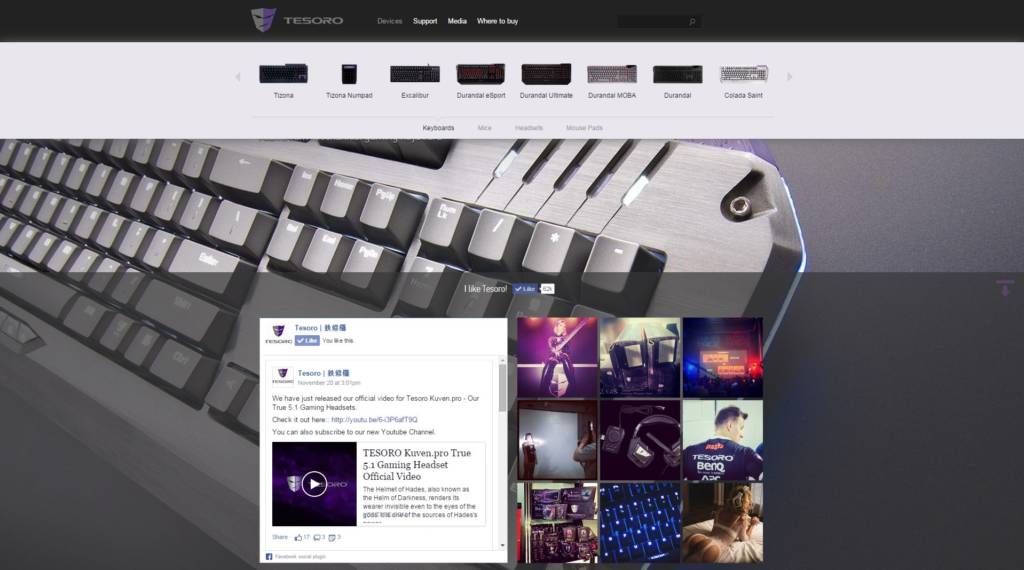 More User Friendly Navigation, Detailed Product Specs, and Localized Social Media Integration
25 November 2014, Milpitas CA, USA – Tesoro Technology USA Inc., a manufacturer of high-tech gaming products, today launches an updated version of its website, http://www.tesorotec.com, giving visitors a more intuitive navigation experience. Along with an optimized interface, the new website will feature localized social media integration and more detailed product page specifications and pictures. In the near future Tesoro's website will feature multiple languages.
Easy Navigation
Visitors to the new site will experience a more user-friendly product search interface. With less clicks, users will be search through entire product lines to find the exact gaming peripheral they are looking for.
More Detailed Product Information
Each new product page features more detailed information so that gamers can fully understand which peripheral is right for them without even physically holding it. Easy to read information includes:
Detailed product overviews
A plethora of Hi-Res images
Interactive product feature images
Embedded YouTube product reviews
Keyboard product pages feature switch specific audio files to better define switch preference
Where to buy section with localized buying information (Coming soon)
Video overview of products
Localized Social Media Integration
The new website will support multiple languages. Depending on the language selected, Tesoro's local social media feed will be accessible on the site. This gives gamers around the world access to Tesoro's latest news and happenings that are relevant to them.
eSport Integration
Coming soon, eSport fans will be able to track the progress of their favorite teams, sign up for tournaments that Tesoro hosts, and compete for the opportunity to be in the next major team sponsored by Tesoro.
Online Shop
Early next year, an online shop will be added in selected regions for increased availability of Tesoro's products.
Visit the new Tesoro website here: http://www.tesorotec.com/
About Tesoro Technology USA Inc.
Established in 2011, Tesoro Technology USA Inc is a team of multinational gaming enthusiasts with over 30 years industry experience with one objective – make ultra-durable products that give the best gaming experience. To achieve this, Tesoro conceptualizes products from the input and feedback from the gaming community, and then builds them using the highest grade components. As a gamers company, Tesoro continues to expand into new horizons and push the limit further with each product unveiling. To learn more visit Tesoro's website: http://www.tesorotec.com.