« A Closer Look at Tesoro OLIVANT PRO
Final Thoughts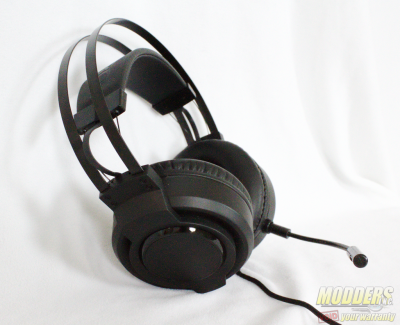 The ear cups on the Tesoro Olivant Pro feel soft and seems to mold itself over my ear. While the cushion doesn't seem as durable as compared to other headsets I've used, they more than compensate for this in comfort. In addition to the softness and comfort, the Olivant Pro is also pleasantly light at 1.3 lbs.
I have a penchant for wireless headsets since I tend to like moving from one room to another when on call with people and turn 180 degrees when I need to reach for snacks or beverages. Fortunately, the 3.0m cable length was able to allow unrestricted motion for most activities at my gaming desk. The 3.0m length is possible with the USB adapter.
When first I first tried to test the Tesoro Olivant Pro, the headset was detected but failed to install drivers on the from USB 3.0 ports on my desktop. I have tried the drivers from Tesoro website and the device was marked as incompatible. Strange thing is that USB port works with USB 2.0 and 3.0 flash drives as well as a wireless dongle for a Logitech headset. The Tesoro Olivant Pro was properly recognized on USB ports on the rear I/O panel of my motherboard.
The USB adapter for the Tesoro Olivant Pro produced adequate sound quality in both surround sound and stereo and my voice comes in quite clear. When I attempted to make conference calls using the 3.5mm connectors, I noticed an excessive amount of static after a prolonged period of time. This problem did not get resolved from re-inserting the 3.5mm connector at either the splitter or at the I/O panel on my desktop. The microphone on the Tesoro Pro does not seem to be moving on its own but does appear to need constant readjustment as I was either becoming too loud or quiet during conversations. This phenomenon occurred on both Skype and Google Hangout. After a few days, the microphone stopped working altogether with the 3.5mm splitter. The microphone works when the 3.5mm port when plugged into a combo audio port without the headphone microphone splitter.
The Tesoro Olivant Pro feels like a great headset for an internet cafe or LAN party situation. The styling of the Olivant Pro is pretty barebone and is great for anyone who doesn't want to be associated with name brands or would like to customize their own headset with stickers or dye. A great benefit is the option for a removable microphone that would allow a person to use this headset as over the head headphones with great sound quality.