« Page 4 | Page 6 »
Testing
System Configuration
Case
Cooler Master Cosmos II SE
CPU
Intel i7 4770K
Motherboard
Gigabyte GA-Z77X-UDH3
Ram
Kingston Hyper X Beast DDR3 2133 MHz 8 GB
GPU
EVGA GTX 770 OC
Hard Drives
Samsung 840 EVO 256gb SSD
Western Digital black 500 gb 7200 RPM HDD
Power Supply
NXZT Hale v2 1000 Watt power supply
Two Western Digital Black 500 gb 7200 RPM drives were installed and used in the NAS. RAID 0 testing was done at a 64 KB (default) stripe size.
Network Layout


The network was configured with a single Cisco 2960G 8 port desktop switch. To eliminate any performance issues caused by a configuration error the switch was left in an unconfigured state. The PC's network card was changed at the driver level and interrupt moderation was turned off. Cat 6 ethernet cables were used between all network devices. Jumbo frames were not used during this test.
Software
To test the Thecus N2560 two applications were used; The Intel NAS Performance toolkit and Crystal Disk Mark.
The Intel NAS Performance toolkit simulates various tasks for storage devices such as video streaming, copying files and folders to and from the NAS as well as creating content directly on the NAS. For this test I had to limit the PC to 2 GB of RAM to limit caching. All options in the Performance toolkit were left that the defaults. The NAS performance test is free to download. You can pick up a copy for yourself here.
To run Crystal Disk Mark, a network share was mapped as a drive letter. The full 8GB of ram was available to the PC during testing.
All tests were run a total of three times then averaged to get the final result.
---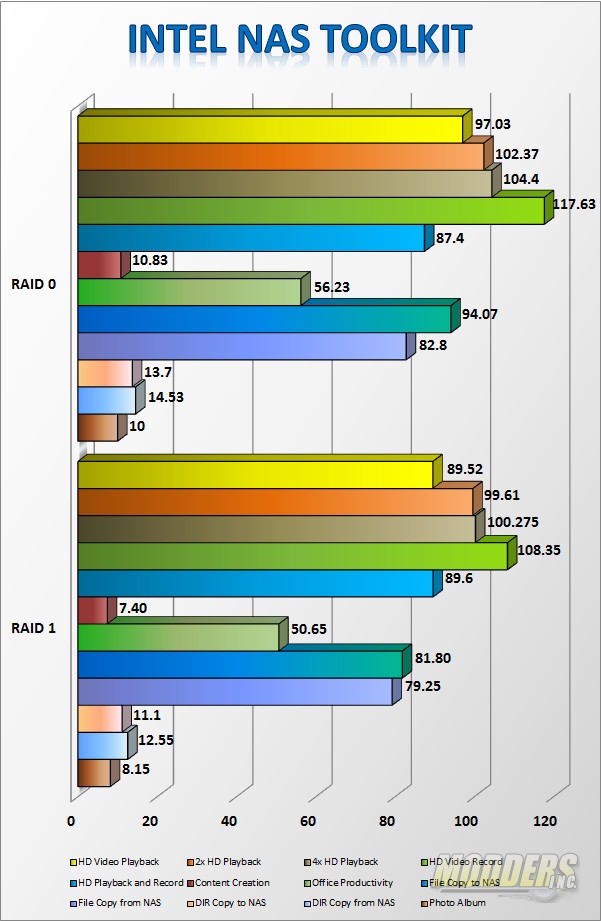 The Intel NAS Performance toolkit was the first set of tests run on the Thecus N2560. As you can see from the graph above, RAID 0 is slightly faster than RAID 1. However, there are dangers with running a RAID 0 array. If the data located on the drive is important, do not put it on a RAID 0 array.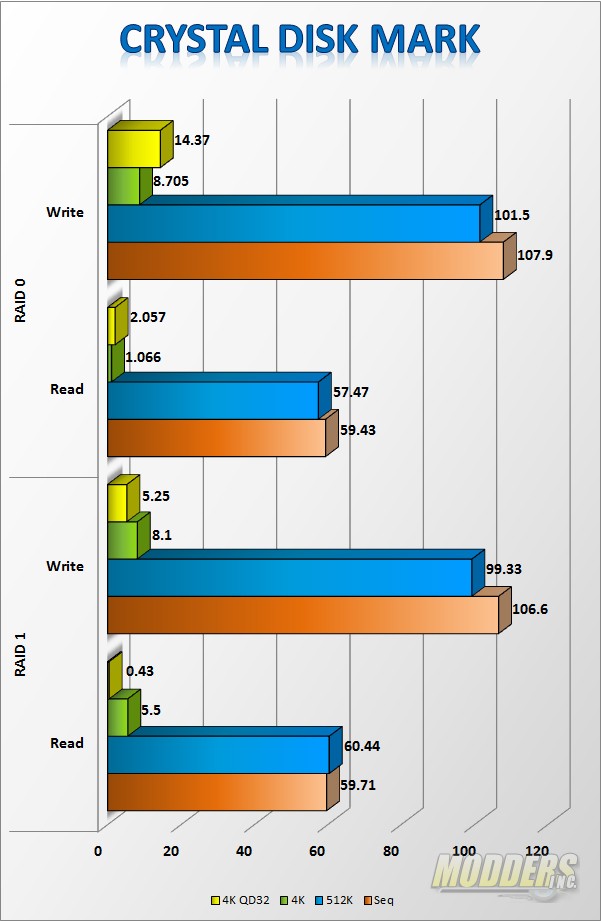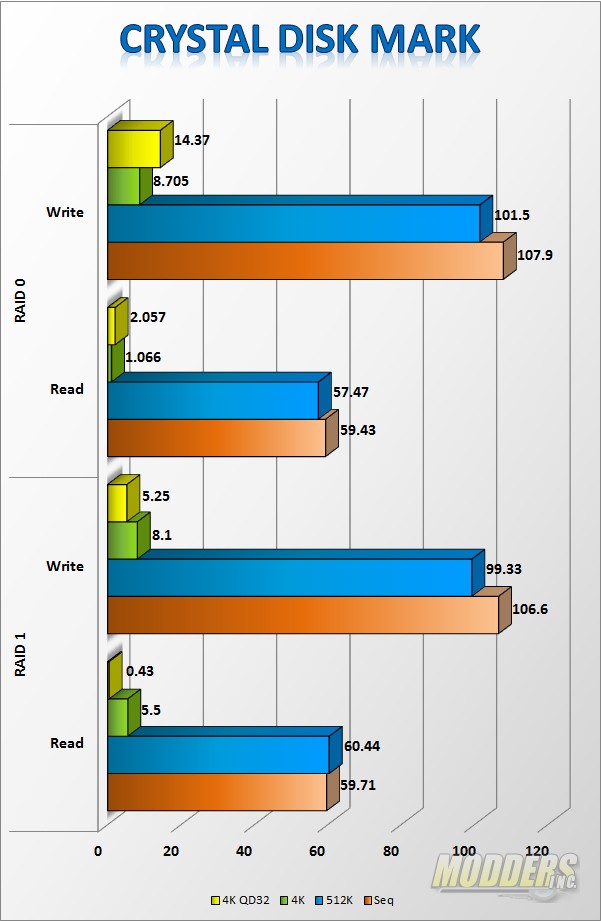 A network share was mapped in order to run Crystal Disk Mark. To do this, just browse the network, find the NAS and open it. Listed in the NAS will be folders, choose one and right click on it and choose map network drive and pick a drive letter. As expected the performance of the RAID 0 array leads the RAID 1 array. When compared to running a single drive on the motherboard, the results are very similar. So why would you choose to run a NAS vs a PC? More on that in the conclusion.