« Page 5
Conclusion & Final thoughts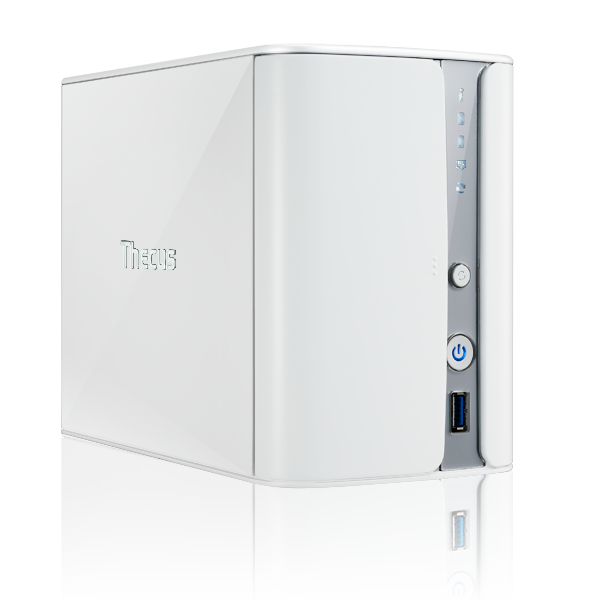 The Thecus N2560 is a Network Attached storage devices that is based of the Intel EvanSport NAS platform. The NAS supports drives up to 4 TB in size, according to Thecus' compatibility list. With today's multi-user households it is my opinion that high capacity shared media is essential. Currently we have a household of 5. Finding ways to share files between one another was often quite a pain. With peer to peer sharing, the computers have to be on and available, and depending on the computer and power management settings it can pull quite a bit of juice. According to Thecus the N2560 pulls 9 watts at idle and 14 watts at load. This however can be a little off. In order to go into a low power state, the hard need to be shut off. By default they are set to spin down after 30 minutes of inactivity. Combined with the low power Intel Atom processor, the NAS should pull less power than a PC both at idle and during use. To further reduce power consumption a schedule can be set to automatically power down and power on the N2560, although a full boot cycle takes a little over a minute and a half.
Performance of the Thecus N2560 was right on par with my expectations. Many factors go into network data performance, but a single shared hard drive in a server shows roughly the same performance. Network performance was as fast, if not faster in some cases than the shared storage on my home server. The Thecus N25060 has about 1/4 of the foot print of the server in my home. The only negative that I see with the Thecus N2560 is the lack of iSCSI connectors. However, in a home environment iSCSI is not a necessity, but running in a small office environment, which the N2560 is targeted as well, is a benefit that is missing with this NAS device.
Coupling size and performance with an HDMI and SPDIF out, the N2560 feels right at home sitting next to the television. In order to get media playback on the TV, XBMC needs to be installed and then a reboot after the installation. During playback I monitored CPU usage and the built in application reported about 15% utilization while watching a MP4 video. The included iTunes application allows your music library to be streamed to any apple device on the local network.
One of the major complaints that I read about the previous generation of Thecus' NAS devices was their OS. Thecus has recently updated the N2560 to OS6. The OS is based off of Linux and is light weight and easy to navigate through the web UI. The web UI is easy to customize to your needs. Shortcuts can be created right on the desktop for easy access. Overall I didn't experience any speed issues with the UI and it completed the tasks rather quickly.
The Thecus N2560 currently retails between $329.00 and $389.00 through various retailers around the web. Slap a couple of fast hard drives or SSDs inside and you've got one capable little NAS that doesn't take up too much room and can easily share files with the rest of the network users and can be put to work as a media center at the same time.
[sc:must_have_award ]