« Intro
|
Page 3 »
We will now get into more about the Thermaltake Dr.Power II ATX power supply tester. By looking at the images above we first notice that there is something different from this unit than others that we have looked at in the past. This unit has a digital display to give a more detailed visual feedback about the power supply your are testing. The LCD screen is a good size at 1 7/8  inches(47cm) wide and 1 3/8  inches(34cm) tall 2.5 inches diagonal. The overall size of the tester is 5 1/8 inches tall (13cm) and 2 7/8 inches wide (75cm) and 1 inch thick (25cm). The back side of the tester has very little detail, except for what is shown below.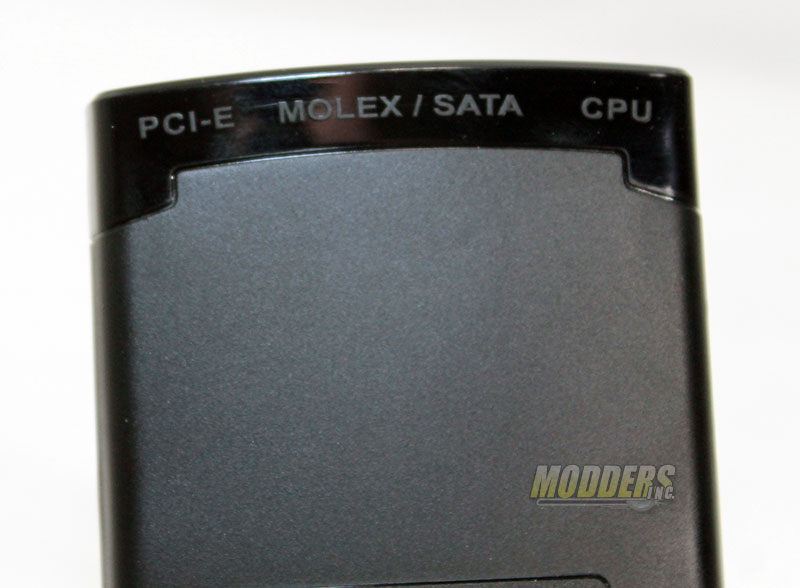 On the rear of the tester we can see that there are labels. This labels co-inside with the connection points of where you plug in the cable from the power supply into the tester. Not shown here is that the lower section of the tester that display the words 24 Pin which of course means that the main cable is is plugged in to the bottom.
The left images display where the main 20/24 pin cable connects to the Dr.Power II while the image on the right shows where all the other cables will connect.
Above you can see that all that is required to test your power supply is simply plug in the connectors from the PSU (power supply unit), power on your PSU and the press the test button on the side of the tester. You MUST to have the 20/24 pin cable plugged into the tester in order to test the power supply, but you only need to plug in whatever cable or power you would like to test.