Page 2 »
 With systems power consumption becoming more demanding than ever you need a power supply that will deliver the power your system needs. SLI setups, multiple hard drives, and more USB devices require a lot of power to keep them running. Ultra comes to the rescue with it's X-Finity™ 800 Watt PSU w/ Active PFC. With Quad Rail,  FlexForce Cables, & PFC (power factor correction) the X-Finity is one fine power supply. 
First Impression
 Recently while upgrading to an SLI setup and a dual core processor I was reading the requirements and realized my current power supply would no longer keep up given that it is only a 550w and the box for the SLI cards recommends at least a 700w. I looked around and asked what was up for review that would fit the requirements of the new build. Ultra had the X-Finity™ 800 Watt PSU that met the requirements up for review so I put in my request to review it.
The X-Finity 800 Watt PSU comes in an attractive shrink wrapped box weighing more than 7lbs. On the packaging you get a rundown of the specs and features of the power supply.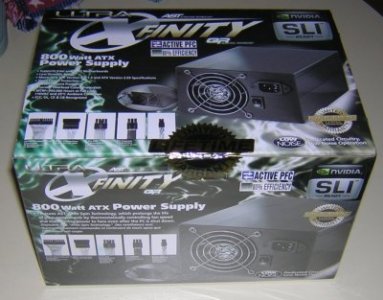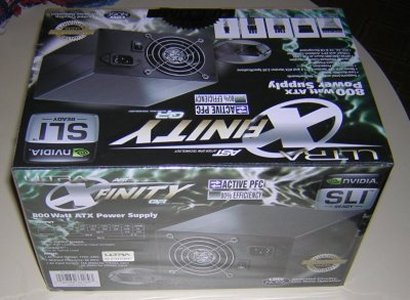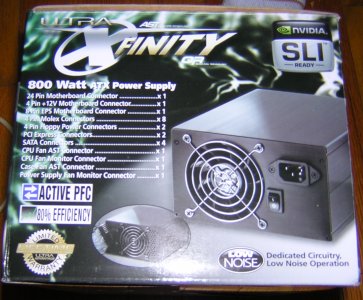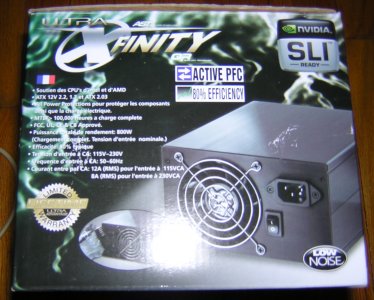 Opening the box reveals the manual resting on top of the power supply. The power supply seated in soft foam to protect it from getting jarred around along its journey. The power cable and screws are also included in the box to install the power supply.