Page 2 »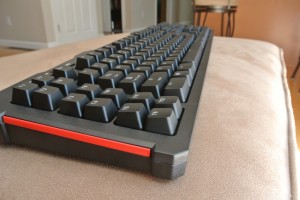 I have always been a huge fan of mechanical keyboards since I grew up using them on all of the classic computers that went in and out of my house over the years. I ended up having to leave my love behind when I started gaming on PC's because there weren't any (good) mechanical gaming keyboards. Well I have good news for you guys: It seems as though mechanical keyboards are back with a vengeance and manufacturers like Thermaltake are now targeting gamers to get into mechanical keyboards. Finally gamers can enjoy the smooth action of a mechanical keyboard and this one has ALL the bells and whistles! 
[sc:sponsor sponsor="Thermaltake eSports" product_link="http://www.ttesports.com/productPage.aspx?p=58&g=ftr#.UilA9DHD_mQ" product_name="MEKA G-Unit Illuminated" ]
---
Packaging, Features, and Specs
Having worked at UPS in the past I know how speed is the most important thing when unloading, loading, and sorting packages. This standard makes package handling a lot more "violent" and I've seen things like iPads and tablets thrown around like footballs. Having seen those things first hand I am very nervous when waiting for a package to arrive. Thermaltake prepped this keyboard for those exact conditions and you can see that there isn't one scratch, dent, or blemish on the box.
 The box itself is very well thought out and clearly shows all of the features of the keyboard. This is the most attractive keyboard box I have ever seen and it only gets better once you open it, but before we do that lets look at the features of the keyboard.
 Features:
Up to 1000Hz polling rate-8 X quicker than regular gaming keyboard: Never lag for incredible performance.

Advanced anti ghosting function allows for up to 46 keys anywhere on the keyboard without any interference via USB in Game mode.
Cherry black mechanical switch enables excellent gaming elastic capabilities with a life expectancy of up to 50 million keystrokes.
Up to 20 macro keys (12 fixed & 8 unfixed ) per profile and a total of up to 60 macro keys within 3 profiles. And ISS (Instant Switch System) advanced macro key switching function allows gamers to reach all 60 macro keys within one profile. The large memory size allows for saving macro keys without the need to reset when changing to a new PC.
Normal Mode and Game Mode are switchable. Windows key will be disabled in Game Mode to avoid inadvertently touching. Plus, 7 Multimedia hotkeys to provide gamers instant control of audio and sound.
The USB hubs for installation of other USB gaming device & Audio jacks for Microphone-in and Speaker-out function.