Page 2 »
The Thermaltake Level 10 GT is the newest case from this always imaginative case creator. When you take a first look at the case you instantly recognize the look and style it has which is of course based after the Level 10 case. This is the GT version which has a lot of great features like the original Level 10, but at a much lower and affordable price.

Sponsor: Thermaltake
[hr]
First Look – Packaging and Information
"GTs" is a label that is given to  a class of cars that are a cross between a sports car and a luxury car. They tend to be heavier than full-on sports cars, and more comfortable with softer suspensions and leather and stuff. They are usually equally powerful, however. The same can be said for the newest case from Thermaltake which is the Level 10 GT.  Taken the styling of the original Level 10 case and incorporating them into more performance based Level  10 GT could be a win or fail gamble for Thermaltake. We will be trying to make that determination along the way in this review.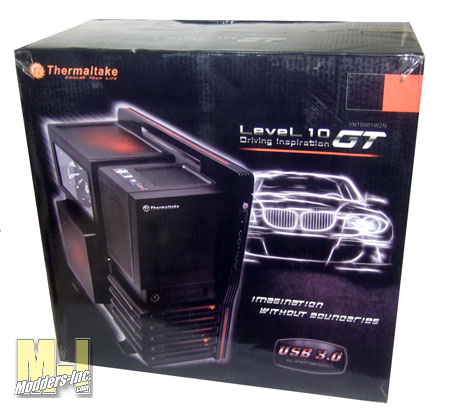 The cardboard packaging gives you plenty of details, but writing and visual about the Level 10 GT. Thermaltake is giving you the impression that the case has a sporty feel and design.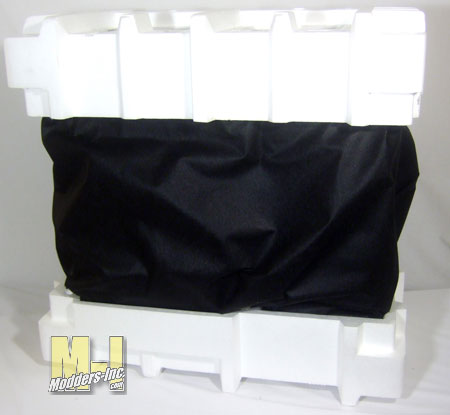 Packaged well in the shipping case you get that the lower section and the top of the case is capped in heavy duty foam and that has plenty of room given between the case and the edge of the box. Sometimes other manufacture skimp on things like this and with the ever so gentle hands of Fedex and UPS big gashes or dents into the box translate in the case as well. That is not going to happen here.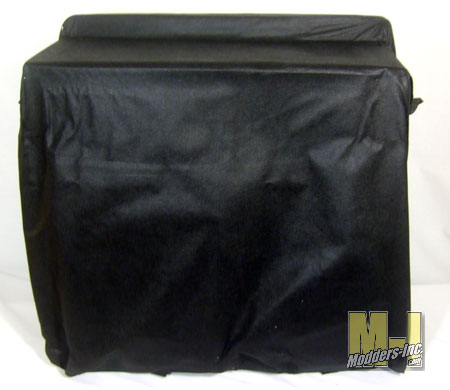 Instead of being placed in a plastic bag you get a nice cover over the entire case. This is something that I really like as it shows that Thermaltake really cares as to how the product will look when it gets to you and that you can reuse the cover over the Level 10 GT to keep it in great condition when not in use.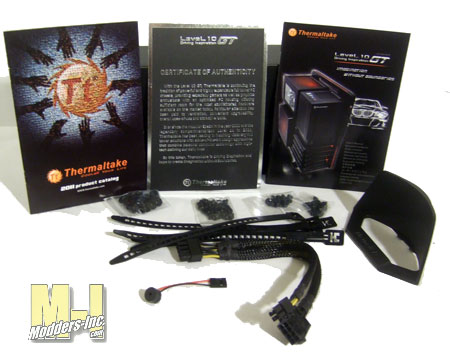 You also get some extra items in the box that comes with the Level 10 GT. These items include a manual, a certificate of authenticity, screws, mini speaker, cable ties, power adapter and headphone bracket.  
 
 
Case Type   
Full Tower
Material   
SECC
Front Bezel Material   
Plastic
Color   
Exterior: BLACK
Interior: BLACK
Side Panel   
Window
Motherboard Support   
Micro ATX
ATX
Extended ATX
Motherboard Tray   
 
5.25″ Drive Bay   
4
Ext. 3.5″ Drive Bay   
1
Int. 3.5″ Drive Bay   
5
Expansion Slots   
8
Front I/O Ports   
USB 3.0 x 3
USB 2.0 x 4
eSATA x 1
HD Audio x 1
Cooling System   
Front (intake):
200 x 200 x 20 mm ColorShift Fan x 1 (600~800RPM, 13~15dBA)

Rear (exhaust):
140 x 140 x 25 mm Turbo Fan (1000PRM, 16 dBA)

Top (exhaust):
200 x 200 x 30 mm ColorShift Fan (600~800RPM, 13~15dBA)

Side (intake):
200 x 200 x 30 ColorShift Fan (600~800RPM), 13~15dBA)

Bottom (intake):
120 x 120 x 25mm (optional)

Liquid Cooling Capable   
Yes
Liquid Cooling Embedded   
 
Power Supply Supported   
Standard PS2
Power Supply Included   
 
Dimension (H*W*D)   
584 x 282 x 590 mm
Net Weight   
28.0 lbs
Security Lock   
Front HDD Access
Side Panel
Rear peripherals
Application   
High Performance Gaming