PC Water Cooling
ThermalTake Water 3.0 240 ARGB All In One CPU Cooling Solution
Water 3.0 240 ARGB
« Installation and Clearance Issues
|
Final Thoughts »
Test System and Benchmarks
Test System and Benchmark Results of the ThermalTake Water 3.0 240 ARGB
Temperatures are averaged (last minute) from individual core temperature results monitored by AIDA64 System Stability Test after 15 minutes of the run time.
FPU load average is used to simulate worst-case scenario load levels similar to Intel Burn Test or OCCT, results marked "0″means thermal limit was reached and the CPU was throttled and thus the results were discarded.
Stock settings have all power saving features enabled in the motherboard with Vcore set static to 1.232V and set to "Balanced" in the OS. Multiplier at 46 at a stock speed of 3.6GHz.
Overclocked settings have Vcore voltage automatically set to 1.328V with the adjusted multiplier set at 52 to gain overclock at 5.2GHz.
All tests were taken at least three times to get the final result.
TDJ 834 was used for noise level measurement in dBA, 20CM away from the center fan exhaust.
The Stock test was run with the CPU set to the stock settings in the BIOS. The radiator fans and pumps were set to the normal setting in the Arous BIOS. This allows the fans and pump to spin up and down based on temperature. The stock temperature curves in the BIOS were used. CPU pump and the radiator fans are controlled by PWM controller so the pump and fans are controlled by the motherboard as needed. Stock Vcore was set to 1.232V. (Stock speed of 3.6GHz)
The Overclock test was done with custom settings. I set the voltage for the CPU at 1.328V for Vcore and set the multiplier on all cores at 52. To hit stable 5.2GHz. Pump was set to PWM and radiator fans were set to full speed in the EVGA BIOS settings.
TDJ 834 was used for noise level measurement in dBA, 20CM away from the center fan exhaust.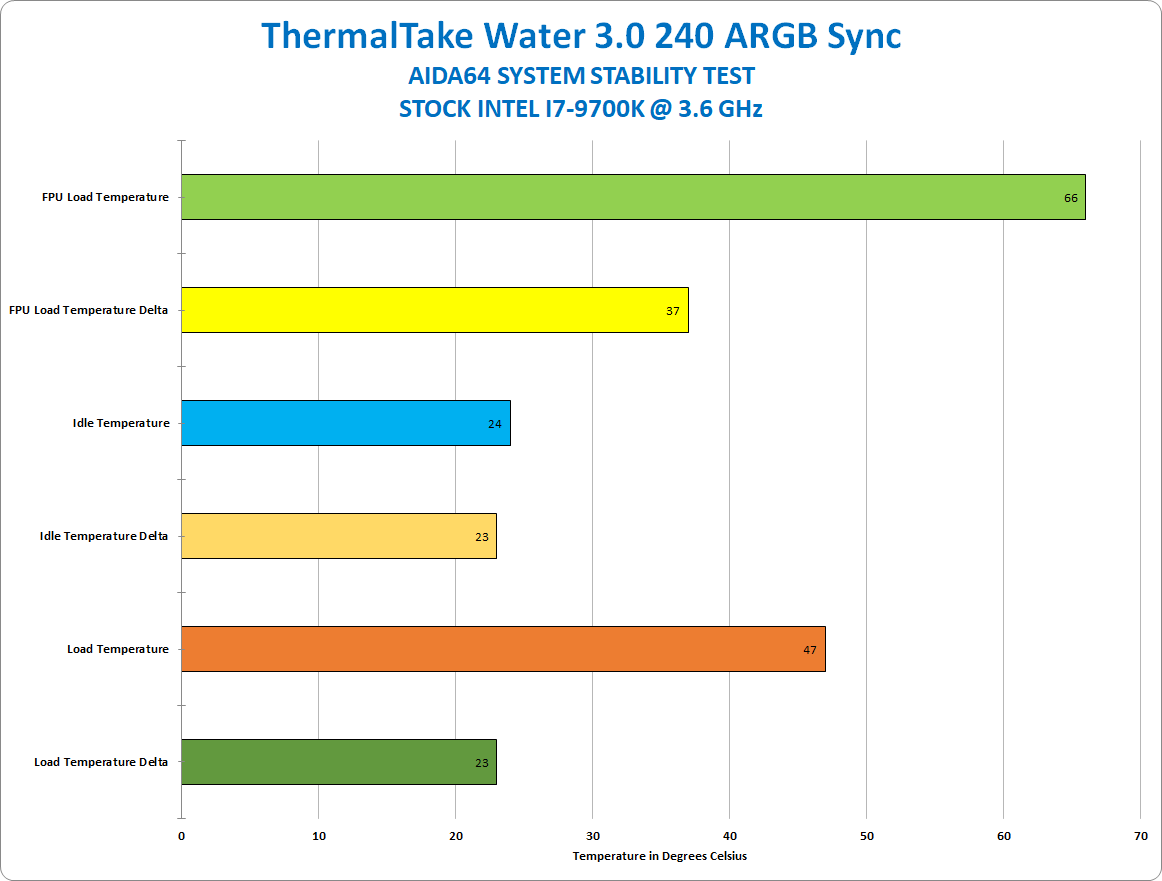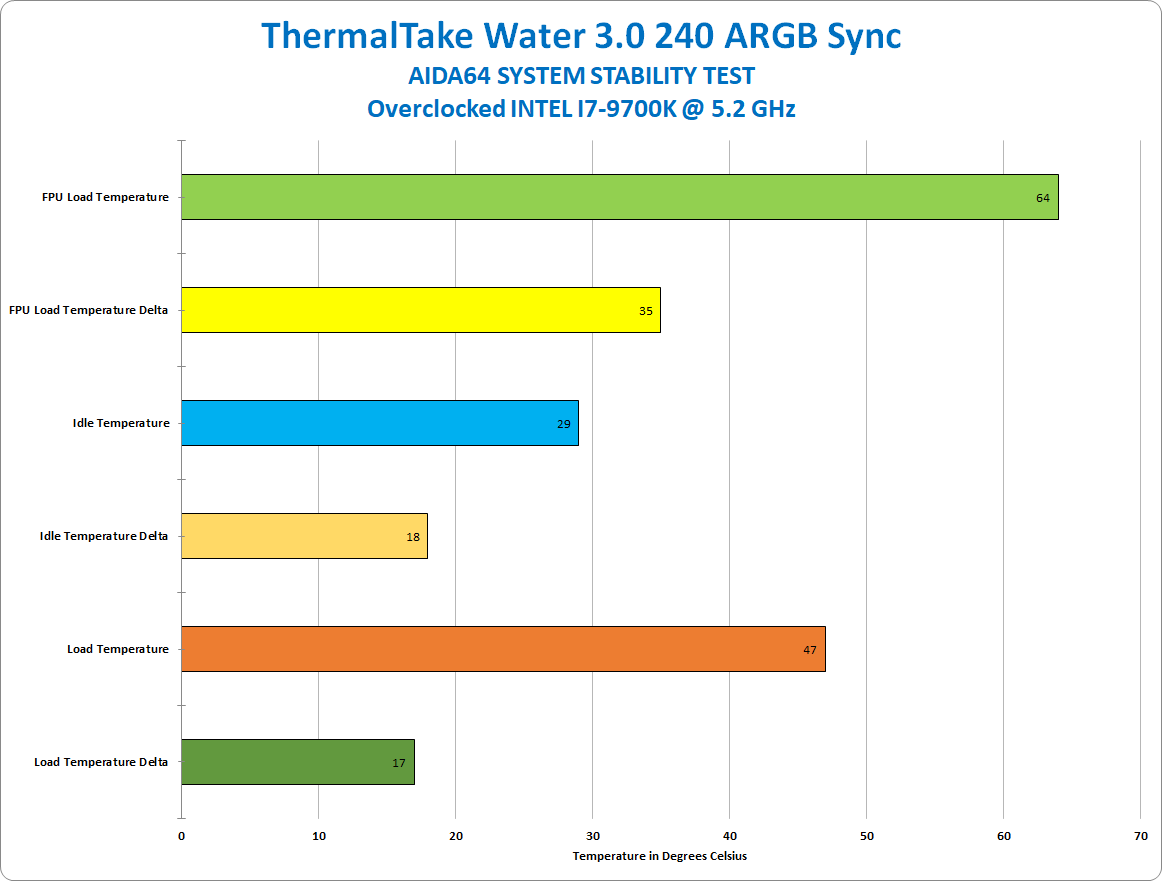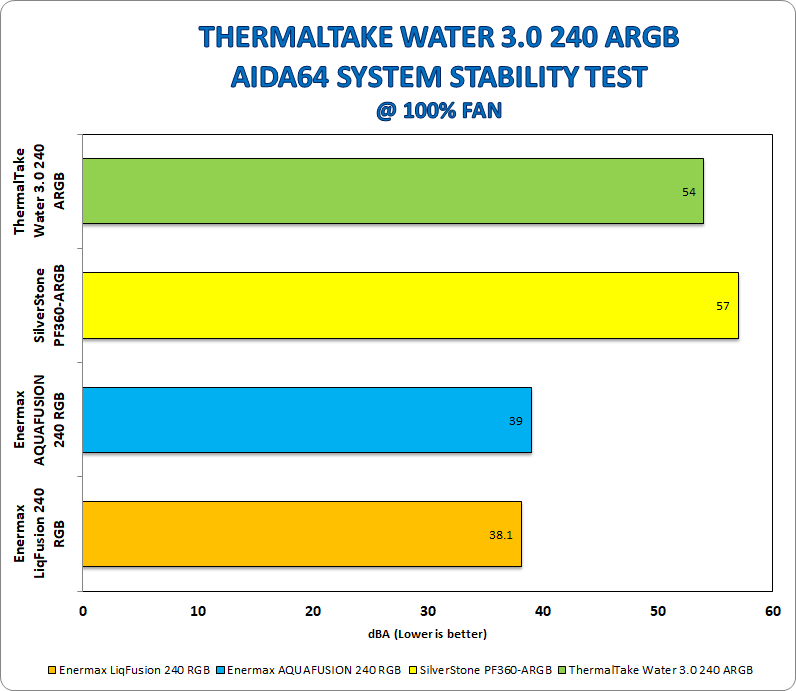 The sound level of Water 3.0 240 ARGB was measured by TDJ 834 sound tester. Testing was done with both fans at 100% RPM and about 20 cm away. Maximum noise was produced by about 54dBA.
Performance Summary:
I performed multiple system stability tests while testing AIO units like this one. From the data which I took while running in the stock CPU speed I can comfortable say that Water 3.0 ARGB does a pretty good job keeping temperatures as low as possible however I was expecting FPU temperatures in mid 50s C but saw temperatures reaching 66C.
In overclocked mode, the CPU temperature was exactly the same as the stock speed. I thought this was strange however after multiple tests the actual temperature reached 47C. FPU temperatures were actually better and were stable at 64C.
Running fans at 100% really didn't generate much of a noise. And the CPU pump was whisper silent as well.