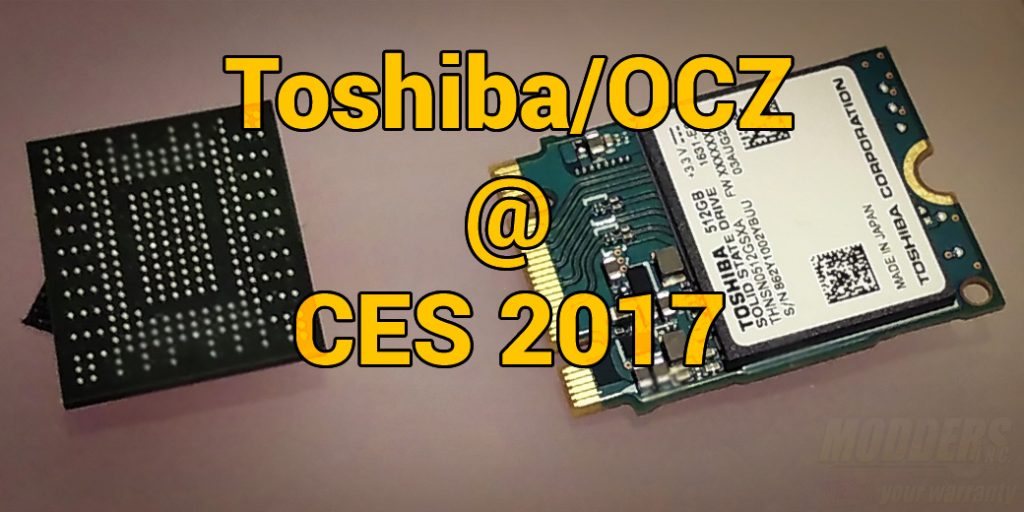 Toshiba invented flash memory so it comes as no surprise that at CES 2017, they have something new to show in the storage front. This time however, they are going big by going small; showing off a 2230 form factor M.2 drive with 512GB capacity from their BG series. This is the world's smallest 16mm x 20mm NVMe SSD using Toshiba BiCS flash with 3-bit per-cell TLC. The compact form factor is especially useful for thin-clients and ultra portables.
For dramatic comparison, Toshiba had the drive on display side by side with their THNSN5128GPUK single-sided 128GB XG4 series M.2 which uses a 2280 form factor and measures 50mm longer than the BG series M.2 drive. The BG series Ultra-mobile drive is barely the size of a camera's SD card but is a PCIe Gen3 x2 NVMe 1.2 storage solution (theoretical 2GB/s). Toshiba is keeping the details to its performance speed under wraps for now, but the BG Ultra-mobile series is expected to be released sometime in Q4 2017.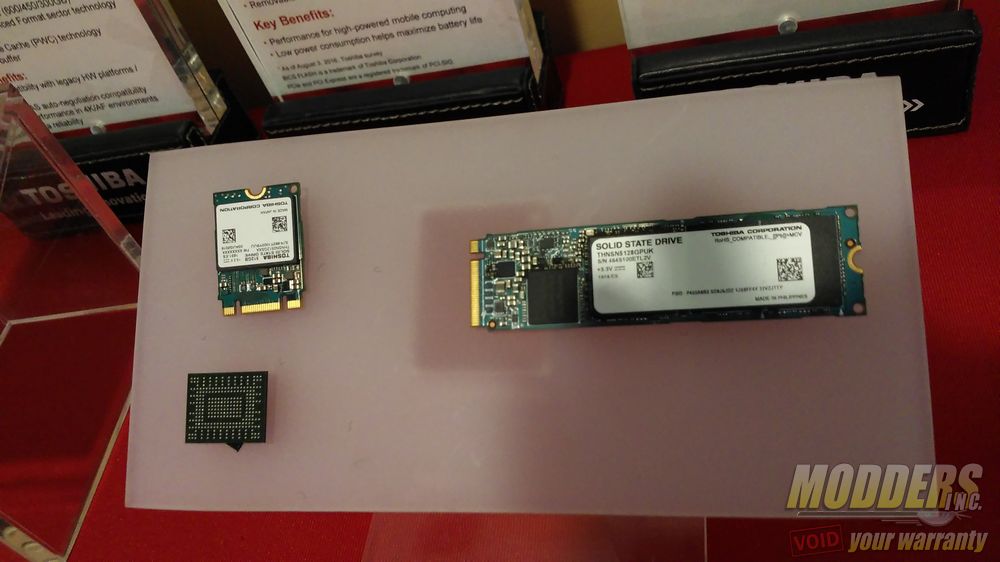 The Toshiba group also has the OCZ brand under their banner, with their current SSD lineup on display at CES including the TL100, TR150, VX500 and RD400 drives. The TL100 is OCZ's entry level SSD drive using SATA interface and TLC NAND flash in 120GB and 240GB capacities. These are ideal for basic system builds or upgrading older systems where an OS installed on an SSD vs mechanical HDD can result in a significant performance bump.
For those who want a bit more performance with greater capacity options, OCZ offers the Trion TR150 which also utilizes Toshiba TLC NAND but are available in 120, 240, 480 and 960GB capacities. This makes them ideal for budget gamers whose drives are filling up fast with large game installs and could use a larger SSD without breaking the bank. Both the TL100 and TR150 come with a 3-year warranty but the TL100 series are considerably lower priced due to their lack of DRAM although over-provisioning compensates for the reduced NAND wear and the SLC cache keeps the burst performance from tanking. The Total Bytes Written rating for the 120GB version is 30TB or 27GB/day with the 240GB version at twice that at 60TB or 54GB/day. The 480GB version enjoys a 120TB TBW or 110GB/day while the 960GB version has a 240TB TBW or a 219GB/day endurance rating.
For those looking for better performance and a longer 5-year warranty, OCZ offers the VX500 utilizing a Toshiba MLC NAND available in 128GB, 256GB, 512GB and 1TB capacities. Like the TL100 and TR150, the VX500 uses the SATA interface and is a solid all-around SSD storage for gamer or mainstream users. The VX500 is a direct descendant of previous generation OCZ Vertex SSDs such as the one I still utilize for my motherboard test bench until now, the exception being that these are significantly more efficient and higher performing than previous generation OCZ SATA SSD drives.
Those who do not want to be shackled by the limitations of the SATA interface however can take a ride with the RD400 drive. OCZ's RD400 (or RevoDrive 400) is an M.2 SSD that can take advantage of the latest Intel motherboard's built-in PCIe Gen3x4 NVMe storage support for blazing fast 2500MB/s sequential read and 1600MB/s sequential write speeds. These are available in 128GB, 256GB, 512GB and 1TB capacities with option to purchase as a bare drive or with the PCIe add-in-card.
These current OCZ SSD lines are expected to get a 3D NAND re-spin soon in 2017 with Toshiba's 64-layer BiCS Flash production in their Yokkaichi Operations scheduled for the first half of the year.