« Introduction and Packaging
|
Software »
A Closer Look at the Tt eSPORTS Cronos Riing RGB 7.1 Headset
The Tt eSPORTS Cronos Riing RGB 7.1 headset is bigger than it appears from the photos. In fact, it makes use of 50mm Neodymium magnet drivers, which are larger than the 40mm drivers on the flagship Tt eSPORTS Level 10M headset. The earcups actually have a 100mm diameter at the widest, with the foam padding at 91mm diameter and is 25mm thick. The entire earcup is actually 61mm thick,  which is quite substantial that it is almost comical looking to wear.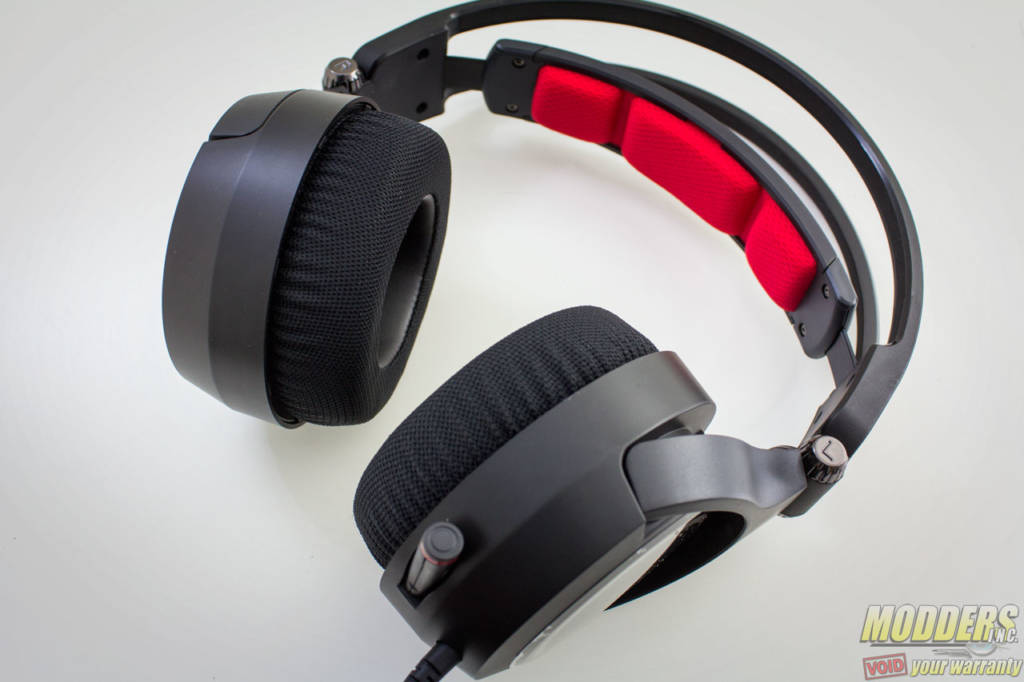 Unlike other headsets which use a 3.5mm connector, the Cronos Riing RGB uses a USB connector. An inline remote with an internal soundcard providing surround 7.1 is also within reach.  The cable is not covered with any sleeving material, although the connector cable from the inline controller to the headset is flat vinyl.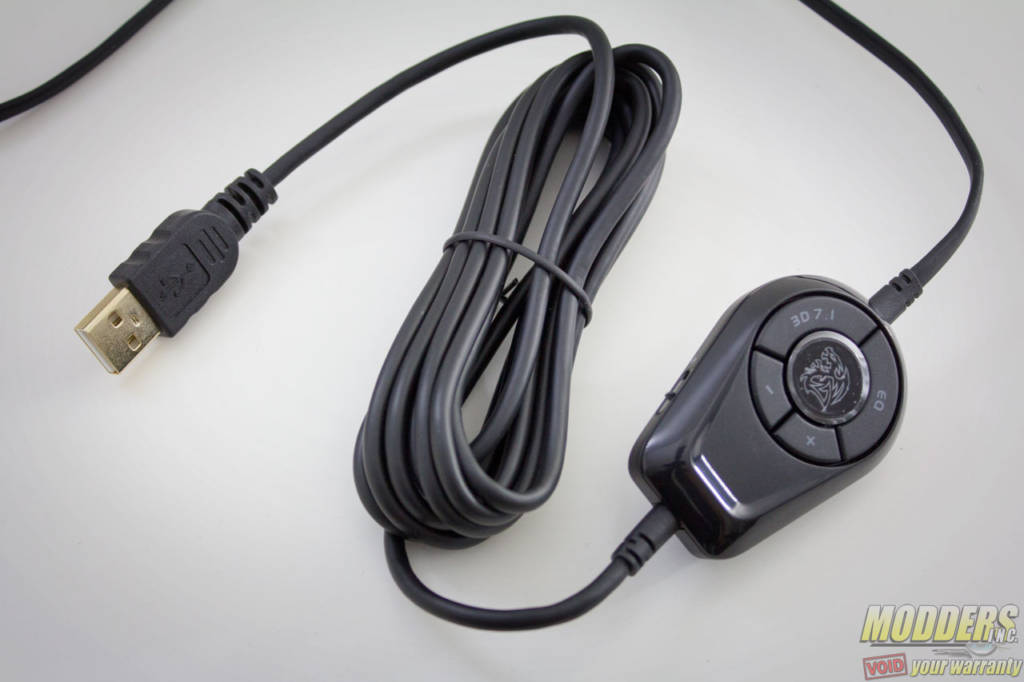 A USB connector also delivers power which enables the RGB LED colors. When plugged in, the tip of the microphone as well as the ring on the outer earcups light up. By default it is set to the Tt eSPORTS red. This microphone also extends out and can be adjusted closer or further from the user's mouth.
The in-line remote lights up as well and reflects the color changes on the headset ring. Note that only the logo lights up. The 3D 7.1 and the EQ buttons do not light up when enabled. The only way to verify if they are is by loading the software. This controller also lets users adjust the volume up or down by increments or just simply by holding it down to increase or decrease it faster. The EQ button cycles between four gaming presets:  FPS, MMORPG, ARPG, and RTS.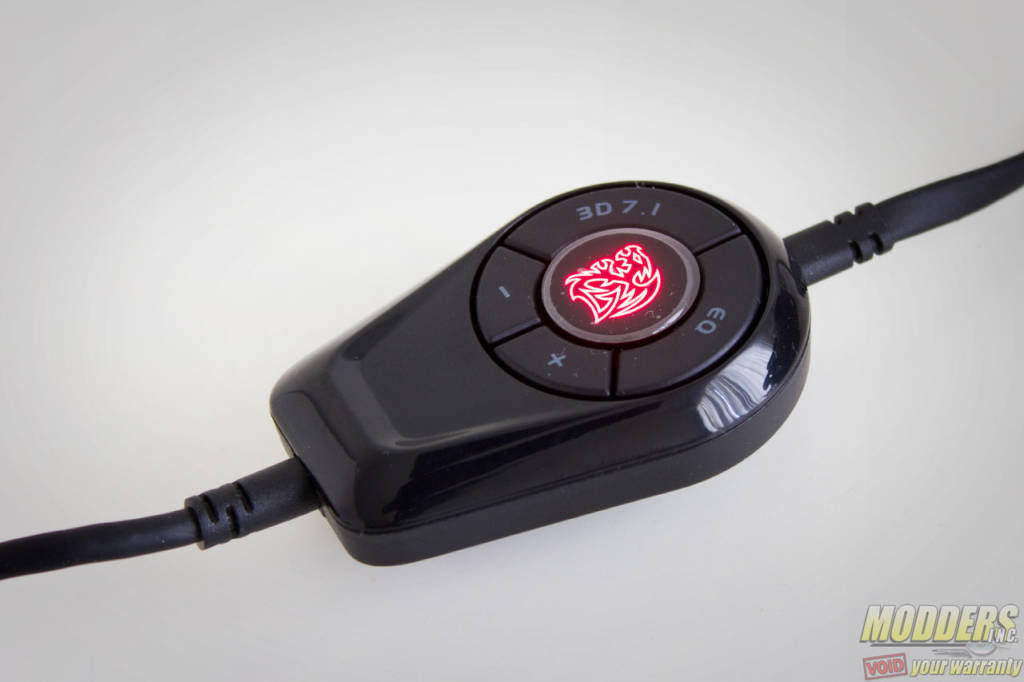 The inner band is padded with breathable cloth. This adjusts to the user's preference and is made of a metal frame inside so it is durable. The outershell is plastic and so are the outer bands. These outer bands are useful for mounting the headset on a headset stand. Placing the inner band on a headset stand puts pressure on the inner foam which could result in unevenness when the foam gets used to having pressure only on the center point.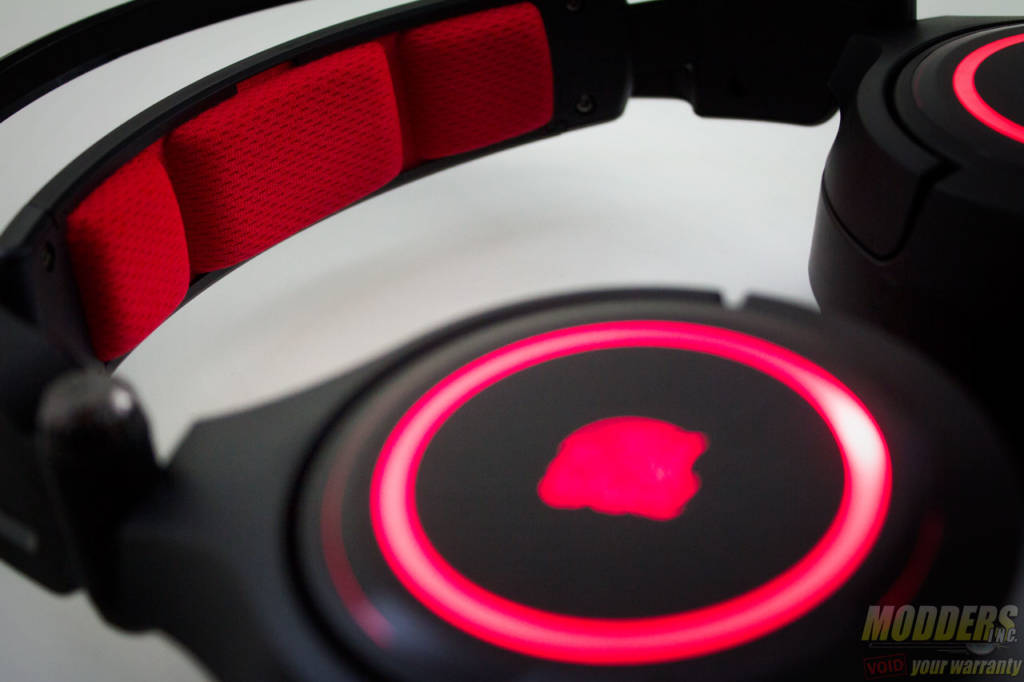 The earcups are also using breathable mesh with leather on the inner round. The headset is a closed back unit so there is some sound isolation when worn, but the breathable earcups allows some sound out. The good news is that it does a decent job of isolating external sound but not completely muting it. Also, the breathable mesh absorbs moisture from sweat better than leather.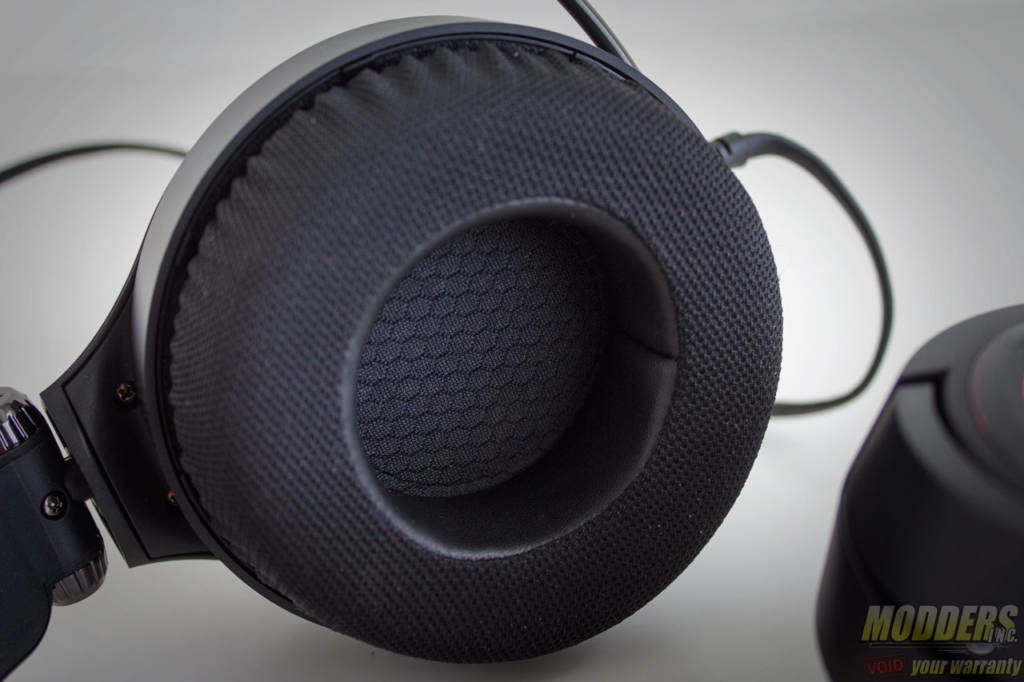 The earcups articulate flat, which make it easier to transport. Although the hinge at the base does not allow them to fold in further despite looking like it could.