Keyboards
Tt eSPORTS MEKA PRO Gaming Keyboard Review
« A Closer Look at the Tt eSPORTS MEKA Pro Keyboard
Experience and Final Thoughts
Tt eSPORTS was early in the game with mechanical gaming keyboards. Before other brands such as Cooler Master and Corsair even started considering them, Tt eSPORTS already had their MEKA G1 line. Back then it seemed crazy to some gamers to pay over $100 for a gaming keyboard, but now that most people know the advantage it does not even need to be explained anymore.  Even memory makers Patriot, Mushkin, Kingston and plenty other brands have begun offering mechanical keyboard options.
With the MEKA Pro, Tt eSPORTS signals a return of the Cherry MX switch to their mechanical keyboard line. They used the Kailh switches for their Poseidon units but the German-made Cherry MX switches are simply superior in quality. While the MEKA Pro does forgo certain extra features such as fancy RGB LED lighting and software integration, the solid build quality and sensible no-frills accessibility is a fair trade off.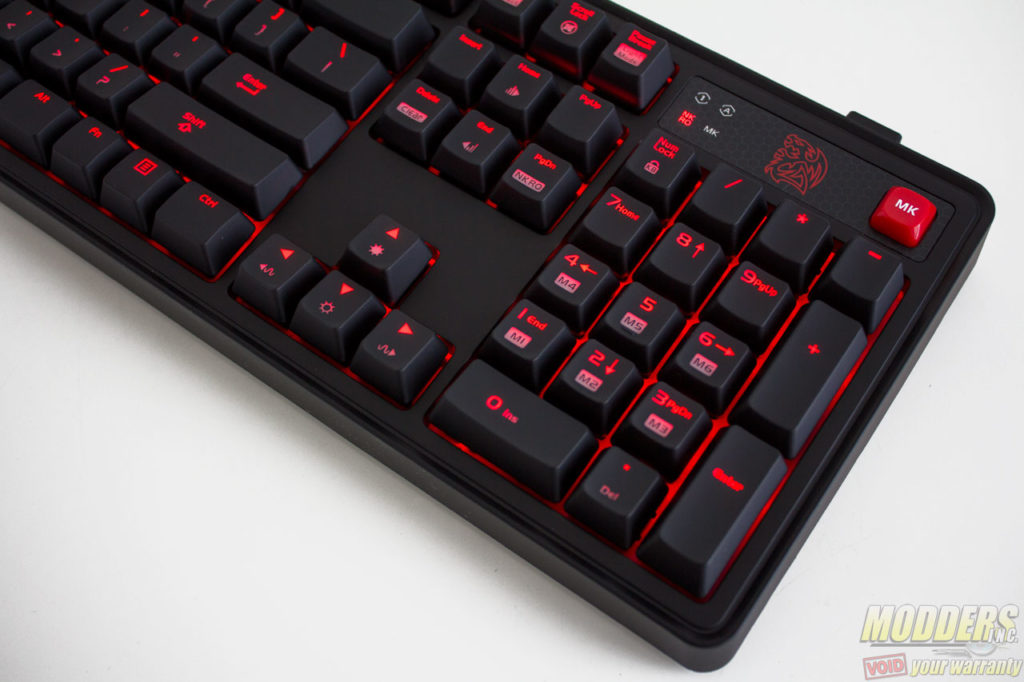 Having NKRO (can be toggled), Windows key disable feature and an easy to use live macro recording function makes it a bonafide gaming keyboard.  The rest of the features are welcome extras including the LED behaviour controls.
The Pros and Cons of Non-Standard Bottom Row
Unlike some gaming keyboards, the Tt eSPORTS has a non-standard bottom row. It has an oversized spacebar and a 1x Windows key. This would make finding custom keycaps for the MEKA Pro very limited which is unfortunate news for modders. From a purely gaming standpoint, it is understandable to make the spacebar 7x size while making the Windows key smaller. Because it minimizes accidental keypress (even if there is a disable function). The spacebar is also often used a lot in gaming so with it larger, it is easier to reach and press vs a 6.25x spacebar.
Since Tt eSPORTS and Thermaltake has plenty of offerings for modders and system customizers, maybe they can begin offering more custom keycap replacement sets. So far the only full 104-keycap set they offer is the Battledragon ABS fully transparent series (which is compatible with the MEKA PRO. They have a 38-key BattleDragon PBT and a 38-key metallic set as well but it does not support the bottom row keys.
No Software? No Problem!
For those who prefer a no-frills keyboard without the baggage of extra software to run and install, then the Tt eSPORTS MEKA Pro is a sensible choice. Everything is accessed directly on-board, including the macro recording. It is actually much simpler and easy to use than expected. The only trade off is that the numpad numbers 1 through 6 cannot be used when the macro "MK" mode is toggled.  Otherwise, recording and recall is an extremely simple procedure. Each macro is limited to 31 characters, but that is more than enough for most functions. Even in a non-gaming setting, it can be used to store login numbers or passwords for easy recall.
Overall, for only $89.99, the Tt eSPORTS MEKA Pro is a fairly priced mechanical gaming keyboard with single-color backlighting. The lack of software is actually a positive for this keyboard since it can easily do all the other extra features with just the use of Fn combo keys. It also one-ups its competition by including an on-the-fly macro recording feature. In case some users cannot stand the loud Cherry MX blue switch in this article, there are also MX red and brown switch options available.