PC Mouse
Tt eSPORTS Ventus X Plus Smart Gaming Mouse Review
« Tt eSPORTS Software
Experience and Final Thoughts

Although some gaming mouse claim to be unique, the Tt eSPORTS Ventus X Plus truly is since it is smarter than the average input device. Like a regular mouse, it tracks on various surfaces thanks to its Avago 5900 laser sensor. However, it can also keep track of the player. It can keep stats, measure and benchmark performance which is handy not just for statistics nerds but for gamers who want to improve their gaming as well.
While it changes many features from the original Tt eSPORTS Ventus mouse, the new Ventus X Plus retains the same $49.99 price tag. This is surprising considering the upgraded "smart" hardware inside. It drops the ambidextrous design for a right-biased body, although it is well-crafted even for bigger hands. Like a lot of products in the Asian market, many gaming mice tend to be on the small side, but the Tt eSPORTS Ventus X Plus is on the top end of the medium size. It is taller as well, with a prominent curve so it maintains a palm-based steadiness even in claw-grip stance.
I'm not going to elaborate on the tracking performance as all ADNS-9500 sensor mouse tend to perform the same. Feel free to read some of my previous reviews with tracking testing, and there are also several readily available information about it online at this point since the sensor is widely used for several years now. The software provides customization options in terms of angle snapping, lift of distance and polling rate adjustment anyway which should help users dial in their preference and compensate for the ADNS-9500 sensor's sensibilities.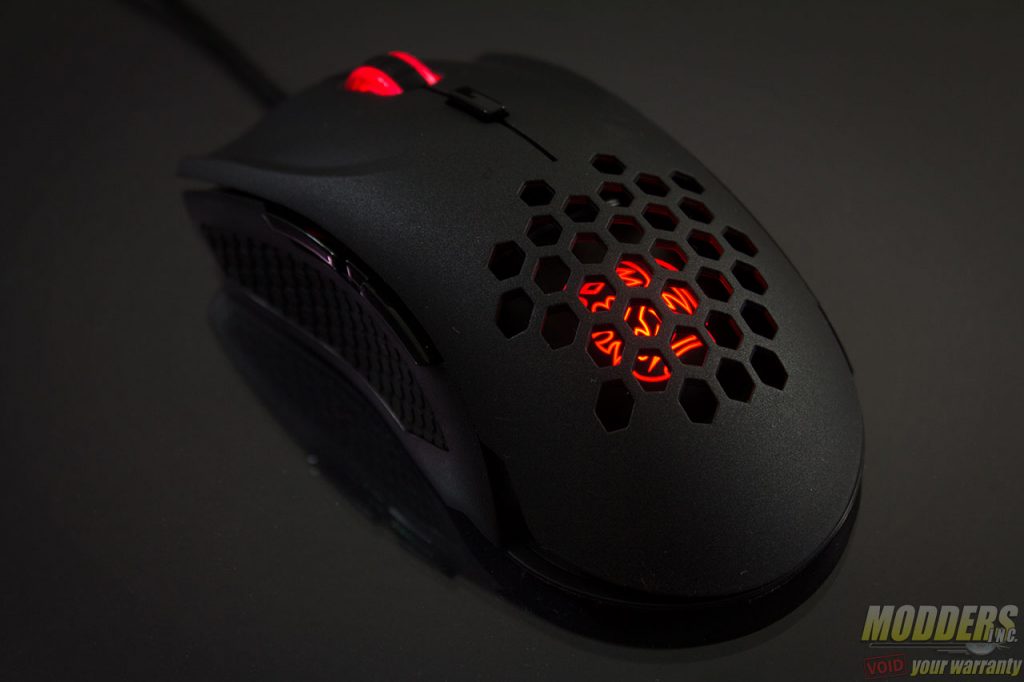 I was hoping to do this review quick and get the article out early. However, the Tt eSPORTS Ventus X Plus has plenty of features that it actually took longer. Most notably is its multi-platform integration. Unlike most smart devices which only communicate with either a desktop software or a mobile device, Tt eSPORTS decided to provide for both. Users can install the companion App on an iOS or an Android, keeping track of stats and communicating directly via the Ventus X Plus' built-in Bluetooth module. The software also opens up several customizable settings that are a welcome addition to any mouse, especially one that is already customizable via its weight settings.
Overall, there is plenty to love about the Tt eSPORTS Ventus X Plus mouse. Although since I have to nitpick, the use of a laser sensor always loses points for me over optical. There are simply inherent prediction problems with ADNS-9500/9800 that are absent from much cheaper optical sensor mouse. Especially for a mouse that is aimed for enthusiasts and pros, it does not make sense to me. For casual users who cannot discern between tracking performance between games, then yes these laser sensors are understandable.
What's great about Tt eSPORTS though is that they do provide an optical version of the Ventus X (using a PMW-3360 sensor) with RGB LED minus the smart features called the Ventus X Optical RGB. Both mice are the same price as well. If only Tt eSPORTS swapped out the laser sensor and the optical switch. It makes sense since more casual users are into the light show and are not picky about laser sensor anyway. It is almost perfect. Actually this could be easily done on their part. It would only require swapping the lowermost PCB with the sensor and changing the firmware.
Otherwise, for the build quality, smart features, price and design, the Tt eSPORTS Vetnus X Plus easily earns the Modders-Inc "Must Have" award.