PC Mouse
Tt eSPORTS Ventus X Plus Smart Gaming Mouse Review
Closer Look and Disassembly »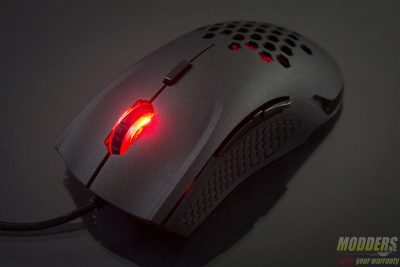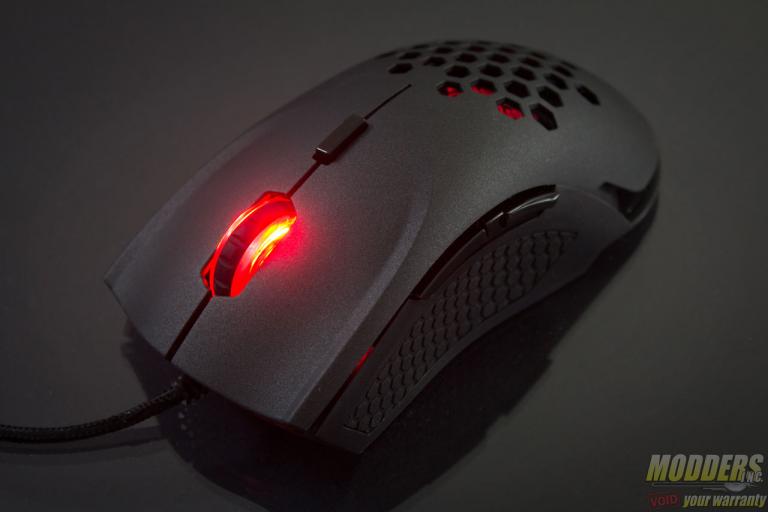 Tt eSPORTS' Ventus X Plus challenges the usual expectations from an input device by incorporating advanced tracking capabilities. These are tracking capabilities that track the user performance in a "FitBit" kind of way and not the usual mouse-related tracking most gamers know. Just like a fitness tracking device, the Tt eSPORTS Ventus X Plus also comes with a companion mobile app that curates the information for the user.
Other than this advanced "smart" option, the Tt eSPORTS Ventus X also does away with the ambidextrous styling of the original Ventus mouse from several years ago. Although it keeps several of the same features for familiarity, including an Avago ADNS-9500 laser sensor, Japanese Omron switches, on-board memory and full customization via Tt eSPORTS software.
Packaging
The packaging is fairly typical having a box with preview flap that provides plenty of promotional text and photos. There are several mice carrying the Ventus name under the Tt eSPORTS brand so it is important that all the features are clearly listed at the back. The Tt eSPORTS Ventus X Plus also has an excuse for having plenty of promotional information since it has more features than the non-plus Ventus X or any gaming mice for that matter.
With the preview flap open, users can get a preview of the mouse shape and even put their hands on it before buying. This allows users to estimate whether the size and shape is to their preference while in the store. All accessories are stored in an envelope that is wrapped in a plastic bag. This includes a warranty information booklet, user's guide and two stickers (white and black) with the tT eSPORTS logo.
Like all previous Tt eSPORTS gaming mice, the Ventus X Plus comes with an integrated velcro cable management strap on the USB cable. This cable is sleeved black and is 1.8 meters long, with gold-plated USB connector ends.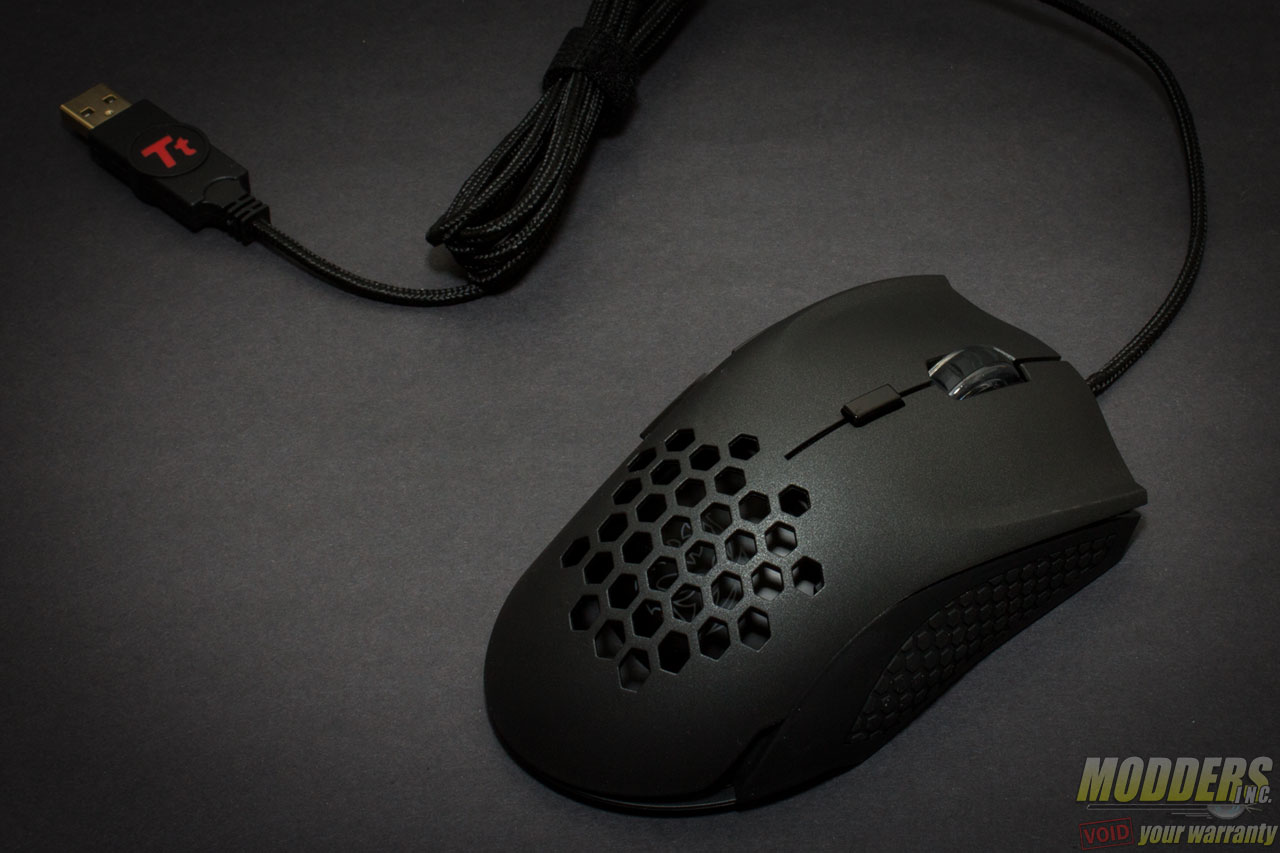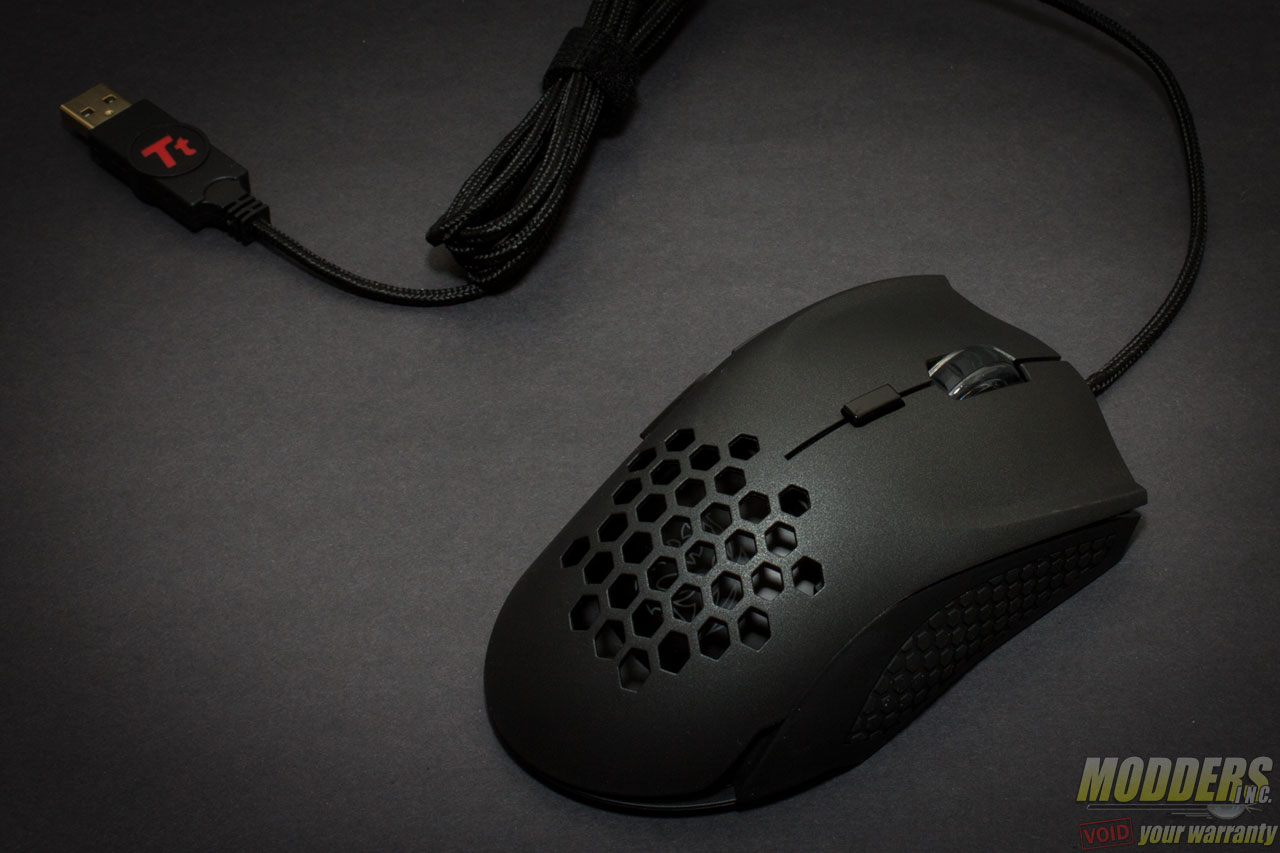 Specifications:
| | |
| --- | --- |
| Buttons | 6 |
| Resolution (DPI) | 5700 |
| Sensor Engine | Laser (Avago 9500) |
| Colors | Black |
| Polling Rate | 1000Hz, 500Hz, 250Hz, or 125Hz (1ms, 2ms, 4ms or 8ms) |
| Acceleration | 30 Gs |
| IPS | 150 |
| Weight (adjustable) | 143g (4.5g x 3 removable) |
| Dimensions | 128.8 x 71 x 42.6 mm |
| Warranty | Two years |