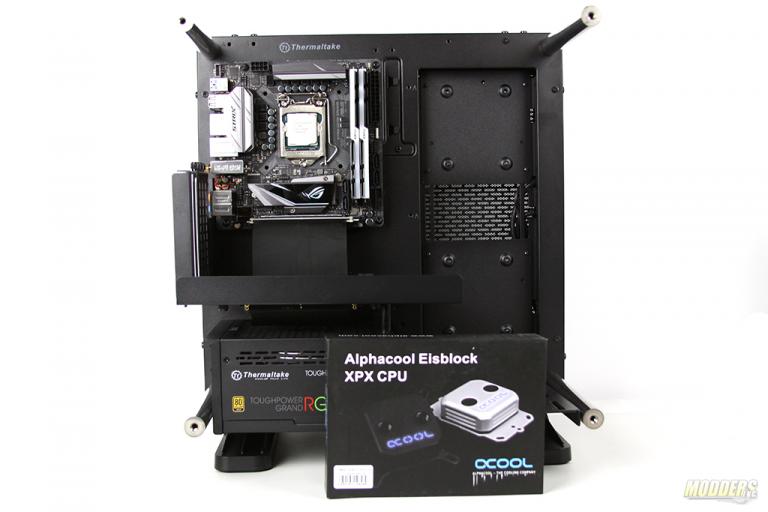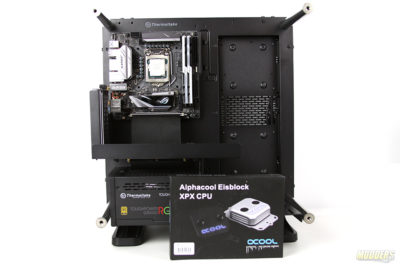 In my previous article I talked about my adventure in building a custom rig. What I have done so far is addressed how to install the water block onto the GPU that will be part of this system. The GPU was stripped from the stock heat-sink and modded with Alphacool GPU water block. In part two I will be addressing the CPU water-block installation.
Review Sample Provided by: Alphacool
Product Name: Water-cooling Equipment
Price at time of review: $  USD
Product was given in exchange for work done to produce this review.
What I have ended up using in my build is the ASUS ROG Strix Z270I – (Amazon) motherboard. This is an Intel based motherboard that is compact with plenty of features. Along with this motherboard I will be using Samsung 960 EVO NVMe SSD – (Amazon), G.SKILL TridentZ RGB DDR4 RAM – (Amazon) and Intel Core i7-7700K – (Amazon).
We all had to start somewhere so I got a little help from my son on putting together the CPU water block. Working on PC's is like when I used to work on cars with my dad. This is a great father and son activity that can be done, I mean look at Terry Crews he built his first PC just for that reason. The CPU water block that we are working with has been provided by Alphacool. The Alphacool XPX Eisblock – (Aquatuning) is a CPU water block that supports both AMD and Intel platforms. There are multiple cover versions of this CPU water block that come in different colors such as Black, Silver and Clear. Alphacool was nice enough to provide me with the clear version of the XPX Eisblock.  The XPX Eisblock comes with everything you need to properly install it into your system. I do strongly advise that you go over the installation recommendations/instructions which guides you through the whole process.
We did not use our own thermal paste, but instead we have used what was provided with the XPX Eisblock. Of course we could have used Arctic Silver 5 or Arctic MX-4 but I really want to go through the process of someone installing a water cooling setup for the very first time. As you can see my helper had no troubles and had enormous fun putting together the Eisblock and installing it onto the motherboard in a short amount of time.
Once the CPU water block was installed, we re-attached the motherboard to the case and installed the video crad that we had already installed the GPU water block on from the previous article. I do have to admit, the clear Alphacool XPX Eisblock CPU water block looks great. As you can see, I am planning to use Thermaltake Toughpower PSU – (Amazon) with my build. This power supply should provide more than enough power to the motherboard and a GPU.
Part 3 is coming up soon and I am going to be assembling and installing the radiator, water pump and a reservoir in to the case in the preparation to running the pipes. Keep a look out for the next step in my journey of water cooling a PC.
You can purchase all the latest Alphacool products in the US through http://www.modmymods.com
If you are in the UK, You can purchase Alphacool products at http://www.alphacool.com.
European users can also purchase Alphacool products at http://www.aquatuning.de/
Make sure that you enter the Alphacool Giveaway for July