Microsoft's latest operating system is finally here and is now also available pre-installed inside OriginPC Desktops and laptops. The new operating system brings the latest gaming technologies via DirectX12 support, Microsoft Edge web browser, InstantGo and Microsoft Cortana. Current Windows 7 or 8.1 users are eligible to upgrade to Windows 10 for free through Microsoft and will be backed by OriginPC's lifetime tech support.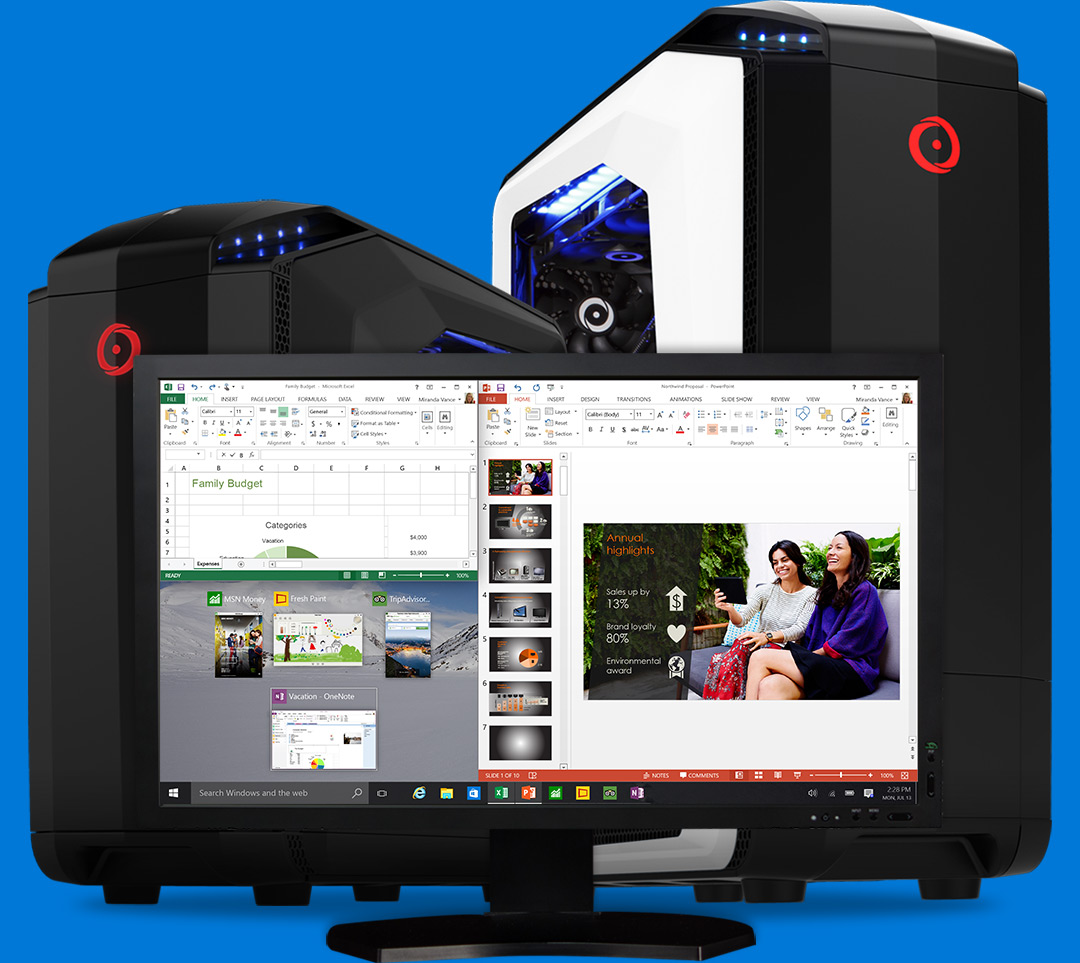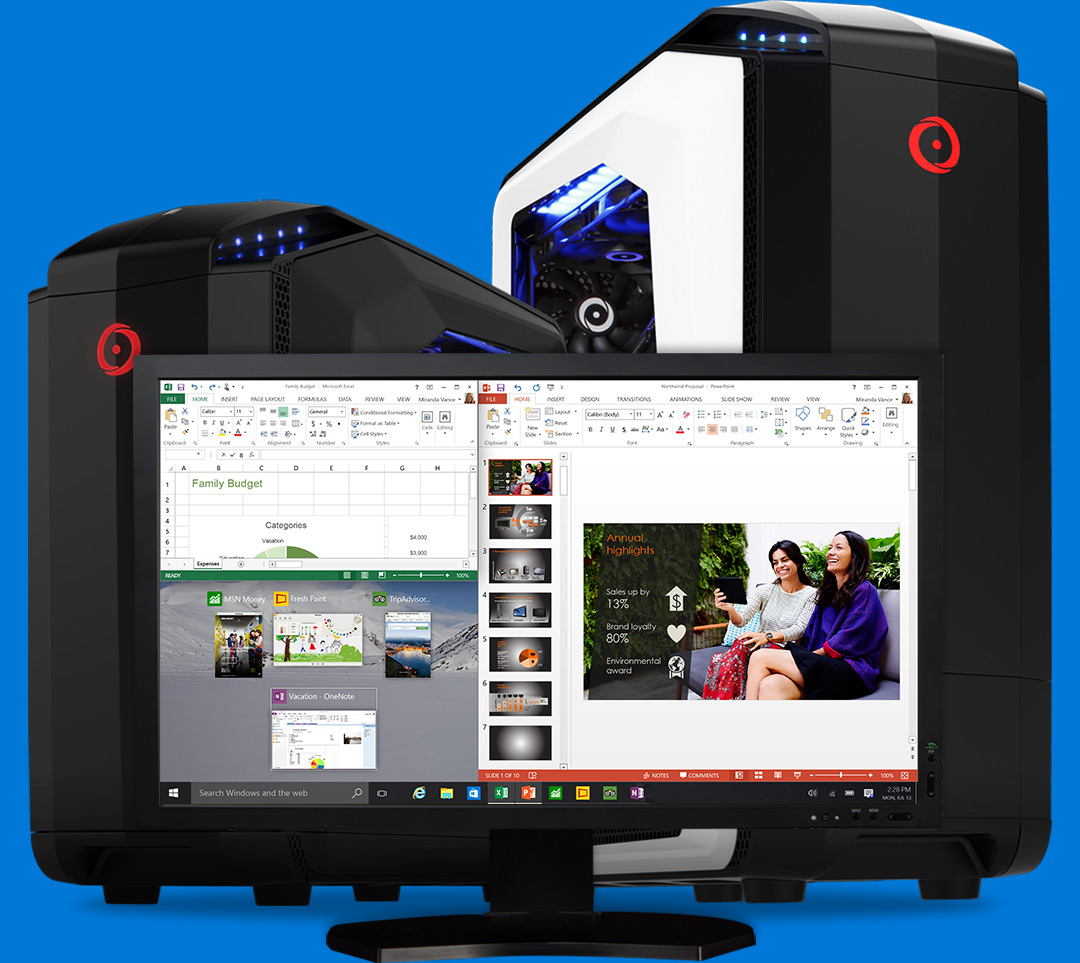 Faster, Smoother, and More Secure

Windows 10 is Now Available on all award-winning ORIGIN PC Desktop and Laptops
Miami, FL – July 29, 2015, 12:01 AM EST – ORIGIN PC announced today the availability of Microsoft's latest operating system, Windows 10, to their full line of award-winning desktops and laptops for gamers, artists, professionals and enthusiasts. Windows 10 brings back the most popular and familiar features from previous generations, plus a ton of great new technologies such as Xbox cross-platform gaming, Direct X 12 support, Cortana, Microsoft Edge web browser, and InstantGo that lets you boot up and resume quickly for a smoother and faster ORIGIN PC experience. For total confidence, Windows 10 also helps you stay up to date and has more built-in security features than ever to help protect against malicious software. All existing ORIGIN PC customers with Windows 7 or Windows 8.1 can choose to upgrade to a full version of Windows 10 for free through Microsoft within one year of availability and will be backed by ORIGIN PC's free lifetime 24/7 U.S. based technical support. 
Windows 10 New Features:
DirectX 12 – DirectX 12 introduces the next version of Direct3D, the graphics API at the heart of DirectX that enables richer scenes, allows more objects, and provides full utilization of your GPU hardware to display stunning next-generation graphics. 
Xbox Gaming – Get the best of Xbox Live and use the Xbox app to see what friends are playing now, chat with your community, and track achievements. Start recording gameplay, compete against console players, and stream games from your Xbox One console to your ORIGIN PC with Windows 10.
Intuitive Start Menu- Windows 10 is super intuitive and familiar with lots of similarities to Windows 7 including the traditional Start menu that will make you feel like an expert from the get-go.  
InstaGo: Boot up and resume your apps quickly and smoother than ever. All of your apps will run faster and smoother because Windows 10 automatically balances the memory and processor resources efficiently.
Cortana – Cortana is your true digital personal assistant working across  all your Windows 10 devices to help you get things done like searching for documents, apps or information on the web.
Microsoft Edge – An all-new web browser built to give you a cleaner, smarter, and better web surfing experience with Cortana support and the ability to mark up and share web pages.
Free Lifetime 24/7 Support: Every ORIGIN PC comes with industry leading Lifetime 24/7 Support based in the United States ready to help answer any Windows 10 related questions.
To learn more about Windows 10 on ORIGIN PC, please visit:www.originpc.com/landing/2015/windows-10/
Quote from ORIGIN PC
"I am personally super excited about Windows 10. You can tell it's special because from first boot it looks beautiful." said Kevin Wasielewski ORIGIN PC CEO and co-founder.  "With Xbox LIVE integration, cross platform gaming, and with DirectX 12 boosting performance and adding advanced features for game developers, Windows 10 is undoubtedly the best OS ever made for gamers, professionals, and enthusiasts." 
Quote from Microsoft
"We are excited to bring an enhanced gaming experience to customers on Windows 10," said Jordan Chrysafidis, Vice President of US OEM Marketing, Microsoft Corp. "It's great to see ORIGIN PC bring to life key Windows 10 features such as DirectX 12 and Xbox gaming  on PCs."
About ORIGIN
ORIGIN PC builds custom, high-performance desktops, workstations, and laptops for hardware enthusiasts, digital/graphics artists, professionals, government agencies and gamers. ORIGIN PCs are hand built, tested, and serviced by knowledgeable gaming enthusiasts, industry veterans, and award winning system integrators. Every ORIGIN PC comes with free lifetime 24/7 support based in the United States. The ORIGIN PC staff is comprised of award-winning enthusiasts, experienced in the gaming and PC markets who want to share their passion with others. ORIGIN PC is located in Miami, FL and ships worldwide. For more information, please visitwww.ORIGINPC.com or call 1-877-ORIGIN-Ø. (674-4460)
Follow ORIGIN PC:
www.twitter.com/originpc
www.twitter.com/originpcceo
www.facebook.com/originpc
www.youtube.com/originpc