CPU Cooler
Phanteks PH-TC12LS CPU Cooler Review: Low-Profile, High Value
Article Pages:
Closer Look at the Phanteks PH-TC12LS »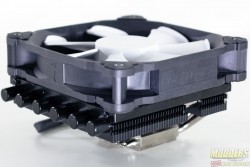 Placed in confined spaces, a compact cooler has to rise to the occasion. Although hopefully not too much as height restrictions also apply. This is why the C-type heatpipe design is popularly used for CPU coolers destined for small-form factor enclosures. This type of cooler has its own set of design issues it must overcome to be a viable solution, even more challenging than designing a tower cooler. The limited space means that the mounting will be difficult and a fan that is capable of being quiet must be used should it find a home inside a home-theater PC. Phanteks has had success with their tower cooler designs so now they turn their efforts towards a more compact variety of heatsink with the new PH-TC12LS.
The Phanteks PH-TC12LS is equipped with six 6mm heatpipes configured in a C-shaped design with the bundled PH-F120MP fan installed on top actively cooling down the. With the fan installed, the PH-TC12LS stands 74mm tall, so it can fit inside height-restricted enclosures such as HTPC or SFF cases. The bundled FPH-120MP is a PWM fan and can be controlled for silent operation should the PH-TC12LS need be used in media-centre builds. As with all Phanteks' heatsinks, the PH-TC12LS comes with a 5-year warranty.
Review Sample Provided by: Phanteks
Product Name/Link to Website: Phanteks PH-TC12LS CPU Cooler
Product was given in exchange for work done to produce this review.
The Phanteks PH-TC12LS is packaged in a matte gray outer box with printed graphics of the heatsink unit. Opening it is fairly straightforward at the top and the contents inside are sandwiched top and bottom in two pieces of thick foam padding.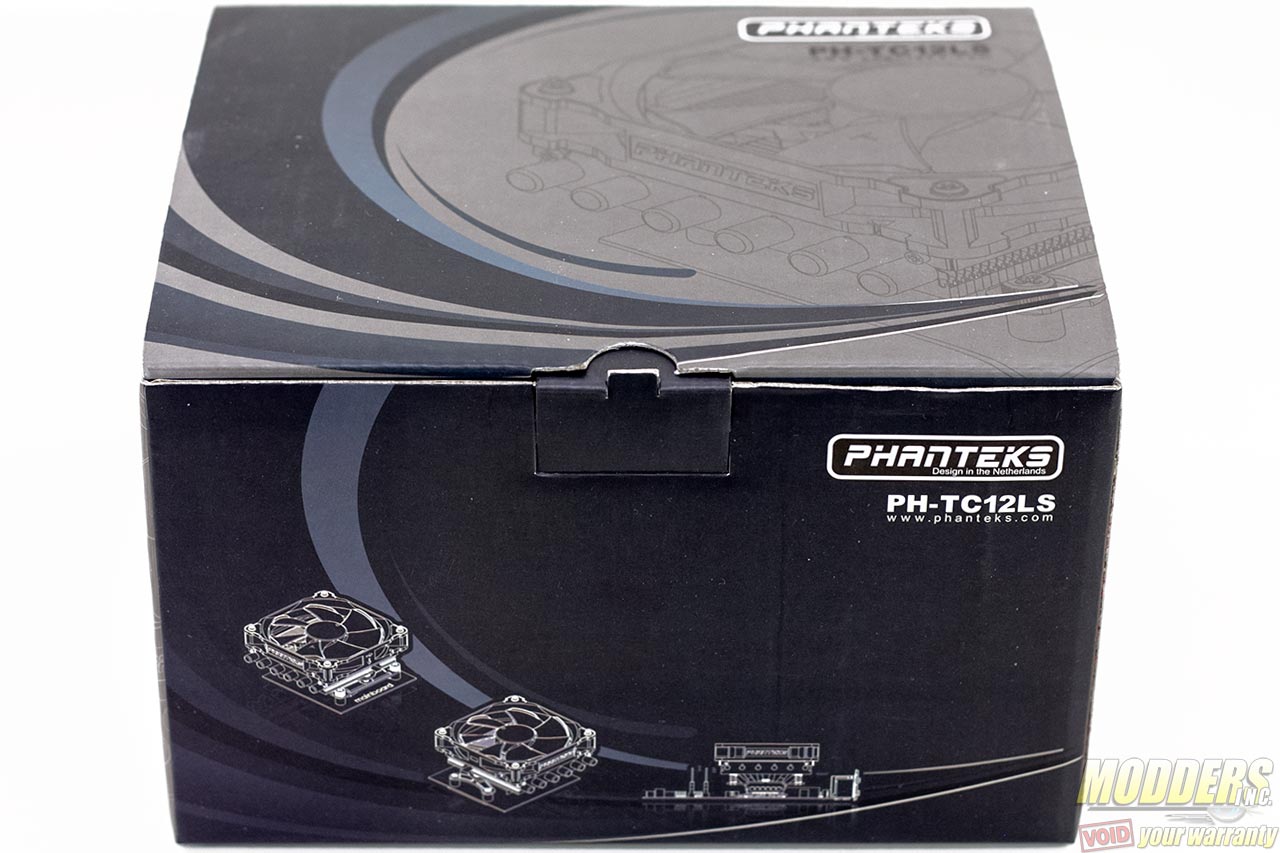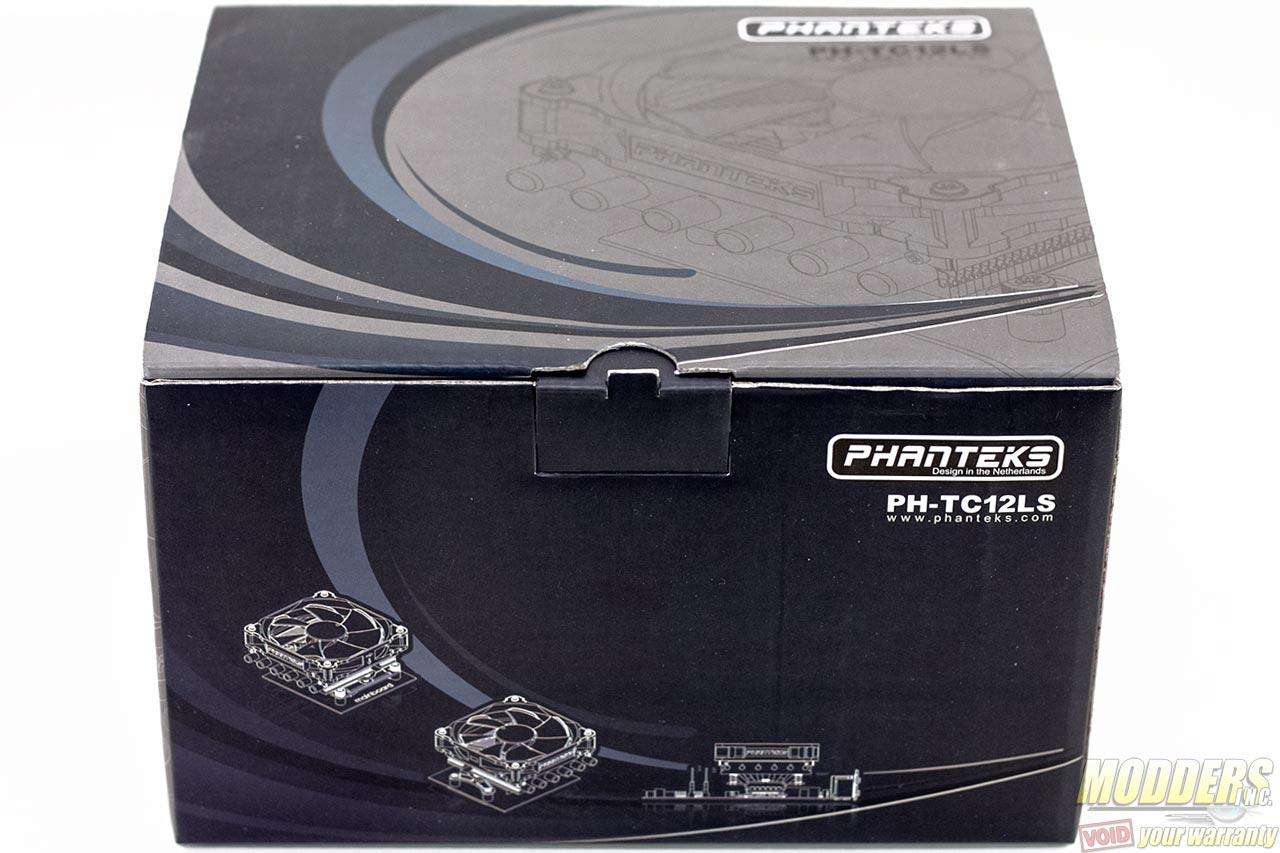 The accessories are housed in a box to the side while the main PH-TC12LS comes with the bundled fan pre-attached with screws. This fan must be removed first so that the unit can be installed.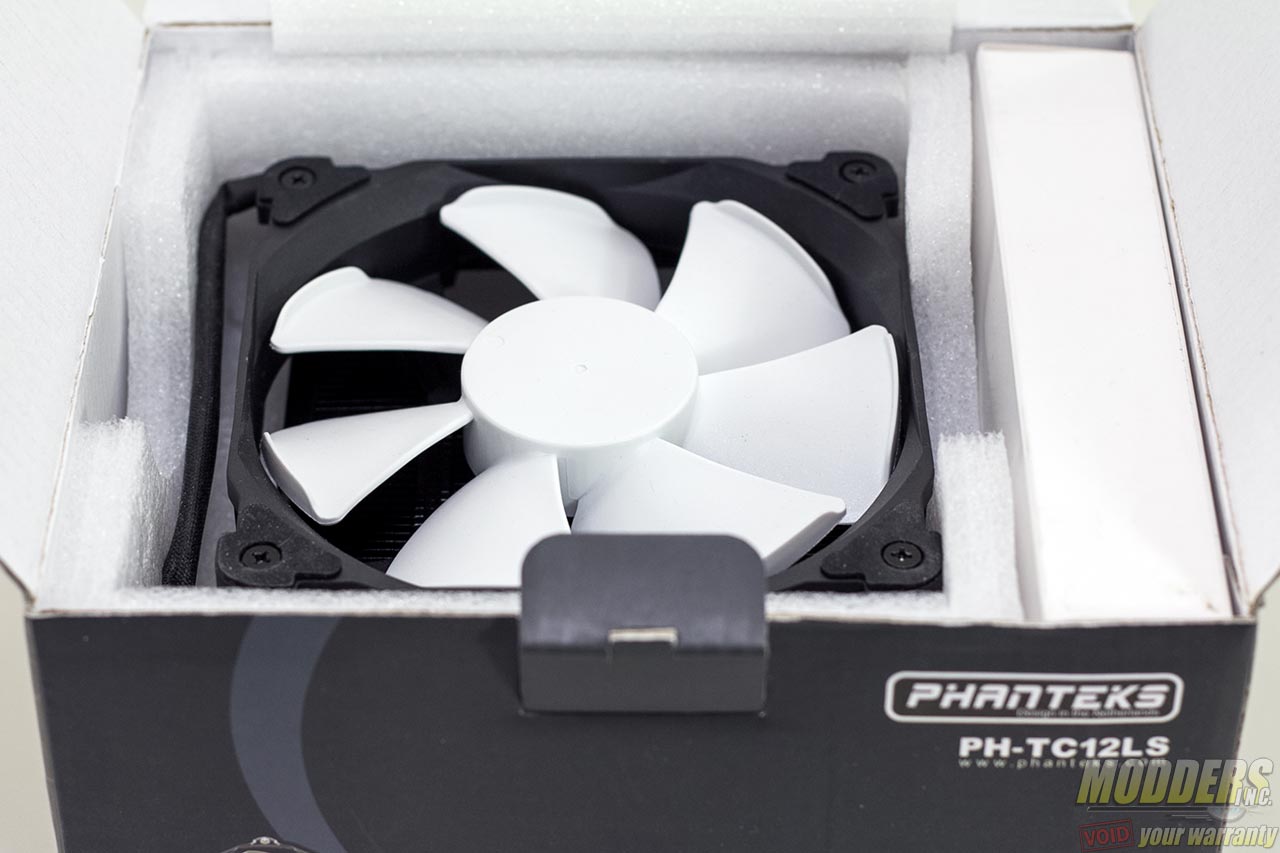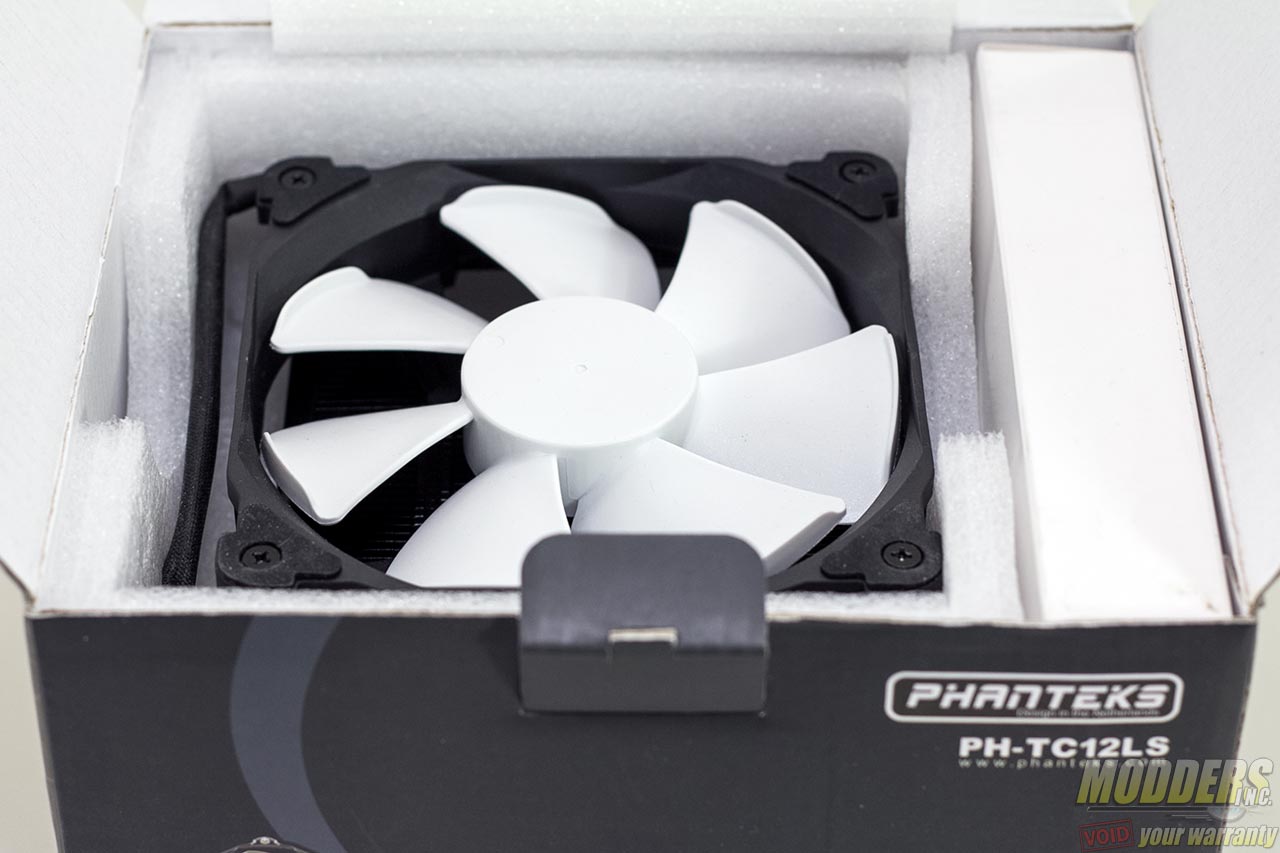 Accessories include documentation for each mounting system in multiple languages, a full-sized tube of PH-NDC thermal compound as well as mounting kits for Intel LGA 775, 115x, 2011x and AMD mainboards. A universal backplate is provided for mounting on Intel systems but the AMD mounting accessories require the use of the stock AMD backplate.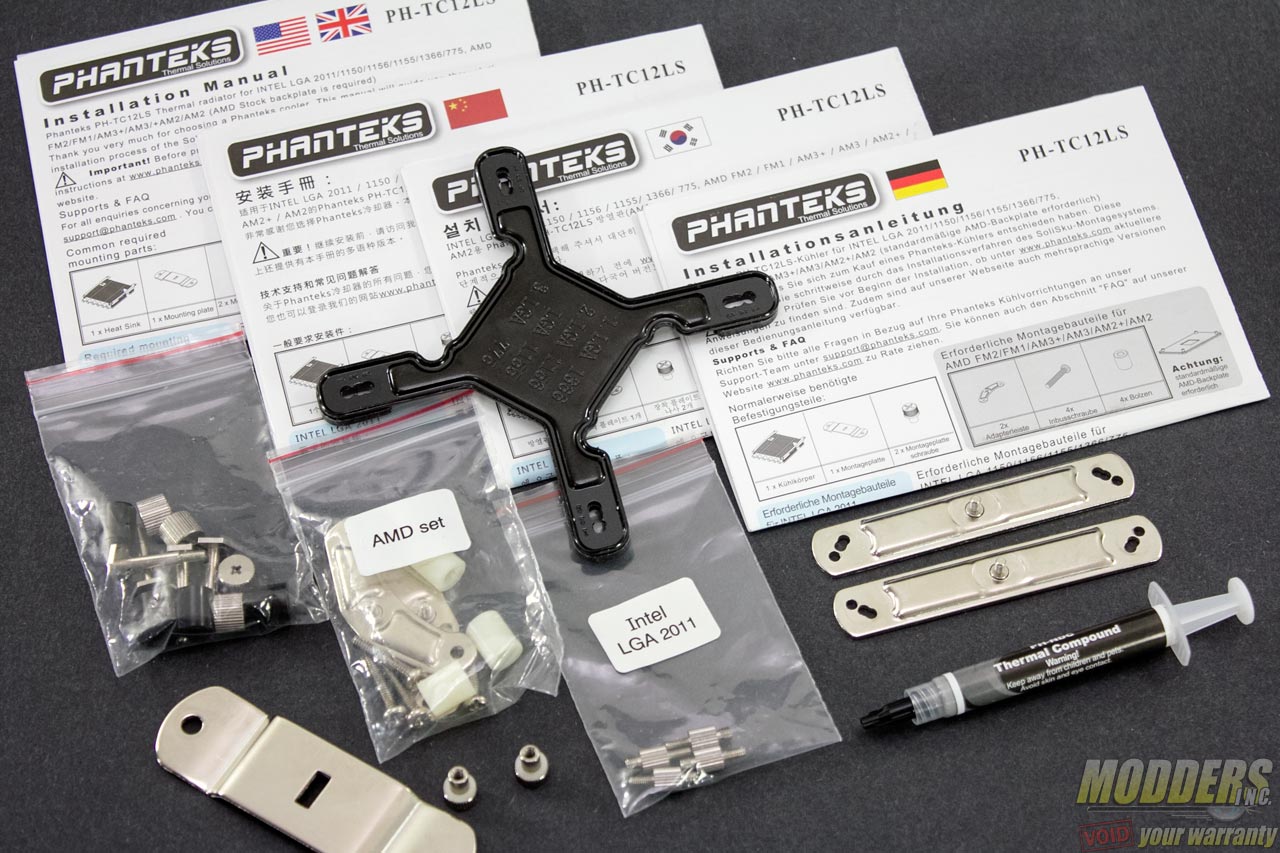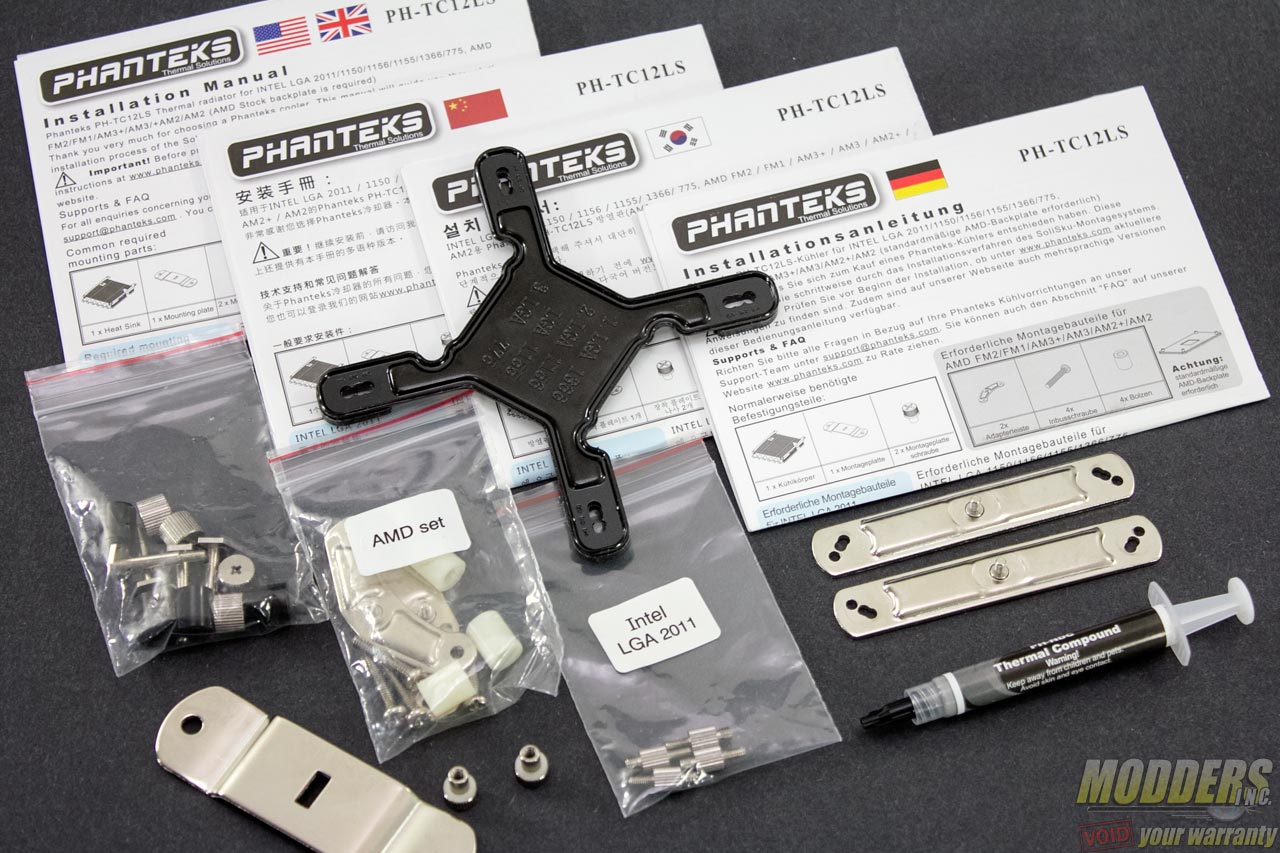 Specifications:
Socket compatibility

Intel Socket 2011/115X/1366/775. AMD FM1/FM2(+)/AM2(+)
Color

Black
Material

– Copper (Base and Heat-pipes), Nickel Plated
– Aluminum Cooling Fins with patented P.A.T.S.
Fan Model

PH-F120MP PWM High Static Pressure Premium Fan
Blade Geometry

Seven Blades with MVB2
Bearing Type

UFB (Updraft Floating Balance) Bearing
RPM

500 – 1800 ± 250 RPM
Heatsink Dimensions (LxWxH) without fan

4.7×4.1×1.9 inches (without fan)
Heatsink Dimensions (LxWxH) with single fan

4.7×4.7×2.9 inches (with fan)
Heatsink Weight without fan

0.7 lbs
Heatsink Weight with fan

1.1 lbs
Package Dimensions

7.5 x 6.5 x 4.6 inches (LxWxH)
Scope of Delivery

– 1x PH-TC12LS
– 1x PH-F120MP PWM High Static Pressure Premium Fan
– 1x SoliSku Mounting kit for Intel and AMD(Stock backplate required)
– 4x Fan Screws
– 1x PH-NDC Thermal Compound
– 1x Phanteks PH-TC12LS User's Manual
Warranty

5 Years