Article Pages:
The primary scheme is the Medal Of Honor. The GOLD and the Blue will be seen throughout but Bronze and Silver Stars will also be represented.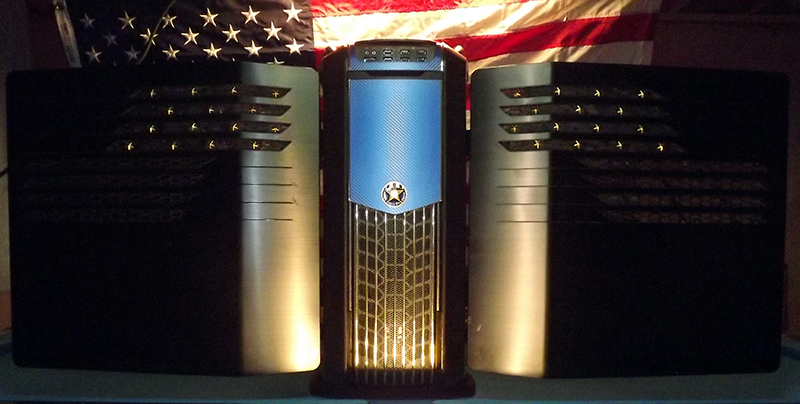 This project will be a team project and I will be adding to the following member list as they commit. Reno Vatio – design partner and artist, from concept ideas, colors, design and most of all graphics, Reno is a graphics wizard. His logo will be added to jpg's soon.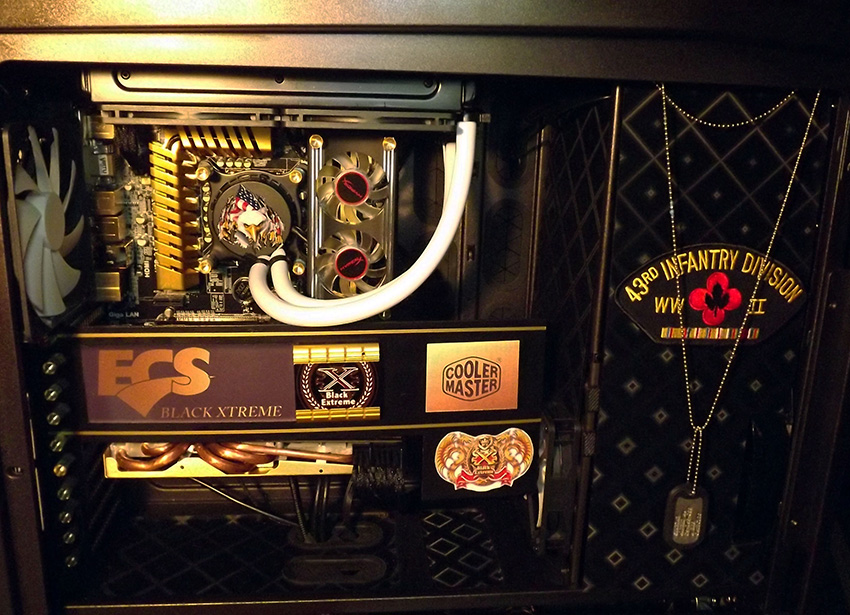 Our concept design is to enhance the beauty of the Cosmos II by adding some color, a grill, improve the vent look and HONOR our Wounded Warriors.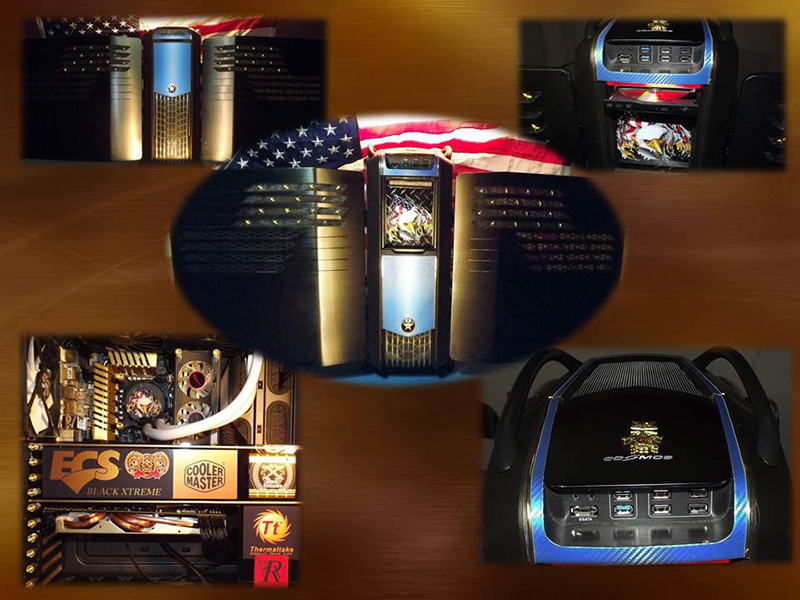 Hardware:
CASE: Cooler Master Cosmos II
MOTHERBOARD: ECS Golden Board Z77H2-A2X Black Extreme
CPU: INTEL I5-3550 LGA1155
RAM: Kingston 16GB Quad Channel DDR3 – 1866Mhz Memory
GPU: ECS Black Series GTX 680 (the only one in the world, they decided not to market the card)
PSU: ECOMASTER ENERMAX sponsored a LEPA G1000 Power Supply
SSD: Intel SSD 320 Series 160Gb, Corsair Force GT 240Gb
DVD: Compaq Presario CQ50 SATA Laptop CD-RW DVD-RW DL Lightscibe Multi Burner Drive AD-7561S
USB ADD-ON: NZXT IU01 Internal USB Expansion Board
Cooling:
CPU: Thermaltake Water 2.0 Extreme Closed Loop
GPU: Dual fans on Card Shroud
MEMORY: Kingston HyperX KHX-FAN-B Cooling Fans
FANS: 4x Ecomaster LEPA Blue Chopper fans, 4x Prolima Tech Blue LED 140mm and 120mm 1x Coolermaster 200mm case fan
FANS: Scythe SY1212SL12H Slip Stream Slim (Under radiator push side fans fix)
CABLES: Corsair Professional Series Black Sleeved extension cables (I may sleeve some of the cables)
CUSTOM: Blue Hexis Di-Noc
CUSTOM: 3M 3D Effect Carbon Fiber Di-Noc
CUSTOM DECAL: Lethal Threat Rip and Tear Eagle with Flag see thru
CUSTOM EMBLEM: Replica U.S. Army Medal Of Honor
CUSTOM EMBLEM: Silver Star Tribute Coin
CUSTOM TRIM: Gold Automotive molding
LIGHTING: NZXT LED Light Cable, 2x LOGISYS 12″ Blue Cathodes, 2x LOGISYS 4″ Blue Cathodes
KEYBOARD: AZIO Levetron Mech 5 Mechanical
MOUSE: AZIO Levetron GM533U Gaming Mouse
SOUND: Klipsch ProMedia 2.1 Computer Speaker system
Mods:
~ Painted everything but the doors.
~ Cut symetrical vents in opposite door panel
~ Swapped Doors from side to side
~ Re-hinged the door hinge mountings
~ Re-configured the rear door latches
~ Cut a section of the vents from another door and mounted 4 new vents, mesh and inner door panels
~ Mounted and lit 3/4 inch of Acrylic in the upper bay area to for light effect and slot drive illumination
~ Mounted a thin CD/DVD/BluRay writer/reader in stealth in the upper bay area
~ Created a panel coer for the Bay area with Shredding Screaming Eagle
~ Re-Created the front grill
~ Di-Noc'd the front door and upper case framing
~ Created inner panel covers for bay areas, Psu cover and GPU Cover with Acrylic and 3D effect Di-Noc
~ Di-Noc'd the inside lower with 3D effect
~ Sleeved the Closed loop Tubing with oversize UV tubing
~ Added the Medal Of Honor replica to the upper door cover
~ Added a Silver Star Tribute Coin to the front Door cover
~ Pianted the Slot vent areas gold
~ In Tribute mode the MOBO area is decorated with Silver Star, Bronze Star, Purple Heart, Dog tags, Combat Infantry mans Badge and more…
~ Shredding Eagle Decal on the CPU block
~ Created a Acrylc VGA Flow panel with counter sunk slot holes, extened the slot screws with 6/32 3/8″ standoffs
~ Modified the CPU block screws, Memory Cooler screws and the slot screws all the have hollow gold thumb screws
~ Edited, improved and printed the VGA panel logos
~ Pin Striped the VGA Panel
~ Used auto trim molding around the front and top edges
~ Back lit the upper bay acrylic with red LEDS
~ Painted the Memory Cooling fans gold
~ FIt the upper radiator above the memory using thin scythe fans
~ Sleeved all cables
---
Do you have a case mod and would like to see featured here at Modders-Inc!
Well then click on the link below and it will take you to the submission form.
Article Pages: