Cooler Master Seidon 120M mini-review »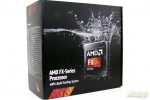 Compared to dog years, a CPU's life span is considerably shorter with the rapid pace of PC component turn over. Not in terms of operational longevity but viability as a platform and market standing. It is expected that new things are always around the corner making the prospect of upgradeability tricky, especially for CPUs since certain key features are wholly tied or limited by the potential of the chipset and motherboard's features. What makes a platform upgradeable in the future could also be a hindrance to what the potential performance could be down the road.
I do not think AMD envisioned their 9-series chipset launched in 2011 to last this long in 2014 and to have "new" processors to go along with it. Before that, AMD would release a new chipset every year with incremental upgrades (790FX, and 890FX before the 990FX) but they have stopped short before the release of the 1090FX rumoured to deliver PCI-E 3.0 to a platform that was ahead of Intel in providing six SATA3 6Gb/s  ports. Three years later and with a lack of a clear roadmap for their FX processors comparable to their FM2+ APUs, many users are wondering what is next for their higher-end mainstream performance segment.
Review Sample Provided by: AMD
Product Name: AMD FX-9590
MSRP: $229.99 USD for both (see table below for 8 and 9-series AMD FX line pricing)
Product was given in exchange for work done to produce this review.
The answer seems to be "we do not know either", or at least it feels that way. The new set of refreshed Piledriver CPUs flesh out the existing FX series line and with a set of price drops, AMD is hoping to make the FX line competitive once again for mainstream users, despite the lack of any deep silicon improvements on the processors themselves. The underlying hardware inside the FX-8350 and FX-9590 is the exact same except the FX-9590 is higher binned and guaranteed to run at 4.7GHz base and Turbo to 5GHz out of the box.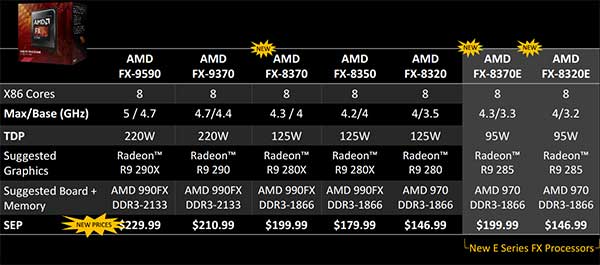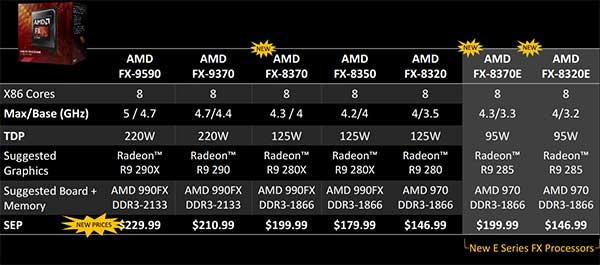 Before we delve into the FX-9590, let us briefly take a look at the price history of AMD's FX series as it is certainly one of the most interesting price down shifts in recent memory.
| | | | | | |
| --- | --- | --- | --- | --- | --- |
| Name | Base/Turbo Clock/TDP | Aug 31, 2014 Retail Price* (USD) | Sep 2, 2014 Launch MSRP | Sep 3, 2014 Retail Price* | Oct 1,  2014 Retail Price* |
| FX-9590 with CM Seidon 120 bundle | 4.7/5.0/200 | 359.99 | 359.99 | 359.99 | 329.99 |
| FX-9590 CPU only | 4.7/5.0/200 | 299.99 | 229.99 | 239.99 | 259.99 |
| FX-9370 | 4.4/4.7/200 | 219.99 | 210.99 | 210.99 | 219.99 |
| FX-8370 | 4.0/4.3/125 | – | 199.99 | 209.99 | 179.99 |
| FX-8370E | 3.3/4.3/95 | – | 199.99 | 199.99 | 199.99 |
| FX-8350 | 4.0/4.2/125 | 179.99 | 179.99 | 179.99 | 179.99 |
| FX-8320 | 3.5/4.0/125 | 159.99 | 146.99 | 149.99 | 139.99 |
| FX-8320E | 3.2/4.0/95 | – | 146.99 | 154.99 | 149.99 |
*Retail prices are taken from NewEgg.com
FX-series CPU Compatibility and Limitations
Despite support for AM3+ CPUs however, compatibility with the latest FX series CPUs is dependent on the motherboard's VRM power capability so make sure your motherboard supports the CPU before buying an FX processor or vice versa. AMD lists the TDP for each processor and compatible CPUs are often listed on the motherboard product page. AMD's flagship monster FX-9590 and FX-9370 for example have 220W TDP ratings which limits its motherboard compatibility to a handful of capable 990FX motherboards with beefy VRMs. The FX-8370, FX-8350 and FX-8320 are 125W CPUs while the new "E-series" FX processors FX-8370E and FX-8320E are 95W TDP CPUs the same as the FX-6300 and FX-4300. Even factoring in overclocking, these 95W CPUs can be perfectly paired up with 970 chipset AM3+ mainboards which can cost as low as $70 or higher-end 990FX CPUs suitable for overclocking the 125W FX chips.
However, running the 220W FX-9590 or FX-9370 is restrictive and official support currently limited to the following motherboards:
Asrock 990FX Extreme 9 (P1.20 BIOS or later)
Asrock 990FX Fatal1ty Professional (P1.90 BIOS or later)
ASUS Crosshair V Formula-Z (1403 BIOS or later)
ASUS M5A99FX PRO R2.0 (1903 BIOS or later)
ASUS TUF Sabertooth 990FX R2.0 (1708 BIOS or later)
Gigabyte GA-990FXA-UD3 (Revision 4.0 – F1 BIOS or later)
Gigabyte GA-990FXA-UD5 (Revision 3.0 – FC BIOS or later)
Gigabyte GA-990FXA-UD7 (Revision 3.0 – FC BIOS or later)
MSI 990FXA-GD80 V2
Depending on your motherboard's VRM design, you might get away with running an FX-9590 if you can sufficiently cool the MOSFETs by replacing the MOSFET heatsink or even by putting a fan directly blowing into it. This is obviously something of a last resort and I do not recommend doing so in place of getting a motherboard that has official 220W AMD FX CPU support. Even if you can run it, it will not be guaranteed for long term use and can damage your motherboard and possibly your system if the CPU power delivery system is not sufficient.
Two SKUs, One CPU
Initial price for the FX-9590 was actually $999 which dropped quickly to $799 and were not available for retail but only for system builders. Prior to September 2014's refresh re-launch, the FX-9590 was worth $299 but now is priced to compete closer to the range of Intel's current Haswell Core-i5 offerings. As of October 2, 2014, retail prices are offering the CPU-only FD9590FHHKWOF FX-9590 at even more affordable prices:
NewEgg = $259.99 (free shipping with additional $20 off instant rebate)
NCIX US = $229.99
SuperBiiz = $234.99
Amazon = $249.99
MicroCenter = $219.99 (in-store pickup only)
The FD9590FHHKWOX FX-9590 bundle with the CM Seidon 120M liquid cooling system on the other hand is available in retail stores for as low as $282.98 USD via NCIX US and $329.99 from NewEgg.com, dropped from $359 before the September re-launch. The gap between the two bundles has widened to $60 at best (when it used to be only $40) which  is still $5-10 shy of the current CM Seidon 120M retail pricing.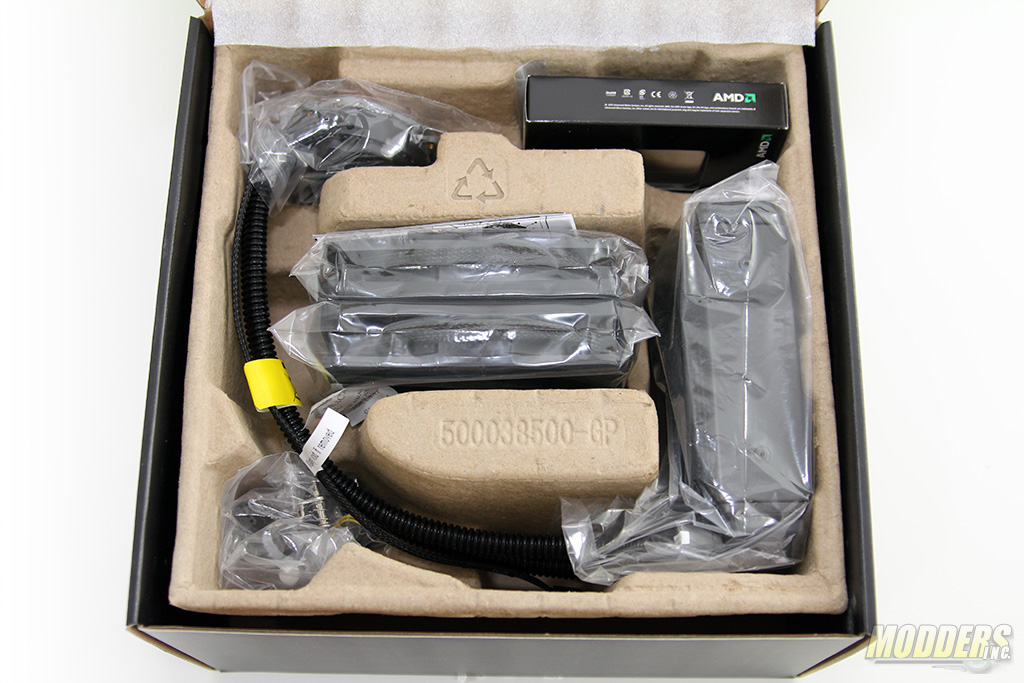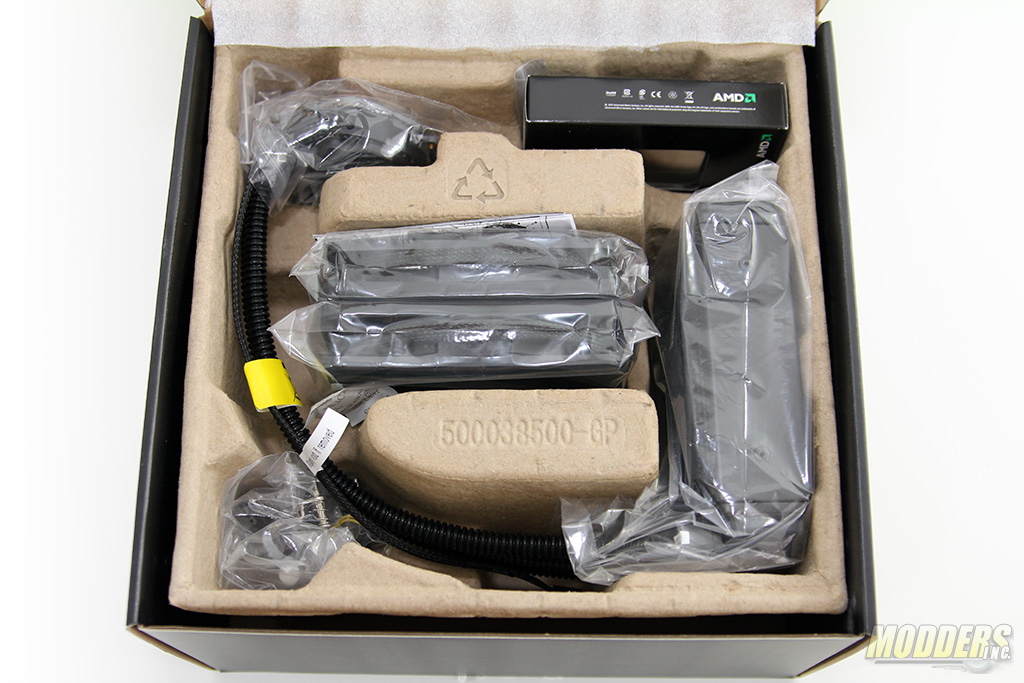 The packaging of the FD9590FHHKWOX LCS bundle is the same as the standalone CM Seidon 120M but with understandably AMD-centric outer box graphics. Inside, the FX-9590 CPU box is tucked inside one of the compartments and all the regular accessories are present minus the Intel mounting hardware.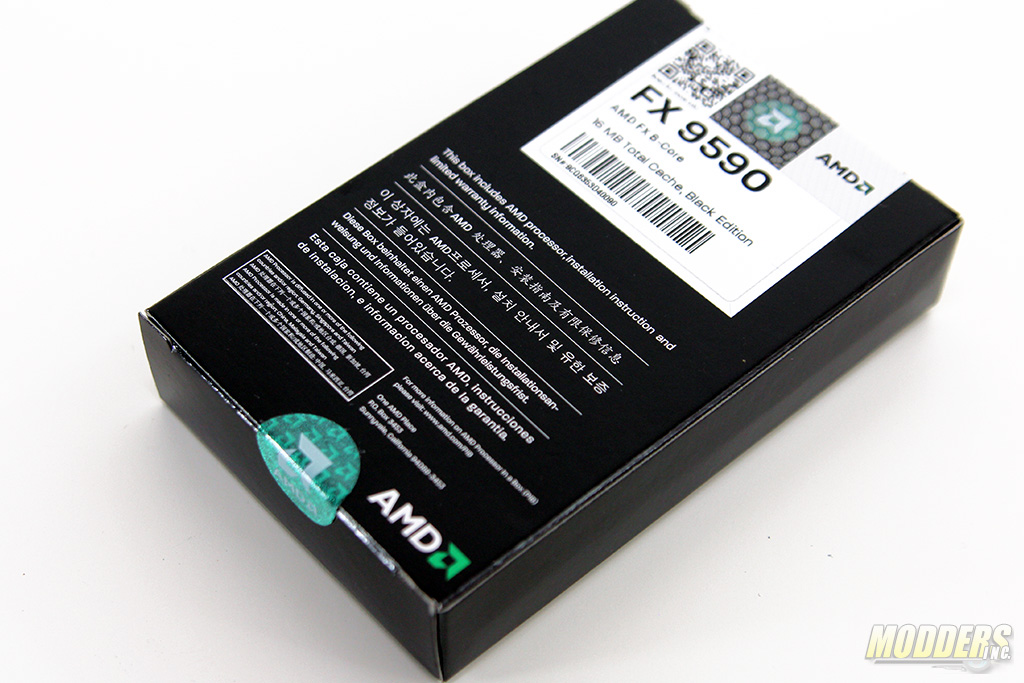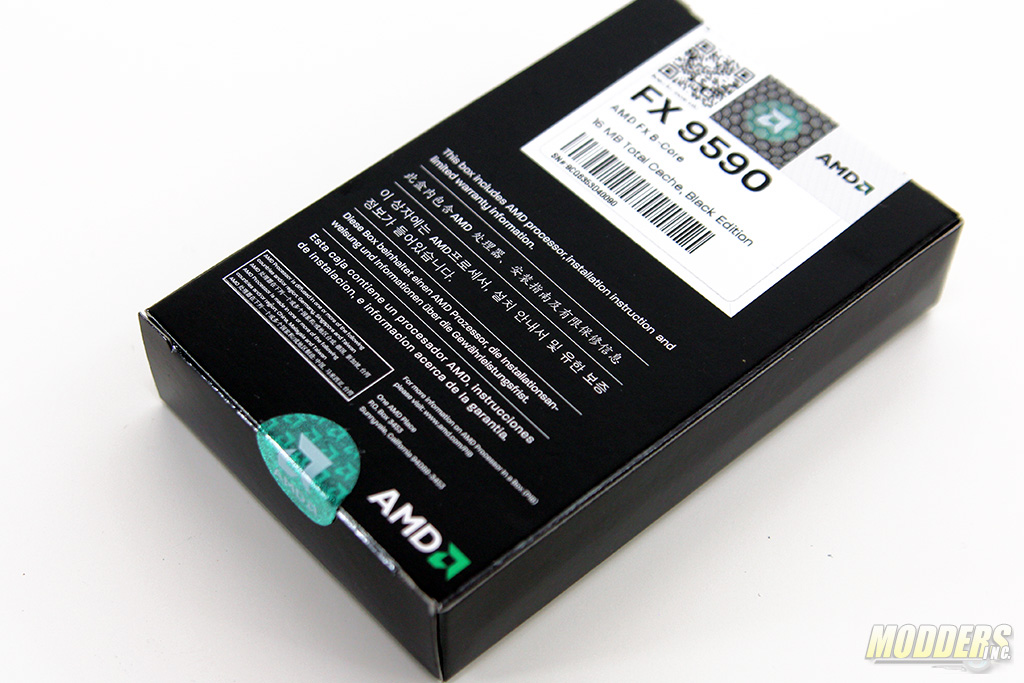 The small box containing the FX-9590 CPU is the same package that you would get had you purchased the non-LCS bundle. It is sealed and has been tested by AMD to run the 4.7GHz base, 5GHz Turbo speeds as evidenced by the small amounts of thermal compound from this completely sealed retail packaging.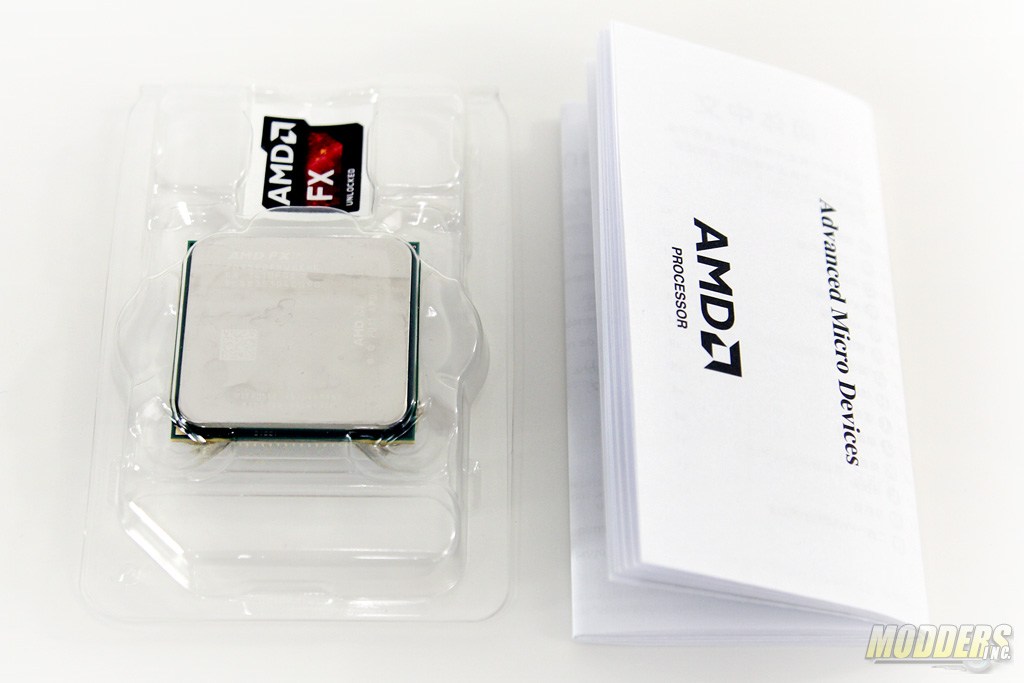 The CPU-only version comes with a sticker and a fold-out documentation sheet. Users who are willing to run this CPU are most likely to have a capable aftermarket cooler at their disposal anyway so a regular air cooler heatsink is not bundled, plus even if they do not, the LCS-bundled alternate version is available.