« Introduction
|
A Closer Look at the Radeon RX 5700 »
A Closer Look at the Radeon RX 5700XT
AMD sent out both the Radeon RX 5700XT and the Radeon RX 5700. The Radeon Rx 5700 XT is up first.
I'm not sure if this is the actual retail box for the RX 5700XT but this is what came in my kit. The box is two parts with the AMD black and red color scheme. The front side of the box is the only side that has any information on it.  After lifting the top off, you'll have the GPU sitting in a 1/2 shell of rigid foam designed to keep the card from moving around. Included in the box is a warranty card.
The housing of the card is made from aluminum alloy and features lands and groves all around the top and sides of the shroud. At about the 1/2 waypoint on the card, the shroud bends in a bit and breaks up the boring profile of most reference cards. This is a reference card so this is a blower-style cooler set up.  A large single radial fan is present towards the rear of the card.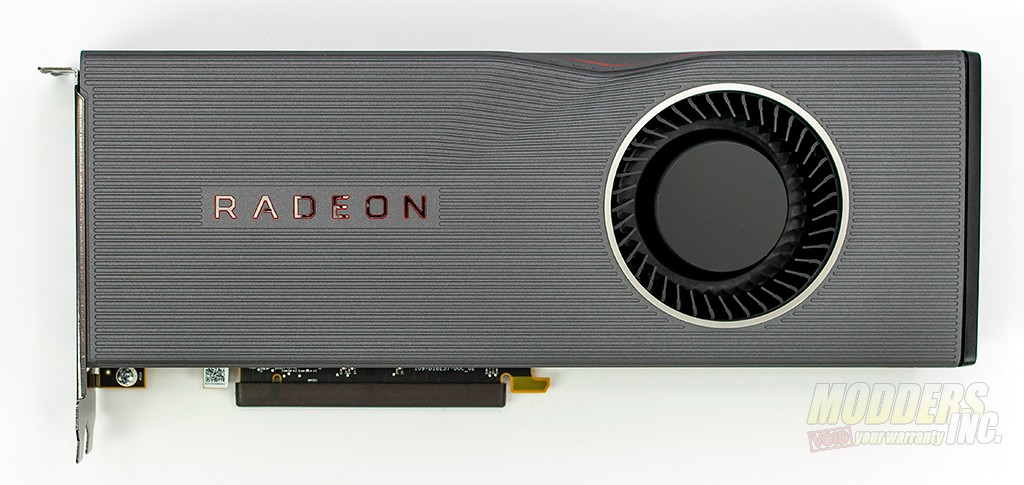 Flipping the card over, you can see the RX5700XT comes with a backplate. Towards the lower edge, texture has been added along with a little splash of color with the Radeon logo. The backplate is made from aluminum, same as the shroud on the top of the card.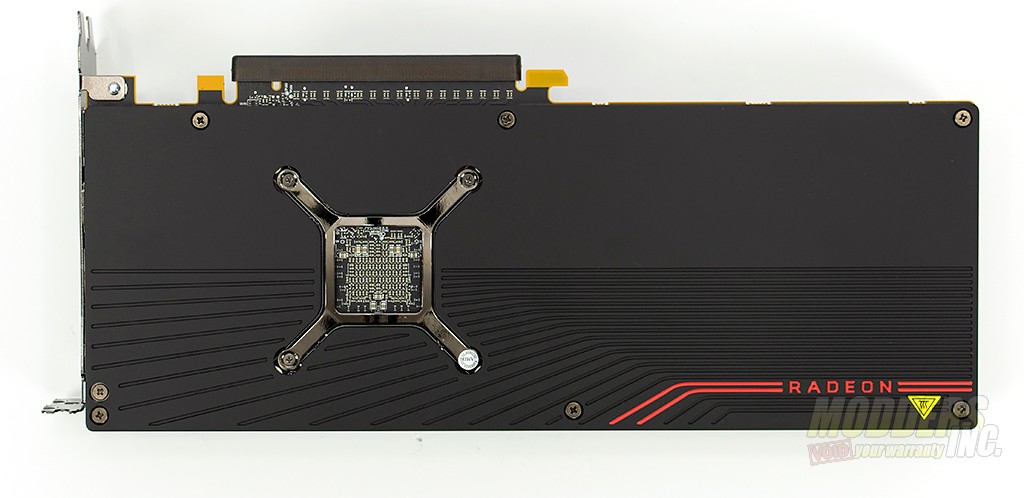 The I/O of the RX5700XT is driven by the Radeon Display Engine and provides three DisplayPort 1.4 ports and a single HDMI 2.0b port. The GPU is capable of driving resolutions of 4K 240Hz, 4k HDR 120Hz, and 8K HDR 60Hz.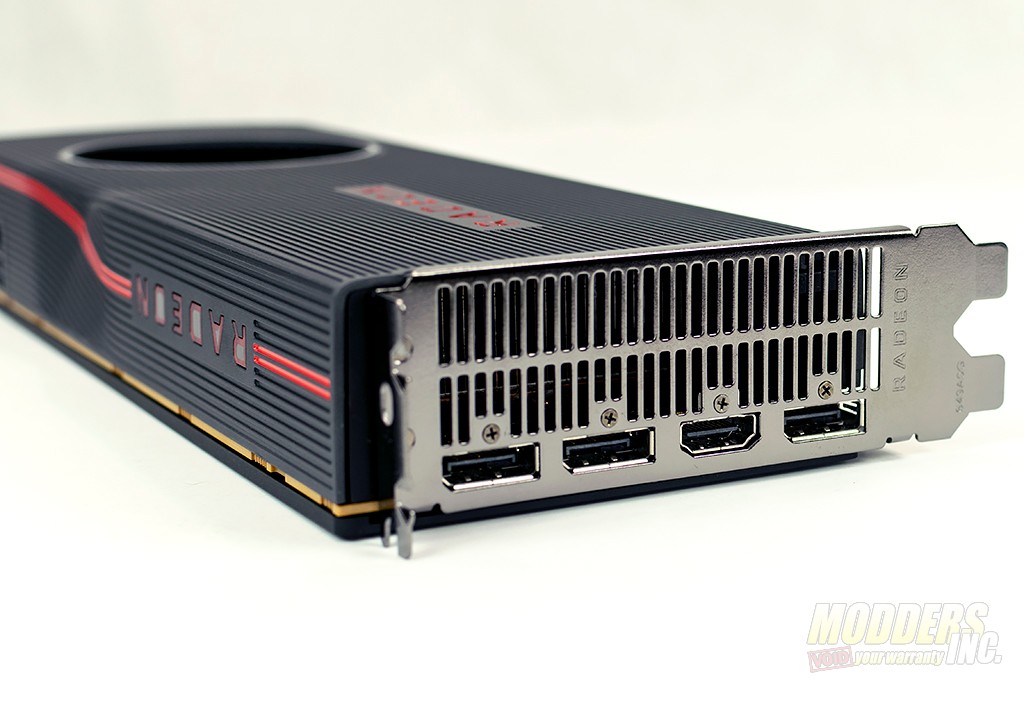 The Radeon logo on the side of the card lights up with a RED color when the PC is powered on. The bend we saw on the top is compounded here on the side of the card and we follow the profile to the power connectors.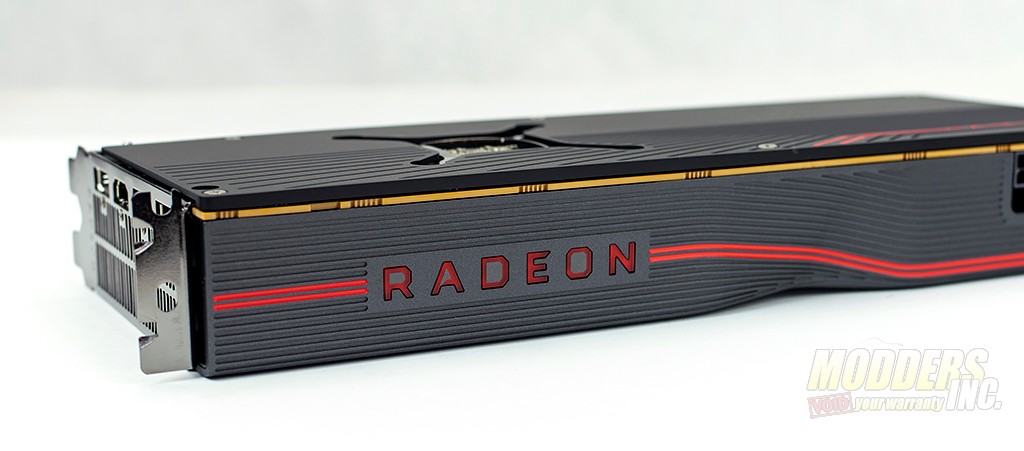 Towards the back of the card, you'll find the power connectors. An  8-pin and a 6-pin connector are needed to power the RX5700XT.  Board power for the GPU is 225 watts.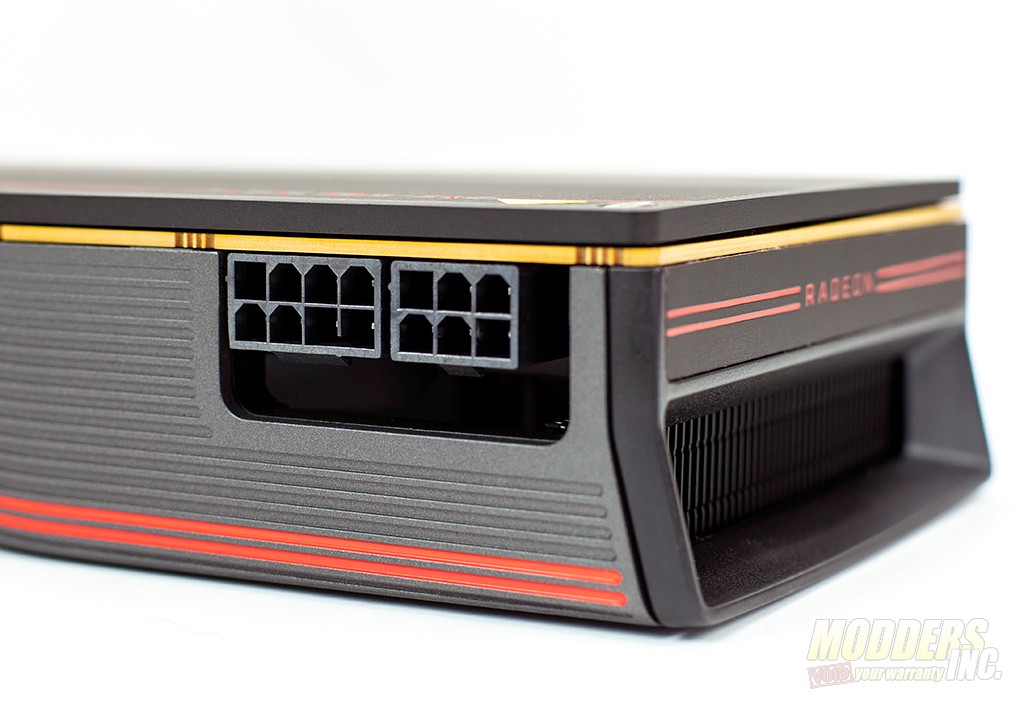 At the far rear of the card, you'll find the exposed fin array that is separate from the vapor chamber used to cool the GPU die, memory, and VRM.