CPU
AMD Ryzen R3 2200G & R5 2400G Raven Ridge APU Review
Value packed performance
Article Pages:
« Test System and Benchmarks
Final Thoughts
AMD is building off the success of the Ryzen launch in 2017 and their past APUs in order to bring the Ryzen 2000G series to market. They first launched Ryzen high-end and mainstream CPUs that each required a discrete graphics card in order to be used. The Ryzen 2000G series is just a stepping off point. With the success of these APUs, AMD can launch them into the laptop arena as well.
Much of the strength of the 2000G series comes from value but this time around it is value and performance. Alone, the Ryzen R5 2400G stands toe-to-toe with Intel's Core i5-8400. CPU performance is comparable despite having 1/2 the L3 cache as the Ryzen R5 1400 and even less than the i5-8400's 9 MB of cache. AMD claims that the lack of cache is made up by jumping up the clock speeds. While I don't have a Core i3 to compare against, the R3 2200G held its own in our performance test and nearly matched the R5 2400G in some tests. At launch, the R3 2200G is $99.00 and the R5 2400G is priced at $169.99. AM4 compatibility maintains the cost consciousness as users of the AM4 platform just requires a BIOS update in order to utilize the 2000G series APUs.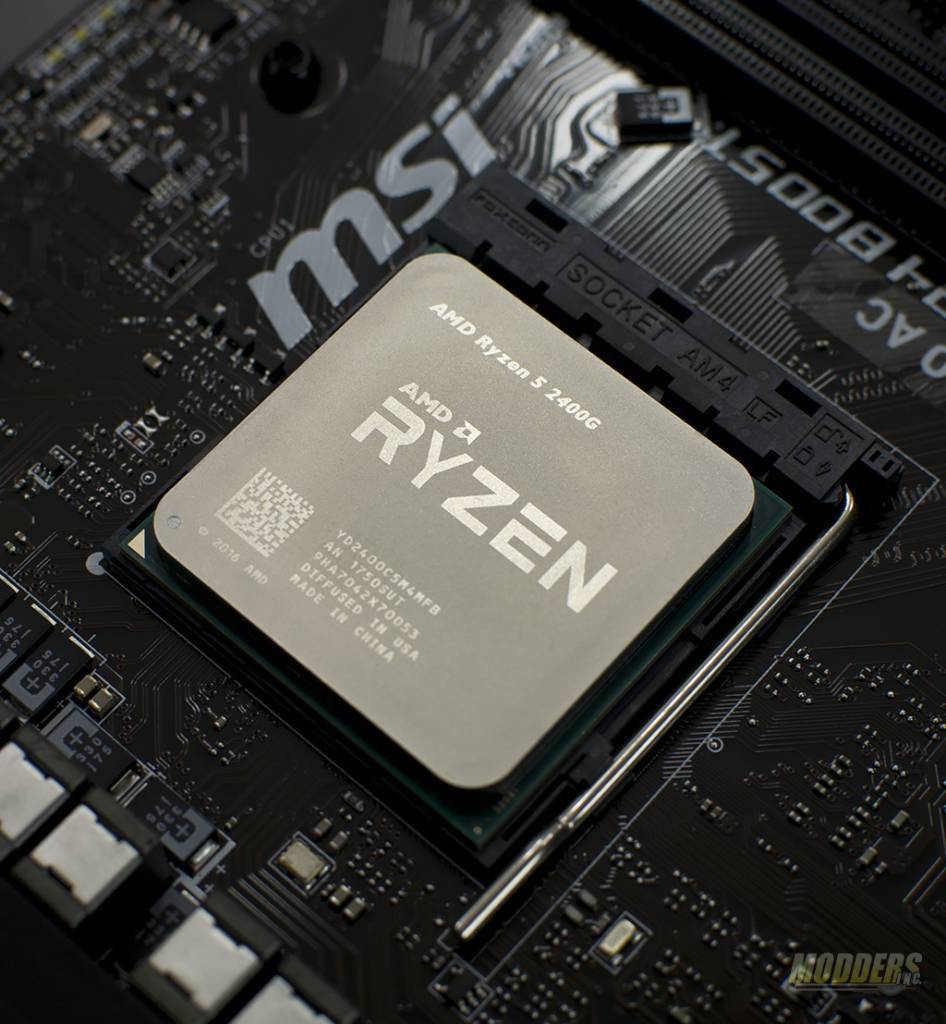 I did attempt to overclock using the AMD Ryzen Master software but anytime I tried to boost either the CPU or GPU settings, the software would lock up after I hit the apply button and would force a reset. As BIOS and software updates come out, I will try again. I'd like to see just how far they will go. This is the only issue I had with the Ryzen APUs. Our review kit came with 3200MHz memory. I was able to set it and get going without any issues or crashes. I did a torture test as well just to make sure it was stable at that speed.
The Wraith Stealth cooler did a fantastic job of keeping the APUs operating under the max temps during testing and were nearly silent in doing so. With the PC about 3 feet away, I only slightly noticed the CPU cooler noise. I didn't see temperatures climb much above 50°C during testing. However, overclocking the 2200G and 2400G it would seem logical they would outpace the stock cooler and would need a 3rd party solution.
I didn't expect the Ryzen 2000G series to win in every test. I expected it to be competitive and it is. In my opinion, the pricing and performance of these APUs really hit a sweet spot. The APUs have a decently powerful processor at its core and decent integrated graphics to boot. Vega 8 & Vega 11 really allow these chips to shine as a single chip solution (CPU/GPU combo). The APUs allow you to build a good 720/moderate 1080 gaming PC without costing a ton of your hard earned cash.