Staff Builds
CES
Aorus TRX40 Xtreme CES 2020 Case Mod Build
3960X, 32GB, 8TB AIC SSD Add-in, RTX 2080 Super
Hey! Welcome to my second build of CES 2020 for the Aorus booth. Last time we looked at my Z390 Aorus Waterforce build, this time around, the new TRX40 platform is taking the spotlight. Parts sponsored by Aorus and Thermaltake.
For this build, I wanted to showcase the hardware as much as possible while keeping the look at sober as possible. As my typical styling, I wanted to keep the case as stock looking as possible, while having mods to be able to show off the Aorus hardware. So, without further ado, here's the hardware I have to work with.
Specifications:
CPU : Threadripper 3960X 24-core
Motherboard : Aorus TRX40 Xtreme
RAM : 32 GB Aorus RGB 3200 MHz C16 kit with demo sticks
GPU : Aorus RTX 2080 Super Xtreme Waterforce WB
Case : Thermaltake View 71 Snow
Power Supply : Thermaltake PF1 Thoughpower ARGB 1200W with Thermaltake white and black extensions
Fans : Thermaltake Riing Trio 140mm
LEDs : Thermaltake Lumi Plus
Watercooling components were entirely Thermaltake branded, while the coolant was a custom mix. Now, let's move on to mods? Sure!
Backside (motherboard tray) fan mountable panel towards the front delete
Top radiator bracket, HDD cage and dust filters removed
Under chassis cable management
Hardware viewing side cut to create a view 37 styled viewing angle.
front I/O port and reset button shave/delete
Rear glass painted partially
Vinyl work on glass panels and front bezel
Waterblock cover sticker swap
Custom GPU support "bracket) (my personal favorite)
After drilling a few rivets I removed the motherboard tray fan mount, I didn't need this, so removing it was the best option for creating as much potential view angles. Paired with the rear painted glass (painted the interior for a smoked, but still white and even look) giving a very nice look.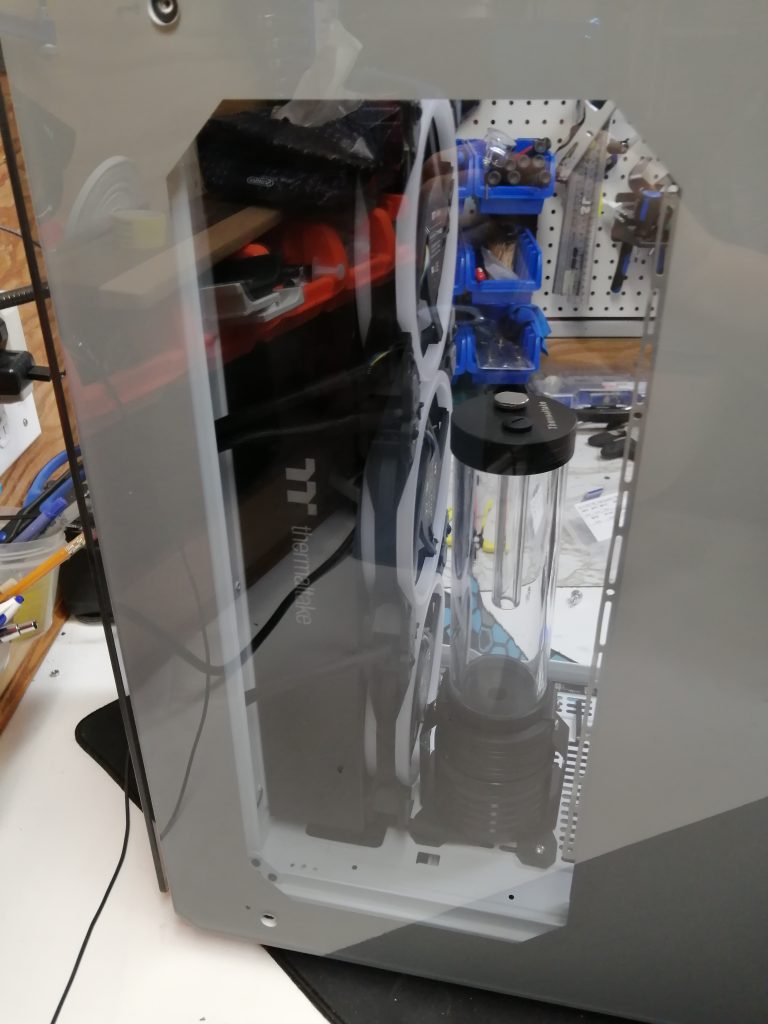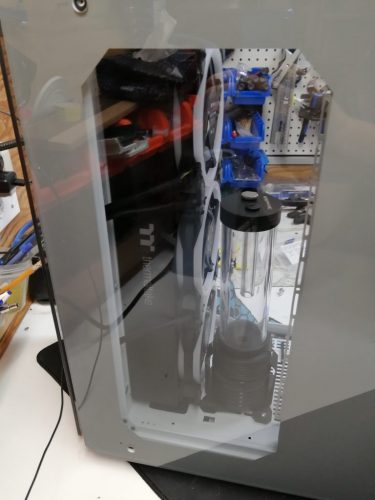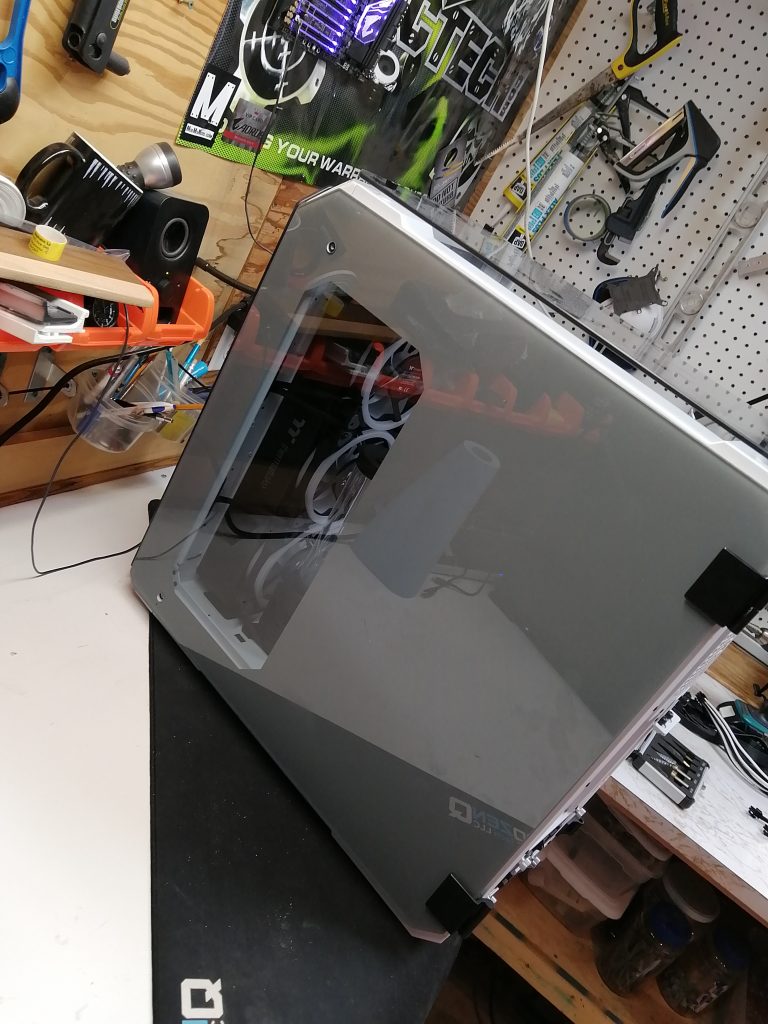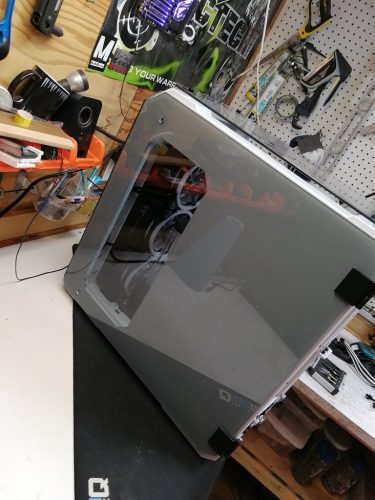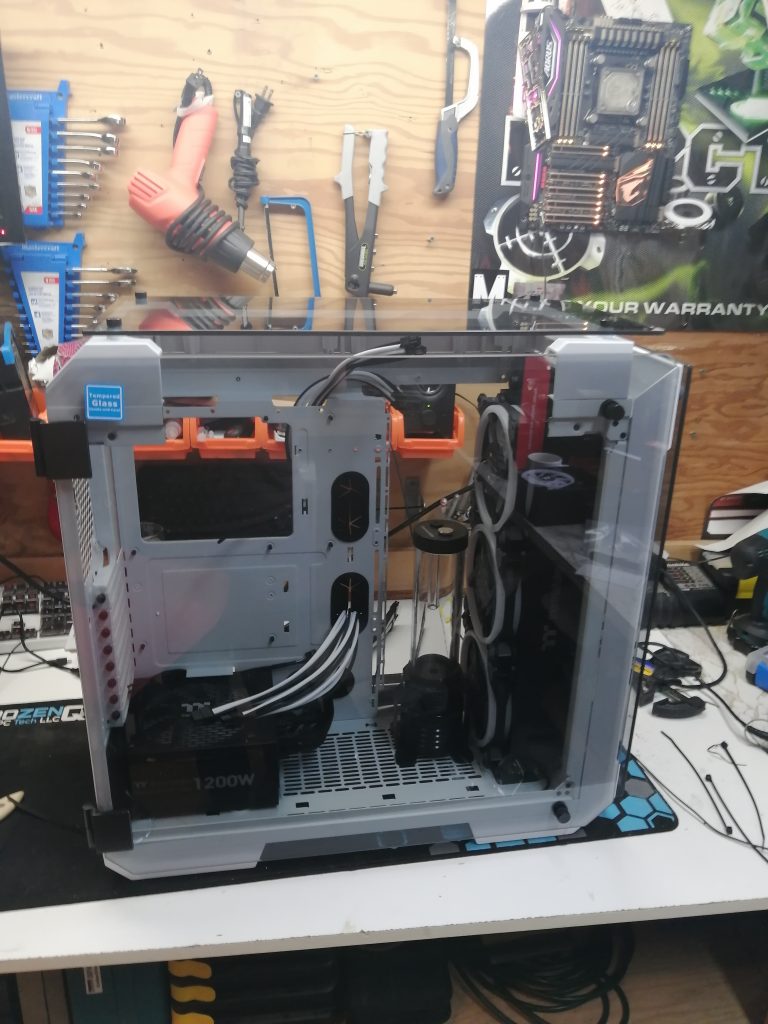 For the top, removing the radiator bracket and cutting the front side opened up the case so much, you'd even think this was a different case! Cutting the plastic top bezel, steel case cross member, filing them, sanding, then painting for an almost OEM look. Doing this greatly weakened the case structure though, the top and side glass panels now work together to keep the case square, without them, it became quite flimsy in those two corners (which was expected).
As far as cable management goes, I don't have many pictures, unfortunately, but basically, I passed most accessory cable (everything but PSU cables) under the case and did my management there, that's why you see a few tie-wraps on the bottom grill. There are two fan controllers (for LEDs and fans), power button cable, pump cable (which I converted to 6-pin PSU directly). If you look behind the motherboard tray, on the bottom, you can see the pass-through hole I did for the cables.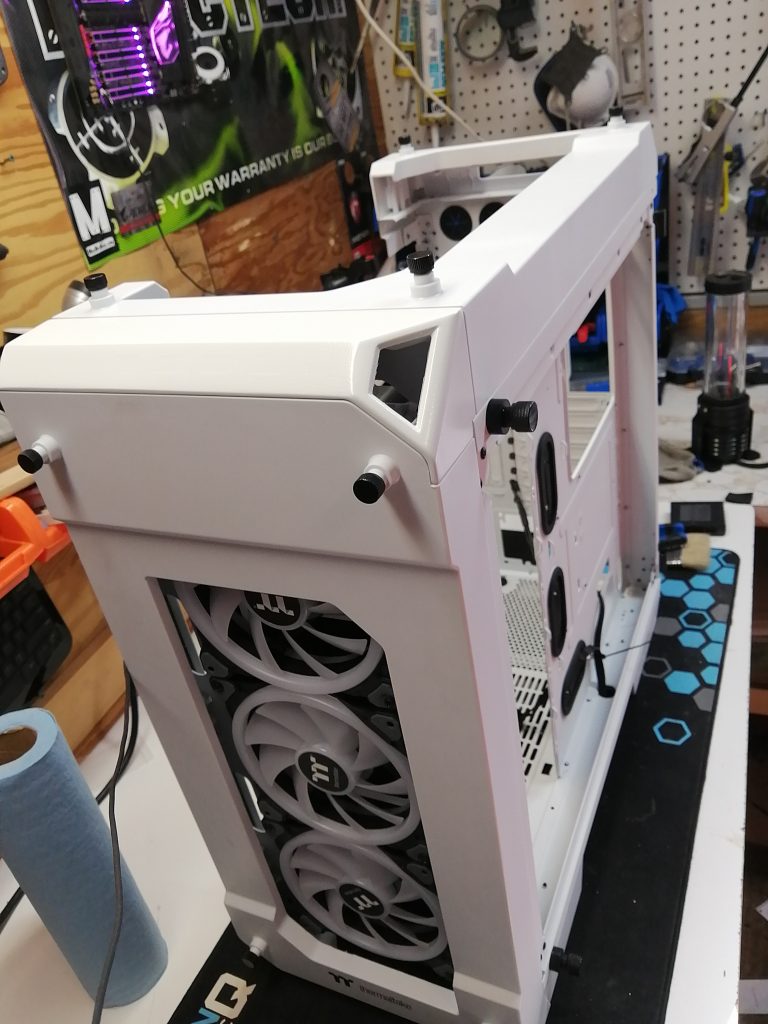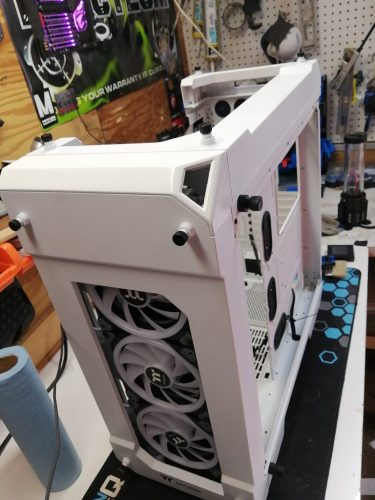 Since this build was going for a more "show" look, I sacrificed a few things for cleaner aesthetics, namely the omission of a drain valve, but for modding, I totally shaved the front I/O section, removed all USB ports, Audio and reset button along with HDD activity LED. I put masking tape on the back for backing, then applied Bondo, sanded then painted and clear coated. It turned out quite nice! Would you have noticed if I didn't tell you?!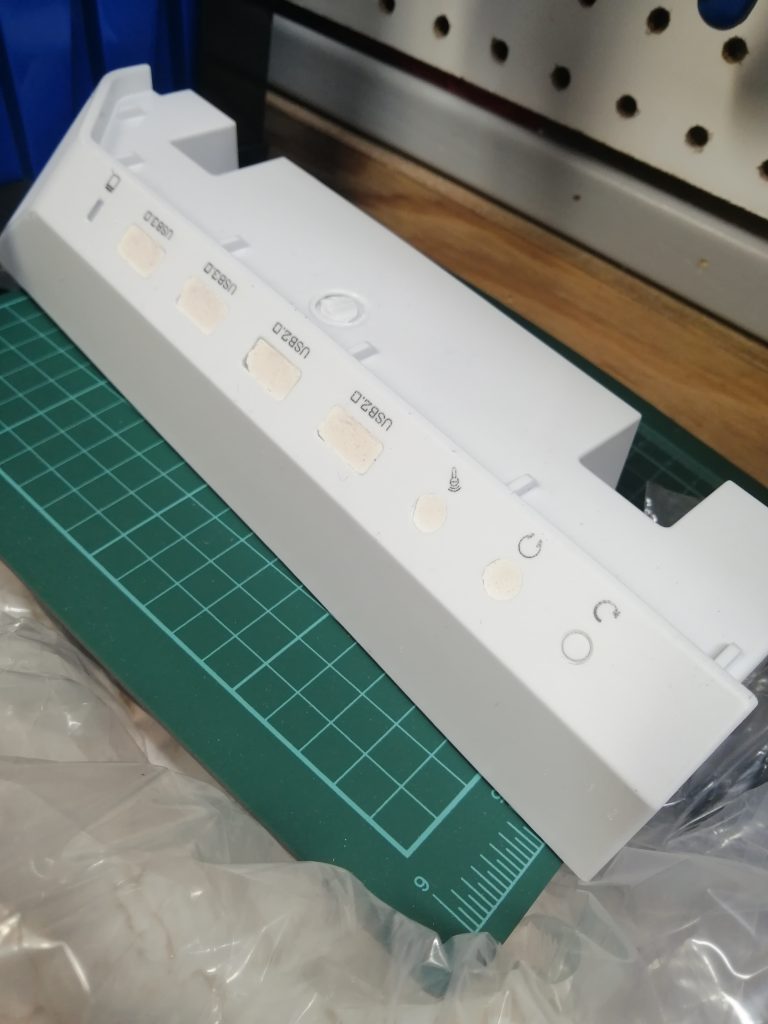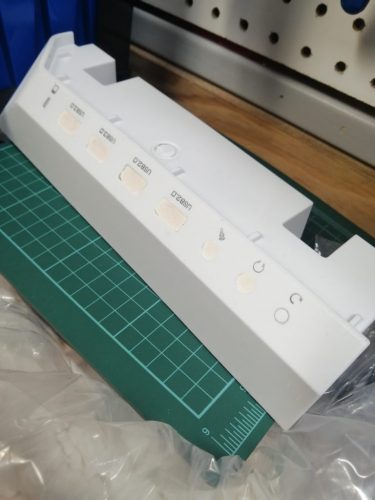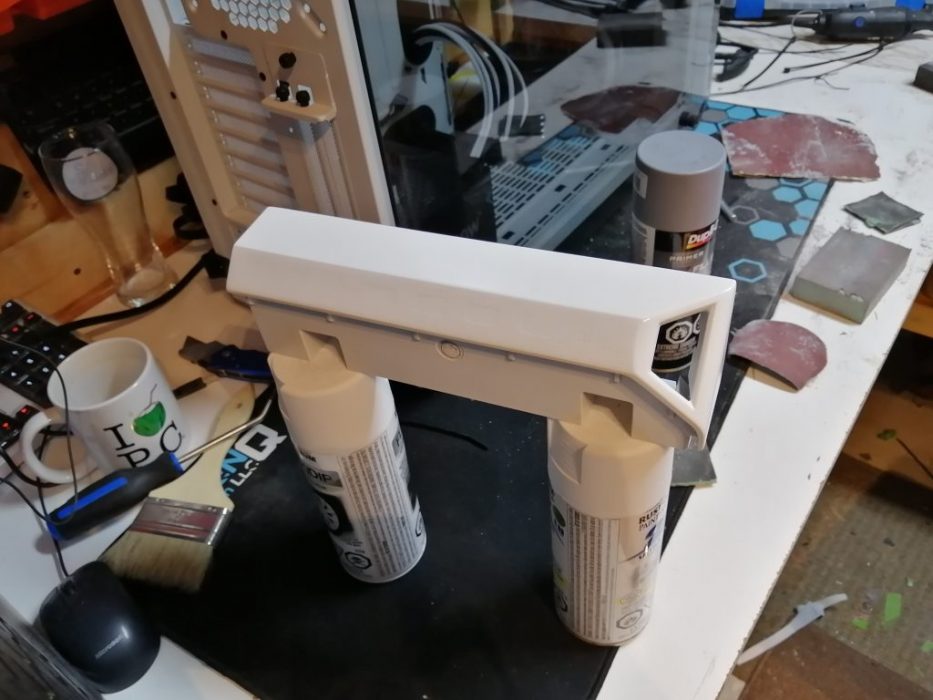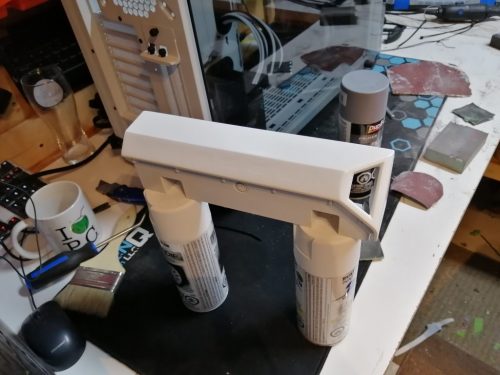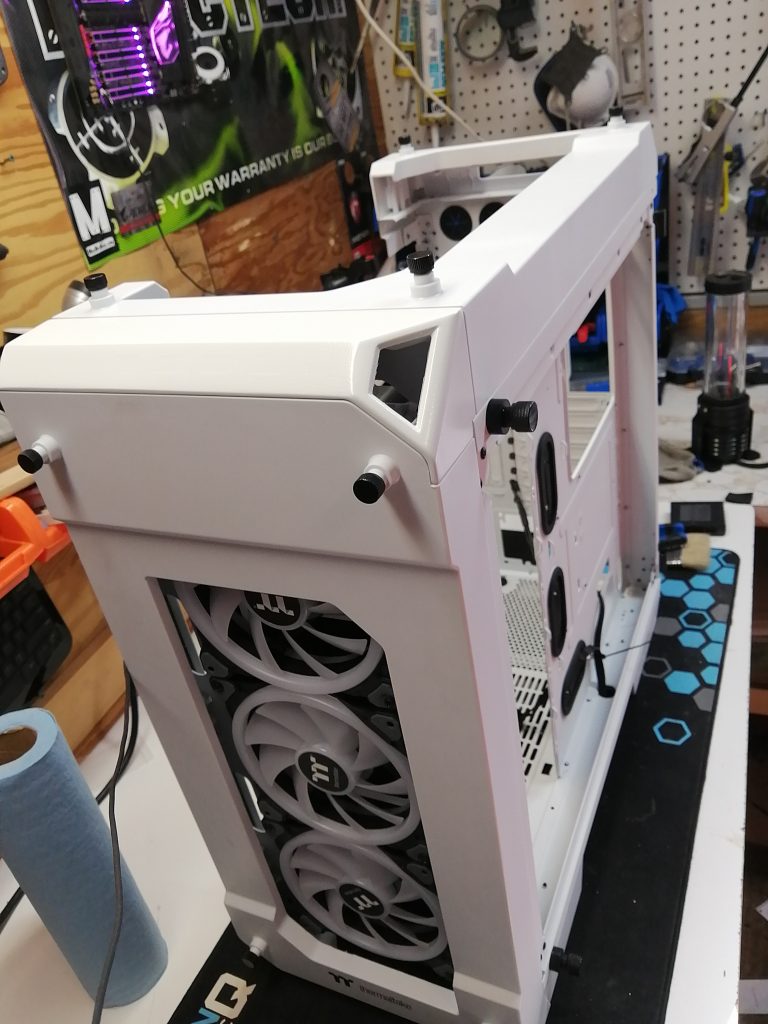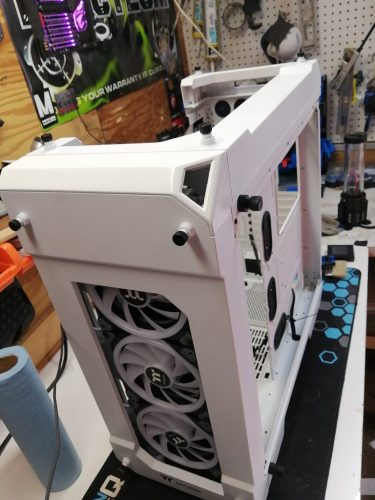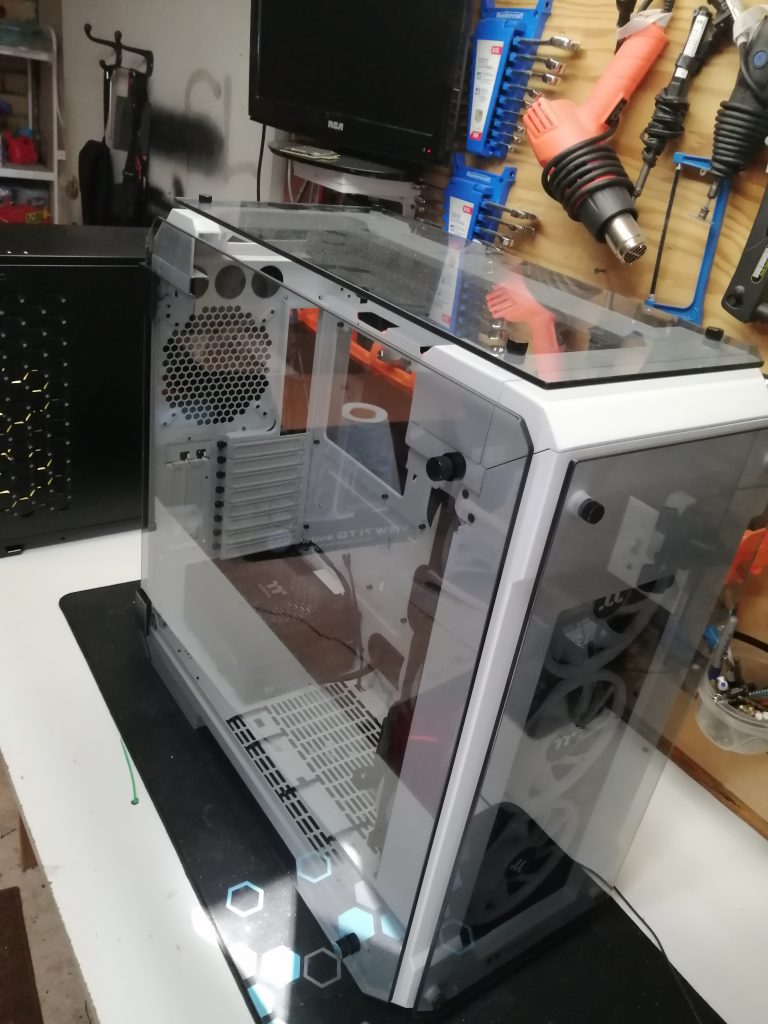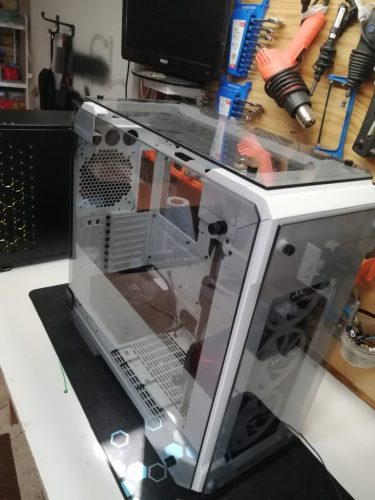 As far as vinyl work goes, I did a sort of pattern that matched the ones on the motherboard, I also put our logo on the front bezel, as well as Thermaltake and Aorus Logos on the side viewing glass panel. Here's a picture of the patterned vinyl itself.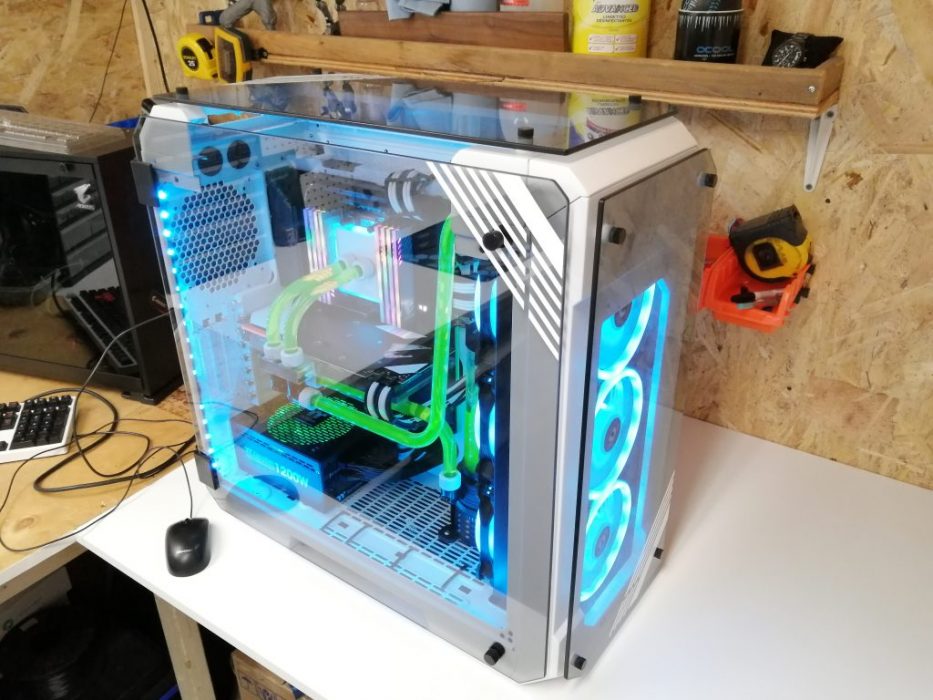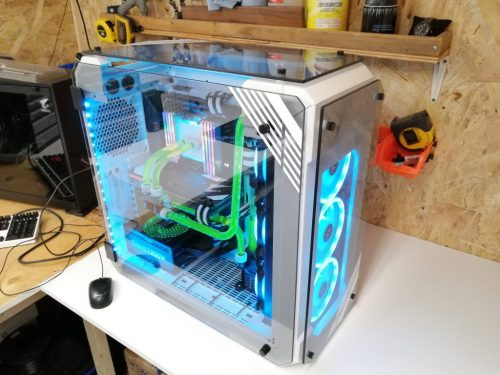 Now, the moment I've been waiting so much, my favorite mod of this build. It's so damn simple, but I must've put a good 2-3 hours in this doing it perfectly. This heavy GPU had a bit of sag and to be honest, I don't want any sag in my builds, I think it's hideous and ruins aesthetics of any build. So, basically I took a 16mm PETG tube, pierce a hole bigger and bigger until the radius was 16mm, to fit over another tube, this ended up requiring a lot of filing (and 2-3 scrap attempts). I then heated it up and formed it over a 16mm tube to give it the PERFECT shape. I then wedge it between the GPU waterblock and tubing going under the GPU (pump outlet tube) right behind the 8+8 PCIE cables to keep it unseen, while doing the best job possible to keep the GPU straight.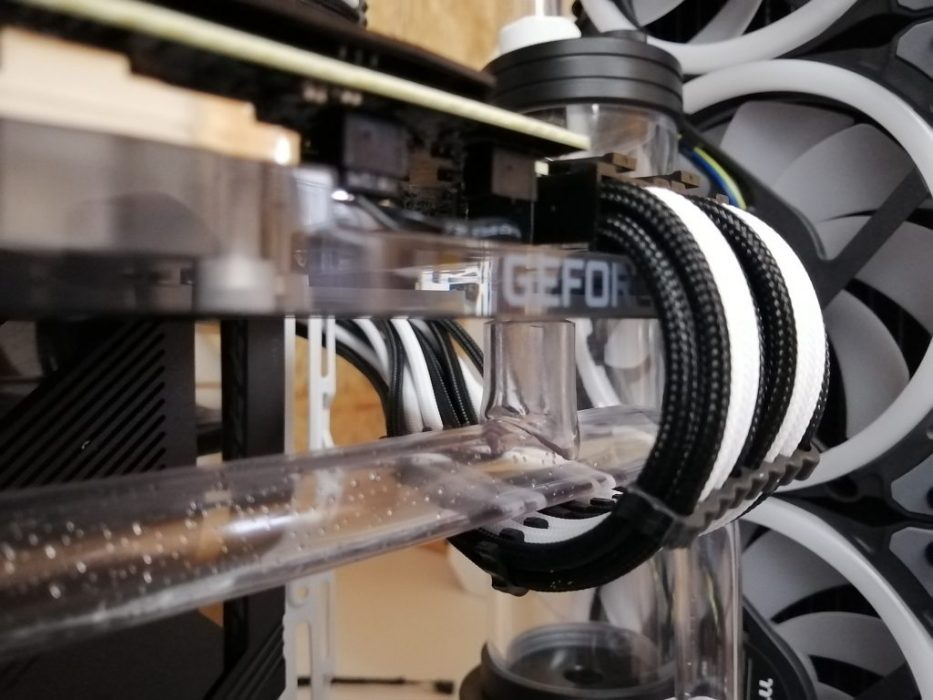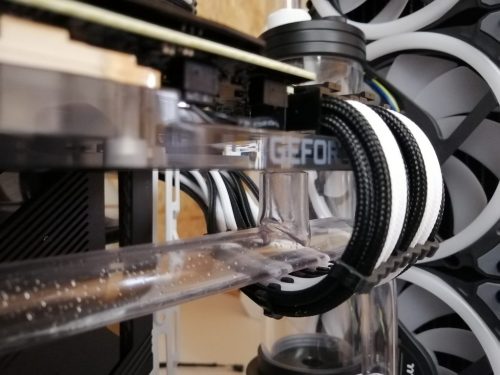 Now, in the same mentality of keeping the hardware as showcased as possible, I routed the tubing sort of over each other to only see one tube looking from the front. I opted for a parallel setup to also keep tubes at a minimum. This way, the motherboard was not covered by any tubing apart from the one passing under the GPU.
Now, at the CES show, Aoryus added a massive 8TB AIC SSD, which almost topped out at 20GB/S!! Insane speeds! This new PCIE Gen 4.0 is very capable! I want to give again a massive thanks to Aorus and Thermaltake for the sponsors and making this possible for me! I hope you liked this article about this case mod! If you have any comments or questions, don't hesitate to contact us!
You can see my other build here