ASUS expands their Intel TUF lineup with the addition of a new B85-chipset based TUF Trooper. Like all TUF motherboards, the TUF Trooper B85 provides server-grade reliability and military-class components with new TUF LAN Guard and upgraded ESD guards for improved power surge protection. The rugged mainboard also comes with a 5-year warranty. For more information, full specifications and photos, check out the official press release below:
ASUS Announces TUF Trooper B85
Taipei, Taiwan (14th April, 2015) — ASUS today announced TUF Trooper B85, a rugged, high-value motherboard designed to withstand all conditions and heavy loading, and tested to exacting military standards for total protection to offer exceptional durability and long-term reliability. TUF Trooper B85 is certified by TUF engineers as a server-strength motherboard and is covered by a five-year warranty.
TUF Trooper B85 incorporates many exclusive TUF features, including the military-grade TUF LANGuard Ethernet socket and TUF ESD Guards 2 to protect against electrostatic discharge. Based on the versatile Intel® B85 Express chipset, TUF's newest addition also benefits from ultra-durable TUF Components, high-fidelity TUF Audio with physical shielding, and flexible temperature-management with TUF Thermal Radar Core.
Server-grade reliability and military-grade strength backed by a five-year warranty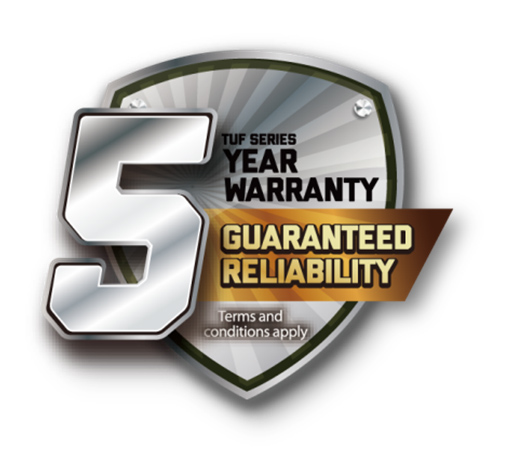 TUF Trooper B85 is built with military-certified components so it's tough enough for the most demanding conditions, even under heavy loading. Japanese-made 10K black metallic capacitors offer 20%-better temperature endurance for a lifespan that's up to five times (5X) longer, and TUF's chokes are manufactured using high-grade anti-oxidization materials to provide better heat dissipation and unbeatable durability.
Every TUF Trooper B85 motherboard undergoes punishing burn-in tests, with temperatures of up to 55°C for 48 hours and at humidity levels as high as 90%. Every motherboard is also subjected to a 20-hour extreme-temperature test of up to 60°C at 90% humidity, as well as undergoing rigorous thermal-shock tests. ASUS TUF engineers have conducted over 7,000 hours of strict validation tests to make sure our motherboards are compatible with more than 1000 devices, so TUF Trooper B85 is primed to work with the maximum number of peripherals.
Full and exclusive protection against damage from electrostatic discharges
TUF Trooper B85's LANGuard socket has advanced signal-coupling technology and premium surface-mounted capacitors to improve throughput. Tested to military standards, TUF LANGuard is certified for tough duty to protect the motherboard from lightning strikes and static electricity. TUF Trooper B85 also includes upgraded TUF ESD Guards 2 to defend numerous ports against sudden electrostatic discharge. Engineered to be two times (2X) stronger than before, TUF ESD Guards 2 covers all USB sockets and audio connectors — and exclusive pin-level testing on specific rear input-output (I/O) connectors is 30% higher than the previous TUF standard.
With many whole-build server-grade stability tests also thrown at the motherboard, TUF Trooper B85 can be trusted in all conditions — a pledge backed by TUF's five-year warranty.
 
Superior LED-illuminated audio trace and flexible cooling controls
With LED-illuminated TUF Audio on board, TUF Trooper B85 makes short work of optimizing audio settings for any type of listening, from online chat to watching movies and relaxing to favorite music. The professionally-engineered hardware design features physical shielding and premium components to ensure precise separation of analog and digital signals, as well as minimizing crosstalk interference. The result is sound output that has exceptional clarity and fidelity, enhanced visually by the gorgeous LED-illuminated audio trace.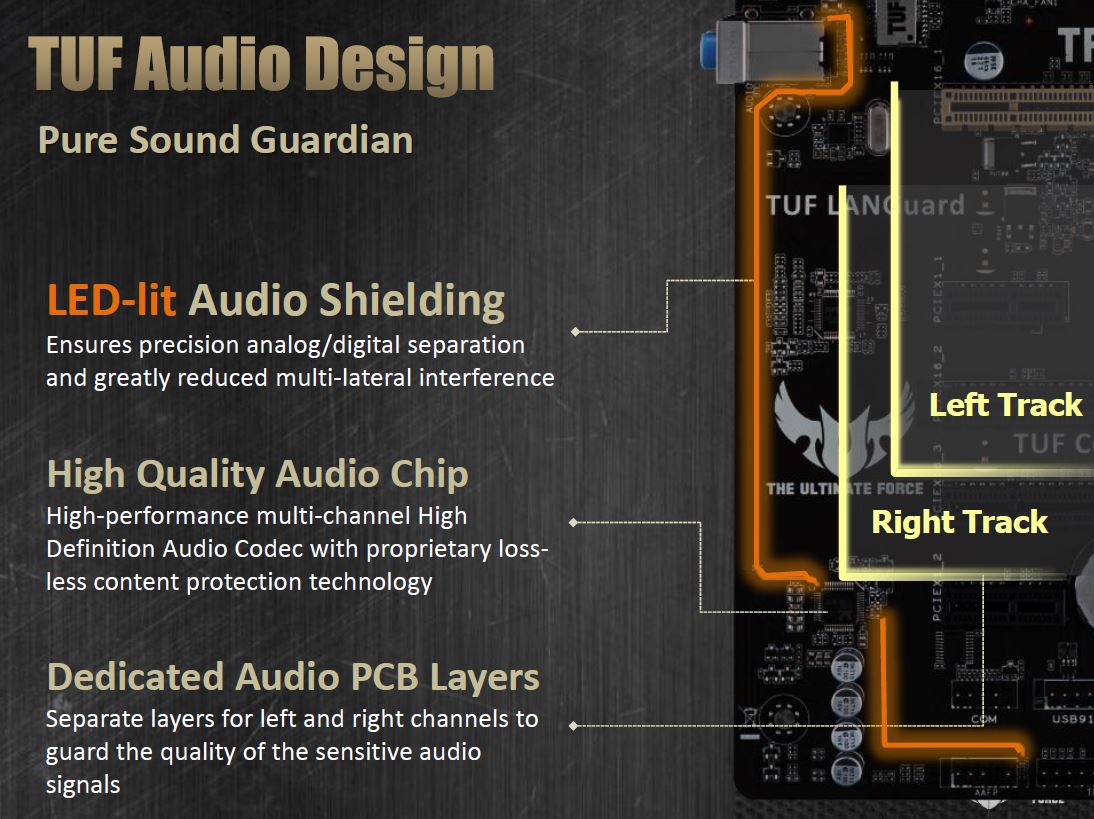 TUF Trooper B85 also has built-in TUF Thermal Radar Core for complete and easy management of system cooling. Customizable controls allow users to adjust fan speeds, enabling temperatures to be tuned with a single click. This single-click simplicity is even extended to TUF Trooper B85's live-update feature, ensuring that the board's Thermal Radar Core is never out of date.
SPECIFICATIONS
TUF Trooper B85
Processor/CPU socket
LGA1150 socket for the 4th-, new 4th- and 5th-generation Intel® Core™ i7, Core i5, Core i3, Pentium®, and Celeron® processors
Chipset
Intel® B85 Express
Memory
2 x DIMMs, up to a maximum of 16GB, DDR3 1600/1333MHzSupports Intel Extreme Memory Profile (XMP)
Expansion slots
1 x PCI Express® 3.0/2.0 x161 x PCI Express® 2.0 x16 (max x4 mode)2 x PCI Express® 2.0 x1

1 x PCI Express® 2.0 x16 (max x1 mode)

Graphics (VGA)
Integrated Intel® HD GraphicsMulti-VGA output support: DVI / D-sub port
Multi-GPU
Quad-GPU AMD® CrossFireX™ support
Storage connectivity
4 x SATA 6.0Gbit/s ports2 x SATA 3.0Gbit/s ports
Networking/LAN
Realtek® 8111GR Gigabit LAN controller
USB
2 x USB 3.0/2.0 ports (mid-board)2 x USB 3.0/2.0 ports (back panel)8 x USB 2.0 ports (4 mid-board; 4 on back panel)
Audio
Realtek® ALC887 8-Channel high-definition audio codec- Jack-detection, multi-streaming, front-panel mic jack-repurposing- Separate layers for left and right tracks for balanced audio quality
Key features
TUF Thermal Radar Core, TUF Components, TUF ESD Guards 2, TUF LANGuard, TUF Audio
Dimensions
12 x 7.1in (30.5 x 18cm)
About ASUS
ASUS is a worldwide top-three consumer notebook vendor and maker of the world's best-selling, most award-winning motherboards. A leading enterprise in the new digital era, ASUS designs and manufactures products that perfectly meet the needs of today's digital home and office, with a broad portfolio that includes motherboards, graphics cards, optical drives, displays, desktop and all-in-one PCs, notebooks, netbooks, servers, multimedia devices, wireless solutions, networking devices, tablets, smartphones and wearables. Driven by innovation and committed to quality, ASUS won 4,326 awards in 2014 and is widely credited with revolutionizing the PC industry with its Eee PC™. ASUS has more than 13,600 employees around the globe with a world-class R&D team of 4,500 engineers. Company revenue for 2014 was approximately US$14.5 billion.
[1] TUF Trooper B85's five-year warranty is valid in all regions, apart from Japan and South America.
[2] Specifications, content and product availability are all subject to change without notice and may differ from country to country. Actual performance may vary depending on applications, usage, environment and other factors